Those who want to get into the food selling industry knows that one of the best ways to do so is by opening their own restaurant. However, it's not as easy as just opening a restaurant sample and hoping that a lot of customers just come in and pay money for food and drinks. You may also see proposal samples.
People that want to open their own restaurant will need to know that they'll have to come up with a proper business proposal if they ever want to start. This article is going to help you create your own restaurant proposal to ensure that you'll be able to start the restaurant marketing proposal that you want.
Restaurant Business Proposal Template
Restaurant Project Proposal Template
Restaurant Development Proposal Template
Restaurant Catering Proposal Template
Restaurant Management Proposal Template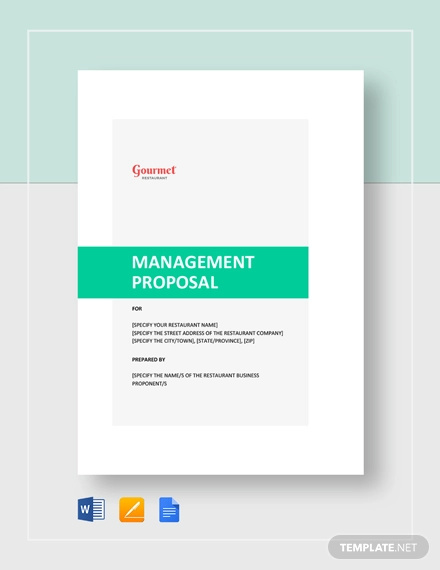 Restaurant Partnership Proposal Template
Restaurant Request for Proposal Template
Restaurant Catering Proposal Template
Restaurant Business Plan in Word
Organic Restaurant Proposal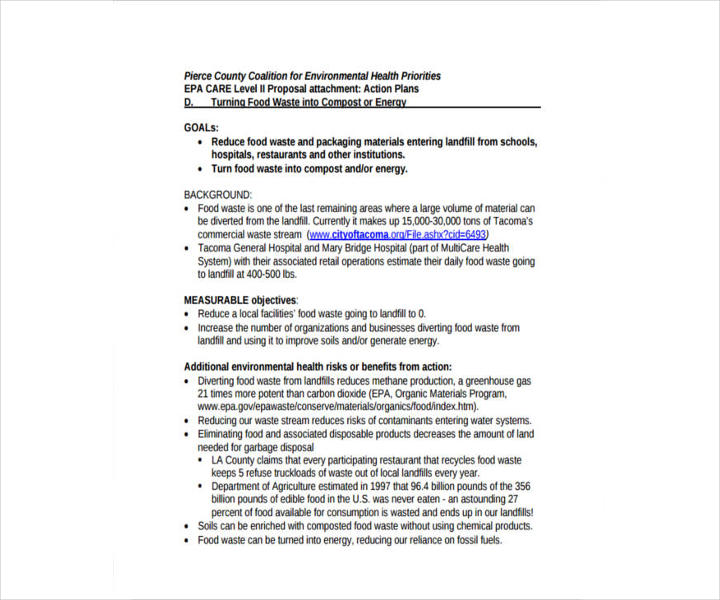 tpchd.org
Business Project Proposal
courses.cs.washington.edu
Restaurant Business Proposal
rowan.edu
Fast Food Proposal
Small Restaurant Business Plan Sample
psu.edu
Organic Restaurant Business Plan in PDF
calpoly.edu
Sample Business Plan for a Startup Restaurant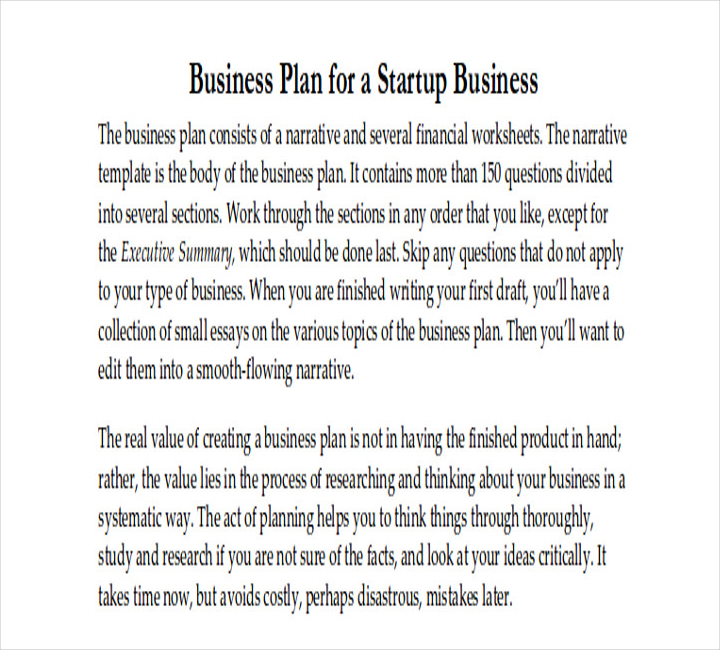 ymcdn.com
Budget for Restaurant Business Plan Example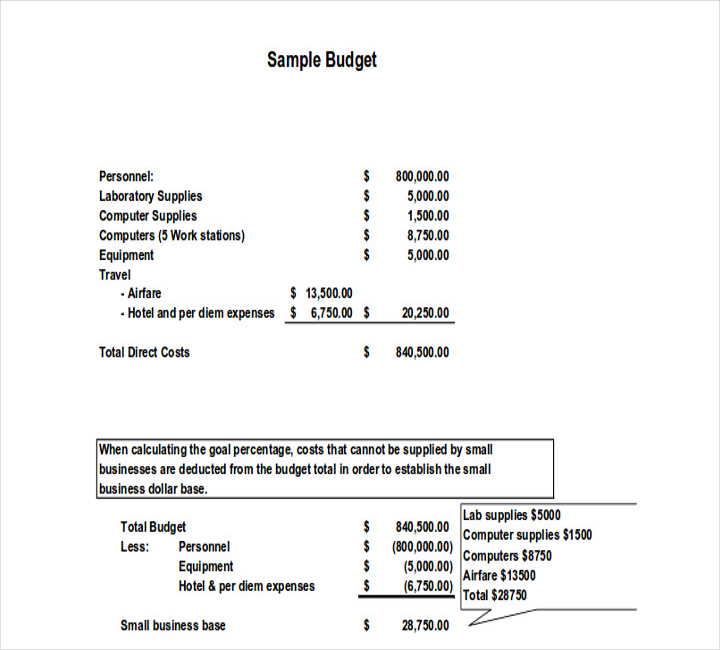 umn.edu
Basic Restaurant Business Plan Sample
fapc.biz
Budget for Restaurant Business Plan Example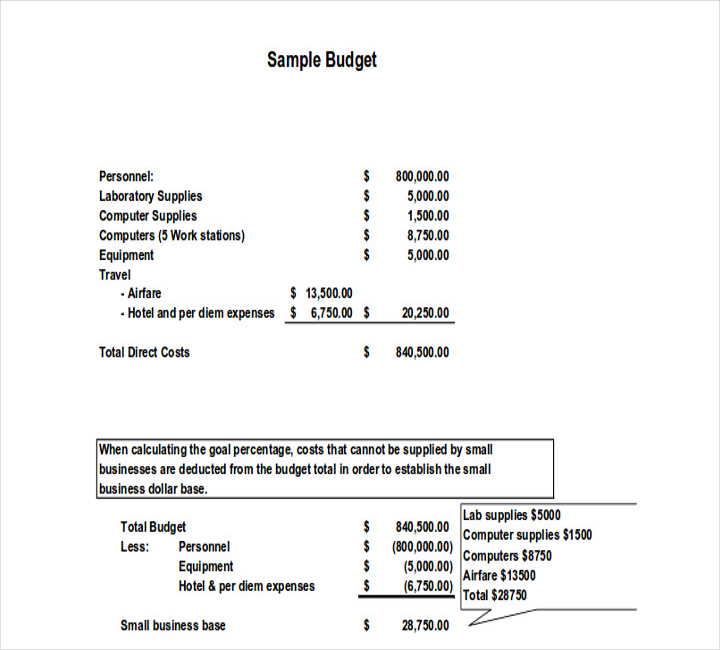 umn.edu
Basic Restaurant Business Plan Sample
fapc.biz
How to Write a Restaurant Proposal
Potential investors or lenders aren't exactly going to care so much about the concept of your restaurant. What they'll be looking for is information regarding the amount of market research that you've done as well as your financial projections. To do this, you're going to have to write a winning proposal that can get these people on your side. Using a standard business proposal format, you can show interested parties that you know how to open and operate your very own restaurant. So here are the steps that should help you write a professional and well-made restaurant proposal:
Write the List of Sections That Should Be Included In Your Article
The sections that you're going to have to include should be the restaurant's concept, market research, operating costs, budget, experience, support documents, projections, marketing plans, and marketing research. You'll have to make sure that all of them are included in your restaurant proposal as all of them are going to be very important.
Provide a description of your restaurant concept that goes beyond just the cuisine and menu items.
Discuss why this type of food is going to sell well to your target audience as well as why it's going to do well in the area that you set up shop. A good example would be using a setup a restaurant marketing that focuses more on cold food in an area that has little to no competition as well as one that's generally hot.
Outline Your Target Audience, Competition, Pricing Strategy and Unique Selling Differential
You're going to have to include all of this within your market research section. Demonstrate the demand in the marketplace for your restaurant and back it up with as much data and research paper as you can. You should also explain the methods in which you're going to market your restaurant to the masses. Include what type of method you're going to use such as print, newspaper, radio, TV, websites, direct mail or social media sites. You're also going to have to explain why you've chosen that specific media, who it's supposed to reach out to and what the annual cost is going to be.
Project Your Monthly and Annual Sales Figures and Annual Profit Projections.
Provide projections for the first three years, which might just include losses for the first six months or year, a period of breaking even and a profitability date. Give the date by which an investor will be able to recoup his or her initial investment. Just because you reach profitability after one does not necessarily mean that the investor is going to make any sort of profit because that positive cash flow must first repay the initial business startup costs.
List the Startup Costs
This should include the expenses that are required to open the restaurant and operate it until you reach the break-even point. You're going to have to divide your expenses into food costs and non-food, or overhead, costs. Place in statements wherein they explain that you have set your prices based on an analysis of your food costs, profit margins, and your operating costs. Include an annual master budget listing all of your expected expenses. This should be divided by type and by month.
Include Biographies of All Key Members, Operators, Staff Members, and Consultants
Just remember that these people have to be a part of the launch and operation of the business that you're going to open. Emphasize any restaurant experience these people have, all of the employee training and skills that they have acquired that's relative to the industry, and note any investment they are making in the company.
Summarize the Report
This should also include the requested funding You shouldn't provide any sort of detail or support in your summary. All you have to do is present a recap of all the information you have presented, highlight the demand in the marketplace for your concept, your ability to operate a restaurant and the projected profit potential.
Provide Support Documents Within the Appendix
This can involved documents regarding the marketing, the food or overhead budgets, the restaurant menu, surveys and even the cash flow projections. Refer to the appendix in the main body of the proposal when you need to make an assertion and if you don't want to make any form of detailed support with it.
Create a Cover Page Which Contains Your Contact Information, a Contents Page, and Executive Summary
This is what's going to start your restaurant proposal. Remember to keep the executive summary to at least approximately half a page. Then briefly describe your restaurant's concept, financial projections, your expertise and the investment needed without any details or support.
Restaurant Business Plan Template PDF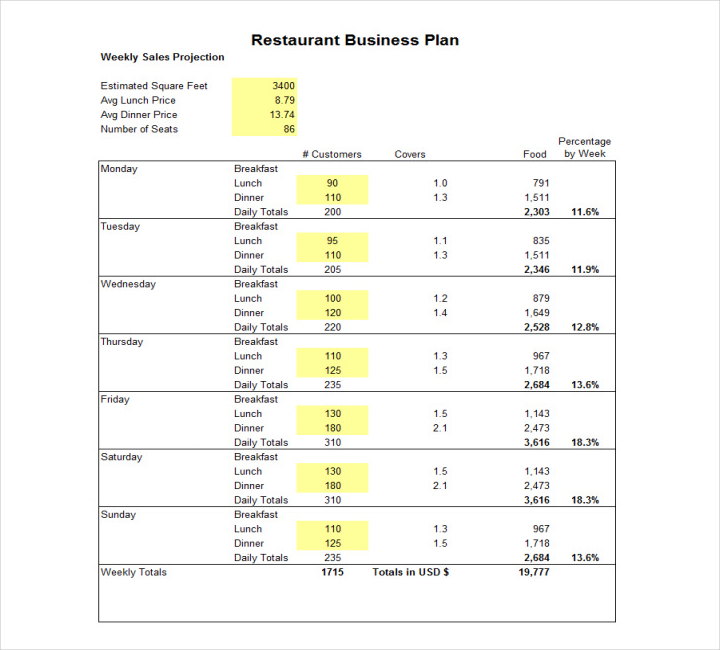 fastbusinessplans.com
Sample Restaurant Business Plan Template
digitalscholarship.unlv.edu
Restaurant Business Plan Outline
files.franchisedirect.com
Bar Business Plan Template
danielkuhlmantasteswinebar.weebly.com
Tips for Pulling Off a Restaurant Proposal
If you're going to try and get people behind your new idea for a restaurant business, then you're going to have to come up with a great proposal. So here are some tips that can help you do just that:
Make sure that you have a solid business plan in place. If you want people to get really interested in the idea that you have, then you're going to have to come up with a really well-made business plan that will give them the information that they're going to want to hear.  This means that your business plan is going to have to include things like market research, a comprehensive look at all of your competition, a proper outline of your marketing plan, and of course a financial and budgeting projection.
Next is you're going to have to choose the right spot to set up your restaurant. Everyone knows that location is one of the most important things when it comes to the deciding factor of a restaurant's success. Potential investors are going to be able to see if the spot that you've chosen is one that has potential to grow and draw in crowds that will all you to gain a lot of revenue. It makes sense that it's going to take time for you to find that perfect spot. So this means you're going to have to do your research to find out of there are any startup incubator spaces for restaurants that you can join to keep initial costs low. You can even decide to lease an establishment if you think that it's the best spot for an opportunity to sell whatever products you're trying to attract the public with.
Make sure that your menu has been fully tested so that investors will see that it's worth putting money into. You're going to have to test whatever menu you have before you start putting it into your proposal. So try to do a testing phase wherein you invite people to try out your dishes. However, you shouldn't just invite family or friends, you should invite those who can hand out an unbiased opinion. You should also come up with a food survey that will allow these people to remain anonymous when giving feedback to your menu. This way, they'll be much more honest and you'll definitely know which of the pieces of your menu worked, and those that you're going to have to change or remove entirely.
Invest in training your employees. Your potential investors aren't going to want to know that your employees don't even know the first thing about knowing how to operate within a restaurant. Create job descriptions, codes of conduct, and an employee handbook. Then you're going to have to place these people through employee training that will cover all of the basics, then you can move on to training them to be even more advanced. This way you can guarantee that your employees will know what to do and they'll be able to do it well.
In the event that you would like to gain more information, such as how you're going to start your own restaurant or how you're going to create a word checklist, then you can go through any of our available articles that can give you everything that you need.