The resume is that one document where we have to make sure is updated, concise, and easy to understand. It is a tool used to open doors of possibilities for new graduates or those who are looking to steer their careers to another direction. There are different kinds of Resume Format, and depending on what we need our resume for, we will have consider how to write it and what should it contain. You may also see Resume Samples.
The information technology industry is a fast-growing and fast-moving industry. There are different kinds of position that specifically focuses in skills on a certain program or software. If you want to try venturing into the IT industry, you will need a resume to help you out. Read through this article to get tips on how to write one.
ASP Programmer Resume Template
Applications Programmer Resume Template
ASP.Net Programmer Resume Template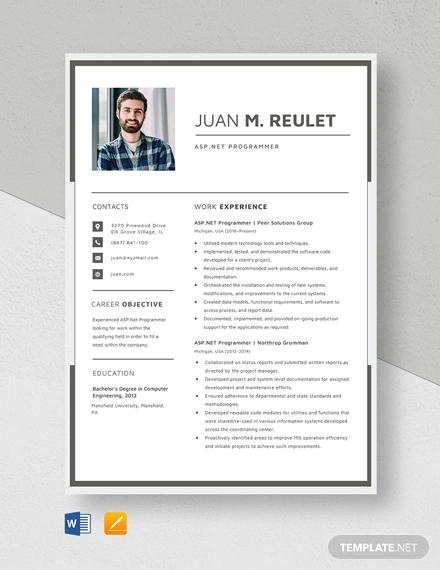 Assembler Programmer Resume Template
IT Resume Template
Best IT Resume Format Template
Professional IT Resume Format Template
Experienced IT Resume Format Template
Latest IT Resume Format Example
When Writing Your Resume
Resume is an ever-daunting word; it is one of the documents we'll ever write in our life that could cause a huge impact in our future endeavors. The information technology profession has a ton of branches leading to different roles, and depending on what role you are applying for, you will have to tailor your resume to match it. As someone thriving to working in the IT profession, there are a few categories you will have to indicate like your technical skills and software knowledge.
Here are some helpful tips to guide you in writing your resume:
Your information. You have to make sure to indicate your full name, complete address, and contact details (landline and mobile number as well as your e-mail address). It also allows the employers to contact you conveniently to clarify some part of your resume or to ask you to come in for an interview. It is important that your potential employer reaches you at any time of the day with your contact details.
Objective. The objective would be proven the most challenging part. However, there are ways to still make your resume eye grabbing. Indicate your career goal and what achievements you are going to attain as someone who got the job. Advertise yourself by indicating some of the qualifications you have that could help you in landing the job.
Software and technical knowledge. From software development to web development, it all requires a keen attention to details. Indicate all the languages you know and are confident with, from C+, C++, Javascript, PHP and to SQL. The knowledge you have is also used to asses your qualifications.
Experience. In a clean and neat bulleted layout, indicate the places you have worked in and highlight the achievements you have attained and contributed while employed. It helps your employer to see what kind of career progression you are going for.
Educational background. Your educational background and achievements attained and your extracurricular and public program involvement allows your potential employer to asses how you are in a community. You must indicate all the projects or small software creations you have done during the year if you have any.
Skills and strengths. Aside from technical skills and software knowledge, other skills that may help you in doing the role you are applying for is also important. Listing down your strengths allows the potential employer know how well you are able to asses yourself.
See also Resume Templates for Fresher for other samples and guide.
Standard IT Resume Format Template
IT Fresher Resume Format Template
IT Job Resume Format Example
Now that you have a better idea on how to write your resume, above are samples provided for free, available in PDF and Microsoft Word format, to use as a reference material. Check out more BPO Resume Template for other samples that may help you.