Resume
12+ HR Fresher Resume Templates
Writing an eye-grabbing Resume Format for someone who has no working experience in the field or any industry somehow sounds like an impossible feat. Fresher or not, writing a creative resume is always a challenge and much even more so when you are trying to tailor it to the requirements of the job you are applying for.
Wherever you are in human resource, be it a generalist, at finance, an HR manager, or an entry level beginner, we have templates that can sap the extra effort you need to make a simple resume for you. They are available for BBA, BMS, and biodata formats as well. If you are one of those who want to get in the HR working industry with zero to no experience but have the educational background and certification that can back up your qualifications for the position, read through this article to get some helpful tips with writing your sample resume.
HR Internship Resume Template
Free HR Biodata / Resume Template
Free Human Resource Fresher Resume Template
Free HR Resume Cover Letter Template
Free Professional HR Manager Resume Template
HR Fresher Resume Templates
If you have just completed a course on HR management and are looking for jobs in the HR field, you can start preparing an HR Fresher Resume in Word. A well-prepared resume can help you land the job you are looking for. Take note of the following points if you are preparing an HR Fresher Resume:
What are the objectives of your modern resume?

The personal, educational, skills, and experience details.

The personal details include your name, address, and contact details for communication

The educational details include details about your study and other courses

Skills and experience details can include your internships or, work experiences
You can check out HR Fresher Resume Templates for ideas to help you out in writing an HR Fresher Resume PSD.
Entry Level MBA HR Fresher / Beginner Resume Format Doc
downloadmela.com
HR Finance Executive Fresher Resume Template
uaehrzone.com
HR SAP Recruiter Fresher Resume Template
resumeworld.ca
What You Need in Writing Your Resume
Professional Resume is such a daunting word, especially for those who are inexperienced and just about to venture into the working life. Before you start writing your resume, read on our Resume Template for a fresher post to have a better understanding of writing your resume.
After countless research on the HR role job opening and gathering information on what the position requires, you then must start gathering all the relevant and helpful documents to back up the content of your service resume.
Here are some helpful tips to guide you in writing your student resume:
Your information. You have to make sure to indicate your full name, complete address, and contact details such as your landline and mobile number and your e-mail address. Your potential employer must know who sent the resume, and your contact details allow the employers to contact you conveniently to clarify some part of your resume or to ask you to come in for an interview.
Objective. As a fresher, the objective would be proven the most challenging part. However, there are ways to still make your resume eye-grabbing. Indicate your career goal and what achievements you are going to attain as someone who got the job. Advertise yourself by indicating some of the qualifications you have that could help you in landing the job.
Qualifications. Even without any experience, you still have some other aspects you can consider as a qualification. Simple certificates and other training programs you've attended that are related to the role you are applying for could still help you get that job. You must indicate that cleanly and concisely.
Educational background. Your educational background and achievements attained and your extracurricular and public sample program involvement allows your potential employer to assess how you are in a community.
Skills and strengths. You don't need working experience to be able to have skills and strengths that help you in qualifying for the role you are applying for. Cite a brief and concise sample statement on the skills and strengths you think you can offer to the employer's needs and contribute to the benefit of their company.
HR Department Fresher Resume Format Doc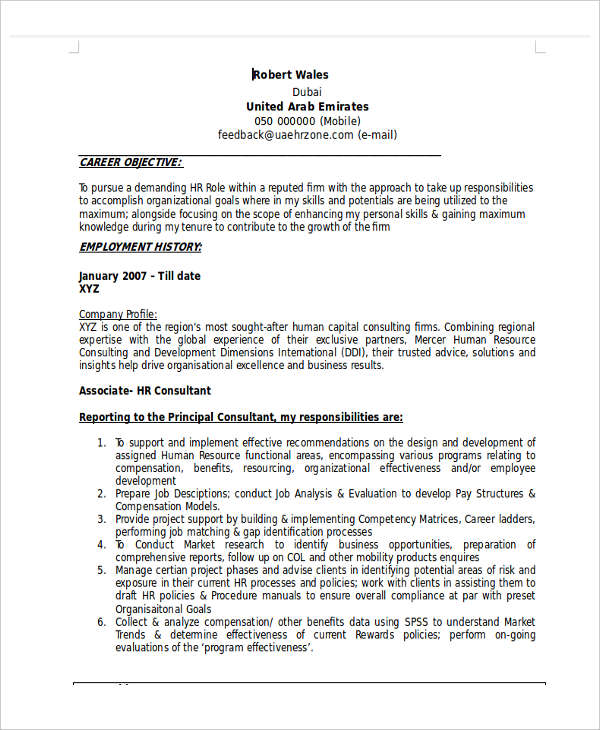 citehr.com
HR Generalist Fresher Resume Headline
utdallas.edu
HR Fresher Resume Format Template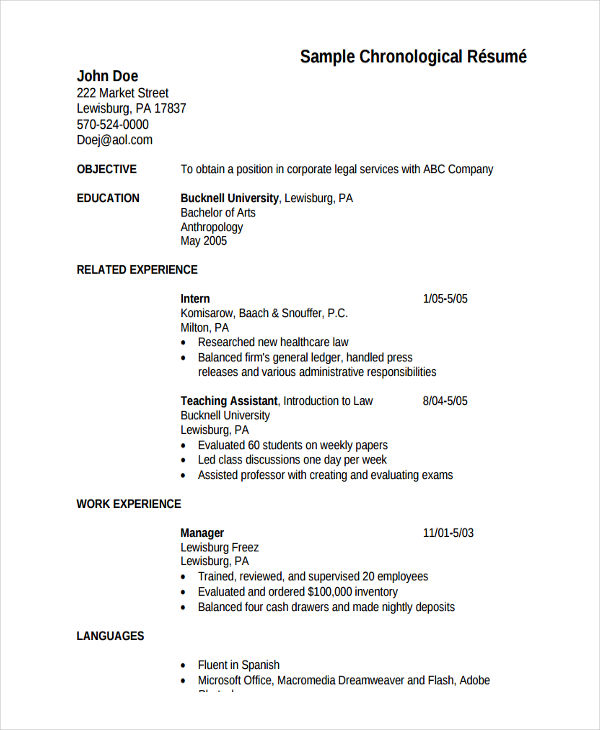 bucknell.edu
BMS HR Assistant Resume Template
windows.net
Sample Student BBA HR Resume Template
kuvempu.ac.in
A custom resume is one of the most important simple letters you will ever write in your life as it is a key that allows you to open doors to life-changing possibilities. It is important to us that our resume would serve its purpose.
If you are still unsure on the roundabout of writing your printable resume, above are samples and more from our website that you can download for free in PDF formats and Microsoft Word formats that you can use as reference material. Check out Accountant Resume Template to see other various samples. Feel free to peruse the pages on Template.net to find more resume templates in word to master your resume-writing skills.
More in Resume