Football is a sport that has crazy fans all over the globe. People are obsessed with watching the sport, playing it, playing it as a video game and even playing it on their smartphones. If you are looking to host a football match in your community or neighborhood or even announce the arrival of a new football video game, we have the perfect sports flyer template for you.
How to Create a Football Flyer in Just 5 Steps
Step 1: Select a Template for Your Football Flyer
You may begin creating a flyer for the football event by firstly selecting a template that is unique and outstanding. There are numerous football flyers available for you to select as per the theme of the occasions. You might want to take a look at some flyer samples before you proceed.
Step 2: Add Graphical Images
After selecting the template appropriate for your football flyer, you can add images that are eye-catching and stunning. The image plays a major role in attracting the viewers to read the flyer. Therefore, do not go with this one. You can add your own images or you can use royalty free images from the internet.
Step 3: Font Size
The font size is also a very important aspect of keeping the attention of the viewers hooked to the content of the sports flyer. Highlight the information wherever necessary and use fun colors. They should be pleasing and not too straining to look at.
Step 4: Enter Information
In this section, include relevant and prominent information related to this sports event. such as the name of the teams that will be facing against each other in the game, venue details, price of the tickets, starting time of the match and other such tournament details.
Step 5: Print
Once your flyer looks organized and is filled with content, you might want to cross check it to avoid any mistakes. If any changes are to be made after reviewing, make them. After that, get it printed in good quality.
Restaurant Football Game flyer Template
Football and Soccer Flyer
The football and soccer flyer is a superbly designed awesome looking flyer that provides a football and a soccer flyer that can be used by anybody who is organizing a local tournament. It features images of the soccer players in action with the soccer ball.
Unique Football Flyer Template $ 7
Download
Champions Soccer Template
 Soccer tournaments need publicity and promotion. To find a suitable flyer design is sometimes a challenge, but not when you've got a football flyer template such as this one. The Champions Soccer template is powered with all the artwork and other important elements, and so it can easily become the flyer-choice for any soccer tournament.
Football Flyer Fully Layered
The football flyer fully layered is a beautifully designed dark themed football flyer that looks really good and brings out the energy and emotions which makes this sport one of the best.
Soccer Madness Flyer Template
The soccer madness flyer template is a gorgeous looking soccer flyer that uses stunning visual effects to create a masterpiece of a soccer flyer ready to represent the local tournaments.
Football Flyer Template
This football flyer template has a minimalistic look to it. It lets you enter the league details in a bold red color and other details such as name of the teams, price of the ticket, contact details and venue in blue color. There is a faint image of two soccer players in action in the background.
Football Camp Flyer Template
Get the word out regarding the football camp you're about to host by using this very cool football camp flyer template. The services that you will be offering along with the price details can be mentioned so it's easier for people to know what to except.
Football Game Flyer Template
Check out this beautiful dark green-themed football flyer that is perfect to make any tournament announcements. It features a football player in action at the center of the flyer. The football tournament and the day of the event are highlighted in yellow font. Needless to say, it's safe to bet on this template anytime for any event!
Printable American Football Flyer Template
Attract a large crowd for your football event by downloading this printable american football flyer template that shows an image of three football gearing up for the game. The fonts are beautifully highlighted in areas that are needed to draw the reader's attention.
Editable College Football Flyer Template
Get that football arena full for the upcoming game with this blue themed college football flyer template. It can be highly customized as it is professionally designed from scratch. Personalize it just the way you want to by downloading it at an affordable price now!
Football Sunday Flyer Template in PSD
Make it an event to remember by downloading this gorgeously designed football Sunday flyer template in PSD. It is available for download in multiple file formats so you can easily update it with high-resolution images and graphics. You wouldnt want to miss out on this template. Get it now!
Free Football Flyer Template
Free Football Camp Flyer
Free Football Tournament Flyer
Thanksgiving & Football Flyer
Brazil Soccer Cup Flyer
College Football Flyer Template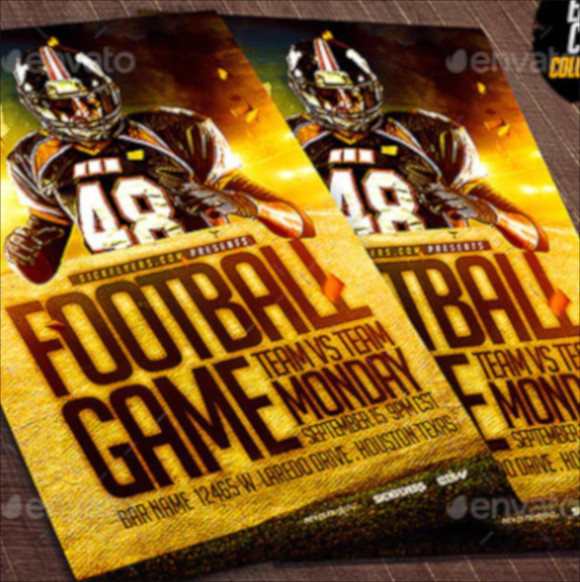 Soccer Flyer Template
Super Ball XLIX 2015 PSD Flyer
Super Ball Football Flyer
Football Flyer Template $8
Super Ball Football Flyer Template
Big Match Football Flyer
Sunday Night Football Flyer
Big Game Football Flyer Template
American Football Flyer
XLIX Football Game Flyer Template
The above-shown football flyer templates are available in different formats including JPG and PNG. They can be edited as per your requirement. These templates are vibrant, colorful and have logos and backdrops of footballs and football stadiums on them.