Are you planning to start your own enterprise? It does not matter whether it is small or big because all businesses grow.  Download free business flyer templates online that makes the concept clear. If it is for any product you can click picture and add on to the template with theme, contact name, office address for your restaurant business and if it is your home, you can put that as well in PSD business flyer templates.
Creative Business Flyer Template in PSD, Publisher Format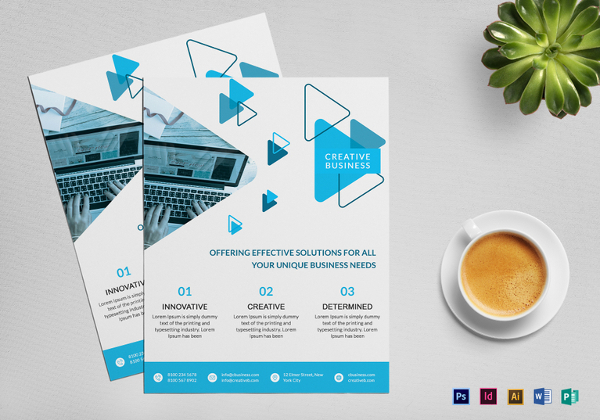 Multi Purpose Business Flyer Template in Illustrator Format

Buy Now
Simple Free Business Flyer Template
Making design as a form of poetry is what you are fond of then that is what you will get. Different projects are what you will found yourself immersed in. Templates can have two folds or even three folds.
Fabulous Business Flyer Template For Free
Quirky form of templates for opening up a business is always lucrative because it tempts the young minds towards you. You can also have dummy post in the template as per your wish and style of presentation.
Cute Free Business Flyer Template
Those who are venturing into IT solutions and need some cute ideas can find themselves amidst the flyer templates. You can add in services that you come across to simplified solutions on the cover of the template.
Greenish Amazing Free Business Flyer Template
Green and white background to go by with services offered, about the logo and choice that you are looking for are to be found on the templates. The company provides various kinds of services that you can think of.
Free Download Business Flyer Template
For promotion of various products you can add in samples to the templates that make it useful. The business template gives you free quote as well. You can even download the flyer for free whenever you wish.
Fantastic Flyer Template For Business Free Download
Amazing Free Business Flyer Template
Free Business Flyer Template Download
Texture, color, images and text can be highlighted when you have all the tools downloaded. It will make your business flourish from scratch to great heights.