Flyer
17 + Ice Cream Flyer Templates – PSD, AI, EPS Vector, Word
The scorching heat of the summer brings only one thing to mind- the soothing effect of the scrumptious sorbets, ice creams and other frozen desserts.You may also see flyer examples
If you're planning to have an ice cream themed party, or are planning to open an ice cream shop, then the following flyer templates would be perfect for you. You would be able to make full use of the colours and illustrations that you see here and even add your own twist to them! You can also see Bakery Flyers.
Ice Cream Shop Flyer Template
Ice Cream Party Flyer Template
Summer Ice Cream Flyer
As the template suggests, summer is the time for bright and vibrant colours. The colour scheme used in the template along with the clear, simple text makes for a stunning poster.
Ice Cream Social Flyer
If you're planning to have a social ice cream party, then this is the template for you. It comes in a standard size and allows for bleed. Also, it is 100 % editable. The template is compatible with Photoshop.
Delicious Ice Cream Flyer
Anyone who loves ice creams and sorbets would love this template. The illustrations combined with the text, which has been kept concise and to the point, look fabulous.
Ice Cream Night Flyer
This ice cream flyer template has a very urban and modern take, which never fails to impress. Also, it comes in well-assorted folders and is ready for print. You would also be able to tweak the details on the template.
Ice Cream Cup Cakes Flyer
Cup cakes and ice cream certainly create the ideal combination. The sheer graphics and use of colours on the ice cream themed template make it look stunning and eye catching.
Ice Cream Bar Menu Vintage Restaurant Flyer
To create a menu for your wide collection of ice creams and desserts, you could use this vintage themed flyer template. It looks sophisticated and elegant and would be perfect for a menu.
Watercolor Ice Cream Flyer
The graphics and illustrations on the ice cream flyer template here appear to have been painted by hand. The hand painted look creates a very charming effect and makes for a stunning poster.
Ice Cream Shop Flyer
To promote an ice cream shop, you could use this flyer template. Here you can insert your own images or even your details to personalise it. You just have to download the template! You can also see Free PSD Flyer Templates.
Frozen Ice Cream Flyer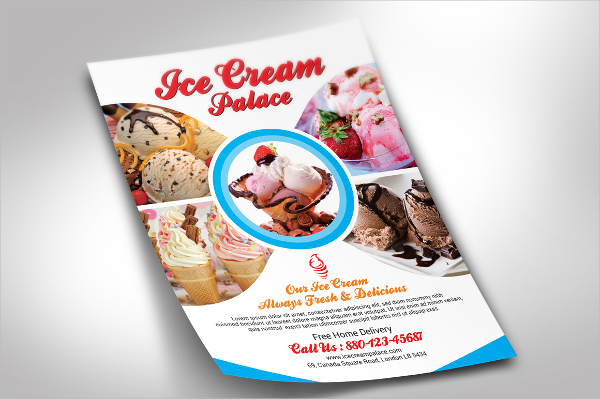 This template conveys the theme at the very first look. The use of colours and illustrations immediately grab attention. Also, the template is in layered psd files and is easy to use.
Ice Cream Shop Promotion Flyer
To promote an ice cream parlour that you've just opened, you could use this promotional flyer. You could add images and descriptions of your menu as well.
Ice Cream Advertising Flyer
An advertisement flyer should always come with a catchy headline, like the one in this template. You will, however, be allowed to modify the details on the template to make it your own.
Carla Ice Cream Flyers
Seldom will you come across a template that is as elegant and posh. The design has been kept minimal, so as to avoid overwhelming. Also, the fonts used in the template add to the charm.
Ice Cream Twist Flyer and Menu
The ice cream flyer comes in a standard size of A4 and is easy to edit. It uses a colour mode of CMYK and high-resolution images. Here, you would be getting a total of six psd files.
Ice Cream Social Announcement Flyer
Ice Cream Party Flyer
Ice Cream Salon Flyer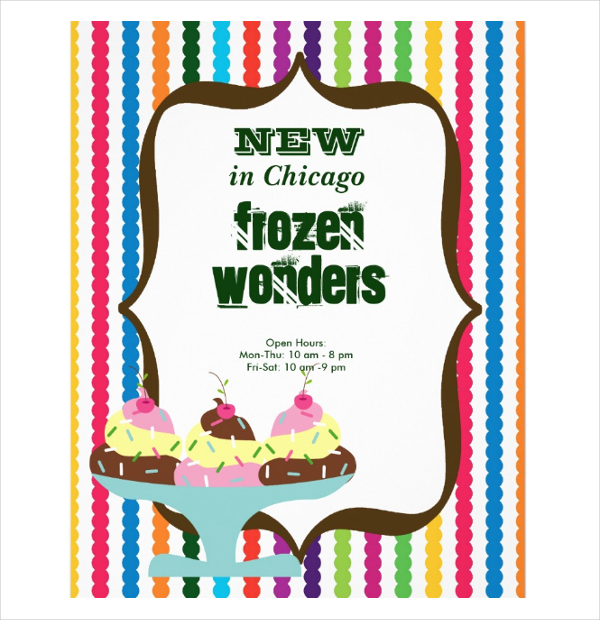 The sheer variety of the templates would leave you spoilt for choice here. You have promotional templates, restaurant flyers, party flyers et cetera to choose from. And all of them come in attractive layouts and easy to use format. You can browse through the templates provided here and select the one you think goes with your purpose. You can also see Food Drive Flyer Templates.