Party time is the time to unite and meet new people. Parties provide a great opportunity for marketing your personality and skills. In order to provide the impression that you yearn to preserve, you will want to throw a perfect party to you guests. Thus, you should use PSD Flyer Templates. They vary in size, color, fonts and images. Furthermore, you can always modify these elements to suit your event. They are cheap since you only buy them once.
Unique Party Flyer Template
Event planners should customize this unique Party Flyer Template as an invitation flyer for their upcoming parties. It is print ready on 4 by 6-inch papers with 0.25" bleeds.
Sports Party Flyer Template
This 4 by 6-inch Olympic party flyer template requires Adobe CS4 version for editing and customization. It is print-ready, layered and has 300 dpi canvas resolutions, and CMYK colors.
Halloween Spooky Party Flyer Template
These 5 by 7 inches handmade dark flyer templates are perfect for inviting adults to Halloween parties. They are printable on 300 dpi and contain four PDF files for download.
Summer Beach Party Flyer Template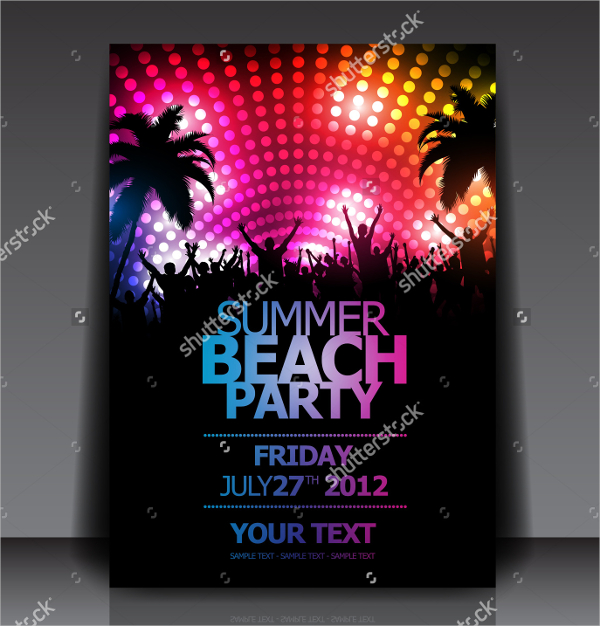 These colorful dark flyer templates feature vector illustrations. They are designed using EPS 10 and are available in several sizes, high resolution and CMYK colors. You can edit and customize them for summer parties.
Club Party Flyer Template
This A5 sized party flyer is idyllic for evening parties, concerts and festivals in clubs or bars and similar places. It is layered and print ready with Photoshop PSD graphic files.
Retro DJ Party Flyer Template
This 8.5 by 11 sized retro DJ party template has a resolution of 300 dpi with CMYK and bleeds. You can adjust its colors, texts and size.
Oktoberfest Party Flyer Template
This hand designed free Party Flyer template is easy to use when planning for summer events. It is an editable and customizable Photoshop file featuring CMYK colors, 300 dpi, layers and .25 bleeds.
Crazy Night Party Flyer Template
The crazy Night Party Flyer Template is a free party flyer available for download. It has high resolution, variety of colors, fonts, vector images and illustrations that are customizable free of cost.
Sunday Party Flyer Template
This chill Sunday party flyer template contains free fonts, editable texts and images. It features 300 dpi, RGB, CMYK colors, 0.25 bleeds and PSD files on its 4 by 6-page size.
Back to School Party Flyer
These free Back to School Party Flyer templates are editable and customizable using at least Adobe Photoshop CS2 version. They are layered with PSD files containing 300 dpi, 25 bleeds and free fonts.
Christmas Party Flyer Template
This one page print ready Christmas Flyer Template is an ideal invitation flyer for home or club parties. It has a layered PSD file, editable fonts, texts and colors using Photoshop CS6.
Modern City Angels Party Flyer
You can easily modify the colors, fonts, texts and images of this flyer. It contains two color options, free fonts, 300 dpi, CMYK, bleeds and it is print ready.
Friday Night Music Party Flyer
This dark flyer template for night music events is print ready on 4 by 6 paper sizes. It contains bleeds, CMYK colors, 300 dpi and editable PSD layers.
Metal Club Party Flyer Template
This 4 by 6 inches free party flyer has 300 dpi, 0.12 bleeds and CMYK color modes. You can easily replace its smart images, free fonts, and labeled PSD layers.
Jungle Party Flyer Template
Scandal Party Premium Flyer Template
Birthday Party Flyer Template
Launch Party Flyer Template
Cocktail Party Free Flyer Template
Finally, when organizing music-related events, you should try to use the aforementioned even flyer templates. They are unique for particular events and you can always edit and customize them as you wish. Note that by using these templates, you save on the cost of marketing your events.