Funeral roll up banners can be used to inform people about the demise of a dear one or a prominent personality. It is cost-effective to use thereby making it easier to place in an ideal location. Design and customize funeral roll-up banner templates to honor your departed one with grace.
5 Essential Steps to Create a Funeral Roll Up Banner
Step 1: Select a Theme
As there are many kinds of themes you can come up with for the funeral banner, it would be better to opt for the one that closely reflects on the kind of life the departed one had. For example, if he/she loved nature, flowers or beaches, then accordingly you can select the theme.
Step 2: Enter the Departed Person's Details
Next, you can enter the necessary information related to the deceased person. Details such as date of birth, date of death, and their name should be added. You can also include a quote on the banner. You can also enter details in free banners that are ready-made for use.
Step 3: Add an Image
After you have completed entering the departed person's details, add their image at the center or at the topmost part of the banner. The shape of the image can be made to fit a circular frame or a rectangular frame. Select fonts that are appealing and nice to look at. They shouldn't be too harsh or unpleasant.
Step 4: Venue Details
You can mention the details of the venue at the bottom of the banner. Place it with the right fonts and text size so it is easy for people to locate the information. You can also add your contact details below the address so if people have any difficulty finding the venue or have any other queries, they can easily contact you.
Step 5: Print the Banner
Make sure you do not include a lot of information in your banner. Keep it simple so it is easy to read and grasp the information. Once the information is entered, you can send it for printing and place it in the ideal place where the targeted audience can take a look at it.
33+ Funeral Templates in Word, Excel, PSD, Google Docs, InDesign, Apple Pages, Google Sheets, Publisher, Apple Numbers, Illustrator - START DOWNLOADING
10+ Funeral Roll-Up Banner Template
1. Elegant Funeral Roll Up Banner
Honor your departed one by making use of this elegant funeral roll up banner template. It allows you to place the image of the departed person at the topmost part of the banner followed by the person's date of birth and date of passing details.
2. Funeral Invitation Roll Up Banner
It can be difficult making a lot of people know about the funeral service of an important person. But with the help of this funeral invitation roll up banner, one can easily get to know about the funeral ceremony just by taking a look at it. It is made to stand out so everyone can notice the information easily.
3. Loving Memory Funeral Roll-Up Banner
Download this "loving memory funeral banner template" that is themed in a floral design. You can use this theme to make announcements about the memorial service of a dear and departed one. The image can be placed in a circular frame and the venue details can be placed at the bottom of the banner.
4. Funeral Roll-Up Banner in AI
Get this template if you're planning for a funeral service of a dear one who has passed away. You can customize the contents of the banner by editing the text and image details. It is well layered and has a resolution of 300 DPI. Standard fonts are included and you get it printed instantly after editing.
5. Funeral Roll Up Banner Template
Download
This roll-up banner design is a unique template that can be used for the funeral invitation purpose for a loved one. It has an eye-catching color palette that can be used for multiple types of genres. It is easy to use and is well organized which makes it worth investing in.
6. Sample Funeral Roll- Up Banner
Download
You might be interested to take a look at this sample roll-up banner that comes in a light shade of purple with a beautiful rose in the background. You can use it to display the picture of the dearly departed one at their memorial service. This banner would be most ideal for someone who loved gardening, flowers or nature.
7. Funeral Roll Up Banner Design in PSD
Download
The above-shown funeral roll up banner design comes in a quality design that consists of an art decoration style similar to that of the Great Gatsby. This file can be used for various genres and is sure to make the presentation appear at its best. All you have to do is edit the details as per the requirements of the funeral service.
8. Creative Funeral Roll-Up Banner
Download
This creative funeral roll up banner can be used for anyone who loved the beach, the sea, the coast, fishing or sailing. It allows you to place the picture of the departed one in the template with the images of a photographic sea and sand dunes in the background. Personalize it with your loved one's full name, birth, and death dates and get it printed.
9. Funeral Service Roll Up Banner in PSD
Download
This funeral service roll up banner is simple yet elegant in design and can be used to promote funeral services for your clients. It has a wreath that is pictured on the banner. You can make use of it by positioning it in front of your store or by putting it up on your website.
10. Basic Funeral Roll Up Banner Template
Download
The above template represents a funeral rollup banner which is designed in a simple theme of black and white. Customize it by placing a photo of your dearly departed at their parting funeral ceremony. Edit their name, birth, and death dates. Although basic, it looks elegant with its choice of font styles.
11. Funeral Roll-Up Banner Example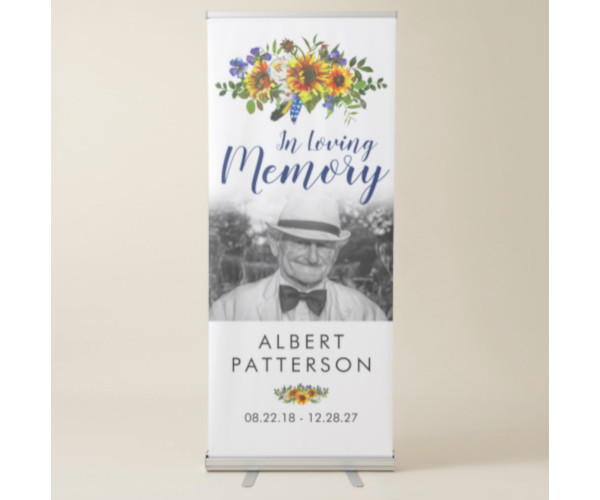 Download
You can design a memorial invite by considering this funeral rollup example banner template that features a photo of your lost loved one. It has a display of a rustic watercolor sunflower at the top and bottom of the page. The banner can be personalized by editing the text and the image.