Funeral booklets are used at memorial services of a deceased person in order to remember them in a positive light. They list information such as the person's achievements, their life throughout the years and so on. These books can be designed using funeral brochures so they can be used as a memorable keepsake.
33+ Funeral Templates in Word, Excel, PSD, Google Docs, InDesign, Apple Pages, Google Sheets, Publisher, Apple Numbers, Illustrator - START DOWNLOADING
5 Steps to Create a Funeral Booklet
Step 1: The Funeral Service
Firstly, know what type of funeral service does the family require or if the departed person has already mentioned what kind of funeral they need after in their will. This can range from a traditional burial ceremony to a private cremation service. You have to be ready to give any of these to the family if they ask.
Step 2: Layout and Theme
Once you know what kind of funeral service needs to be held, it would be easier to choose a design, layout, and theme for the booklet. Most people will choose simple booklet themes that include a neutral color scheme, but some will want them to be grand, so make sure you choose the right one.
Step 3: Funeral Details
After you have decided the theme and the layout for the funeral booklet, write down all the details and events that should be mentioned in it. This includes the location and time of the funeral ceremony, the funeral repast location and time, the required dressing attire, etc.
Step 4: Pick a Template
Pick a template that you think is best suitable for the situation and add all the necessary details in it. There are many ready-made funeral brochures already available online, so you can search and choose the best one.
Step 5: Proofread and Print
Make sure that you proofread all the details you put in without fail. Once you are satisfied with the draft of how the booklet looks, you can now take a print which will be ready for distribution. If there are any changes to make, do make them before you print it.
10+ Funeral Booklet Templates
1. Obituary Funeral Booklet Template
Download this wonderfully designed obituary funeral booklet template that is themed in a beautiful olive green color. It consists of 16 slides that can be edited and customized by changing the text and images as one may like. This allows you to write a few lines to pages about the deceased of you wish to do so. You can also add images wherever necessary.
2. Funeral Booklet Template in Doc
Download
We offer our deepest condolences during this difficult time and hope that this different 8-page funeral booklet template will lessen the strain of creating a template from scratch for you. This template comes with a user-friendly interface. Download it once and it is yours forever to keep.
3. Funeral Program Booklet Template in PSD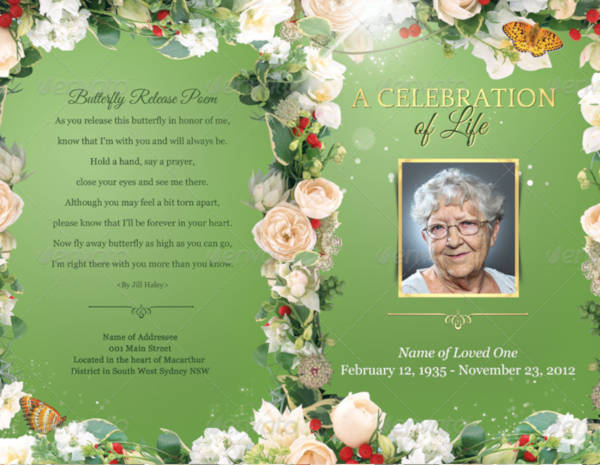 Download
This simple and elegant template comes with floral designs and green color coordination, which gives it a unique look. All you have to do is download it, edit it with the details of your loved one and customize it with the necessary details required.
4. Printable Memorial Service Folded Booklet
Download
Printables are always handy as they are hard copies that are to be given to people. This memorial service folded booklet is easy to fold, edit and customize with the details of your loved one. It comes in a plain white color, making it look elegant and the fonts used in the card are easy to read. You can also check funeral booklet templates on our website for more booklets.
5. Funeral Booklet Template in PSD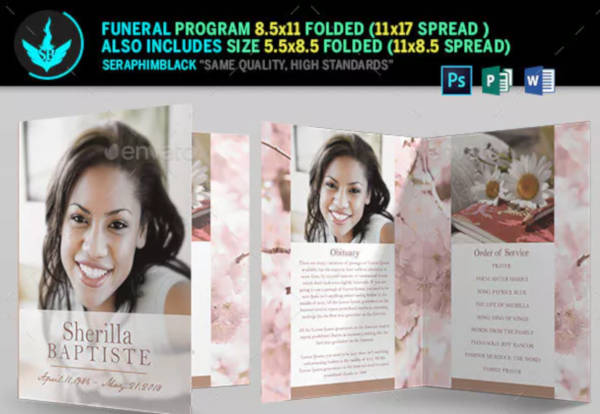 Download
The above template has a modern layout and a background of pink that gives this funeral program a sweet and pretty presentation. The color palette is modest, and the photo placements are simple in a set layout. This gives you an opportunity to edit the details easily, without having to take the pain of creating one from scratch.
6. Teen Funeral Program Booklet Template
Download
If you are in search of a unique funeral program design with a retro yet modern look for your loved one, then you are at the right place. This file is easy to edit and use, giving you a clean presentation. Customize this adjustable file in many ways to honor your loved one.
7. Editable Funeral Memorial Booklet in PDF
Download
This editable kids funeral memorial booklet is also available in the form of PDF files, that are easy to download and edit. You can change the background, fonts, pictures and all the details of your loved one in the way that suits you the best. Download it and edit it the way you like using your favorite software.
8. Mom Funeral Program Booklet
Download
Use the above template as a tribute to the passing lady of the house. This comes in a unique color combination, easy to edit and print whenever and wherever. You do not have to go through the pain of creating a new booklet from scratch in this difficult time. You can use out funeral booklets that are readily available to edit.
9. Multi-Page Funeral Program Booklet
Download
This template has fully editable text and image boxes that you can easily and effortlessly personalize yourself, making it a tribute to your loved one. You can move the image boxes, change colors, size and even add more pictures if needed. Just add the details of the deceased, the programs in the funeral service, etc.
10. Vintage Funeral Program Booklet Template
Download
It is important to tell the story about the person who just passed away. It does not matter whether the story is sweet or sad, but it shows that you are grateful to have had that person as a part of your life. Use this funeral bookmark template to put all the feelings you go through during this time, so that you do not have to go through the stress of making a booklet completely from start.
11. Mothers Funeral Program Booklet Example
Download
This beautiful booklet comes with a unique theme comprised of a wooden background, decorated with beautiful flowers and colorful butterflies. This will definitely give your guests the feeling of retro-theme with this card. The gold lettering also sets a unique quality, unlike the traditional funeral services. You can also check funeral templates for the father if it is the man of the house who passed away.