Funerals are sad times. However, this does not mean that everything about them should be banal and dry. When organizers put some creativity into the occasion, it can go ahead to lighten up the heart of a sad person, and probably provide him with one more reason why he should not give up. A sample Funeral Program template can make a minor but nonetheless important contribution to this.
Tri-Fold Funeral Program Template
One of the most complex templates to create is the Tri Fold Funeral Program. However, there is an alternative to creating this document from scratch. Simply download this template and then customize it.
Funeral Mass Program Template
If you are looking for a useful template that you can use to create a funeral program, download this one. The Funeral Mass Program Template is a free document that you can customize in the shortest time possible.
Funeral Service Program Template
The best thing you can do if you want to create a suitable funeral program is to download a free template. The best thing about using the template is that it is easy to customize.
Funeral Obituary Programs Template
At the end of the day, it would be best to use a template that serves as a funeral program and an obituary as well. Here is the best sample temple that you can use to create the best program easily.
Catholic Funeral Service Program Template
It is important to remember that a funeral program is important. And, when someone passes away, you should be quick to prepare a good program to pay them that last respect. You can use this template for free.
Free Funeral Memorial Program Template
If you want to create a funeral memorial program fast, you should consider using a Funeral Memorial Program Template. The sample file is readily available for free download and is ready for print.
Catholic Funeral Mass Program
It is probably going to take you sometime if you choose to create this file yourself. However, to save time and money, you should consider downloading an already built sample template for the same purpose, for free.
Free Funeral Program Template in Microsoft Word
Funeral Program Templates in Word format are available for free download. The sample file is easy to edit. You can customize the layout in minutes. Using a template allows you to get your program ready in less than half an hour.
Bi-Fold Funeral Program Template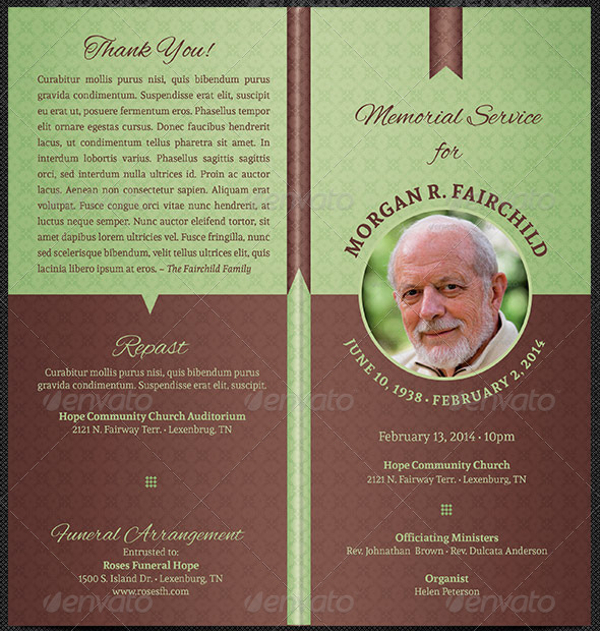 This file can serve two purposes on the go. On the one side of the template, you can write an obituary, the story of the person who has just passed away. On the other side of the page you can create a funeral program for the event.
Funeral Memorial Service Program Template
This is a free sample template. You should download and use it to create a custom memorial program instead of spending a lot of time creating the file from the ground up.
Baby Funeral Program Template
You can pick this program template straight out of the box and use it to create a unique funeral program. The program you make will be quite personalized, and as such, it will differ from the downloaded sample.
Funeral Program Order of Service Template
An order of service for a funeral is a list of activities that people will take part in from the time the event starts till the time it ends. The best way to create a useful funeral program without spending a lot of time on the task is to use this sample file.
Military Funeral Program Template
When someone in the military dies, it is always best to plan a funeral program for them. At the very least, the event will pay them their last respect. You can use this sample file to create the program.
Child Funeral Program Template
Do you know you can create a child funeral program in minutes? All you have to do is download a sample template for the funeral program, and then customize it to suit your needs.
Custom Funeral Program Template
Homegoing Funeral Program Example
Homegoing is an Afro-American Christian traditional obituary paying which resembles the return journey of the deceased to the heaven or Lord. The template in the above displays the perfect obit with a great African-American traditional touch.
The best Funeral Program Templates have all that you need when it comes to format. They direct you where to put pictures, messages, and guidelines for the mourners. You can also choose to add a quote of your own or pick one among the many suggestions that these templates provide.