Putting together an all-in-one instructional guide that can help an individual perform a particular task or use a certain product or service needs a lot of work and takes more time to complete. But worry no more, and listen to what we're going to offer you. Our high-quality, easily editable, and 100% customizable Manual Templates offers an easy and convenient way for you to draft and create a complete and effective manual that you can use for personal or business purposes. With it's ready-made and formattable contents, applying your desired template design structure and format will be as easy as a-b-c. All templates are available in Adobe PDF, Google Docs, MS Word, and Apple Pages file formats and support both Windows and Mac OS.
How To Create A Comprehensive Manual?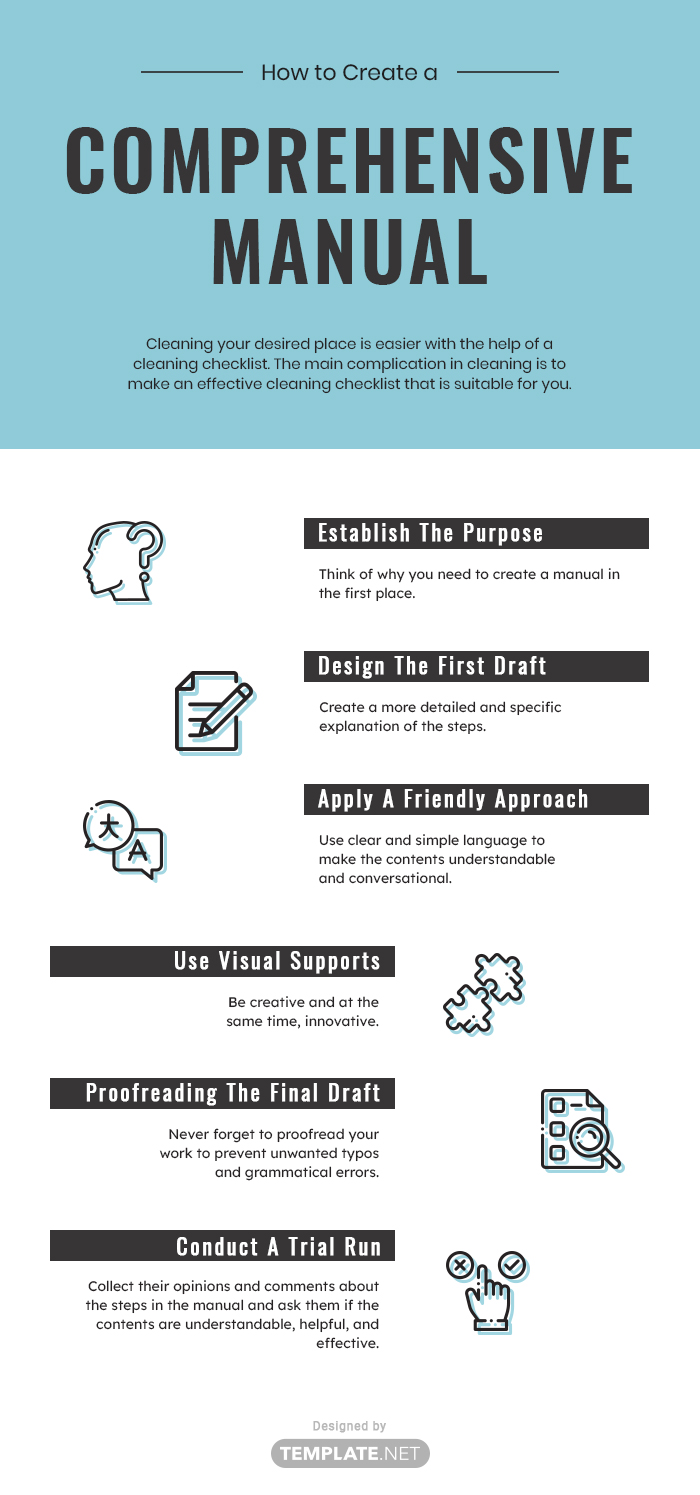 A manual is a guiding document (e.g, instruction guide, user guide, etc.) that contains complete and comprehensive information about a certain process, operation, maintenance, and others. In business, it is a resource guide used by employees to learn how to perform and complete a specific task or project. Other manuals provide different uses depending on what particular matter or program it is made for.
Business manuals refer to a reference document that embodies the mission and vision of a company. It possesses the guidelines on how an employee should act and perform at a corporate level. It also contains procedures on how to perform and complete a specific task to boost productivity and consistency at work. Examples of business manuals are employee's handbook, training manual, employment guide, etc.
1. Establish The Purpose
Think of why you need to create a manual in the first place. The manual is intended for newbies and for first-time users so it is important to base your objectives on how they will use or benefit from it. It should be able to explain the importance and purpose of the document to your target market. The contents should be on point and should focus only on the things that it needs to cover to prevent information overload and disorientation.
2. Design The First Draft
Out from the information and the ideas that you've written from scratch, create a more detailed and specific explanation of the steps. Gather relevant data from reliable resources or, better yet, interview a subject matter expert on that field to gain significant insights, suggestions, and data sheets that can supplement the contents of your manual.
3. Apply A Friendly Approach
To make the manual effective and user-friendly, you should use clear and simple language to make the contents understandable and conversational. Avoid using jargon or technical terminologies to prevent confusing and overwhelming the readers. Use acronyms and abbreviations only if deemed necessary. Remember that the manual is not for you but for your target audience, which in the business perspective, is your employees.
4. Use Visual Supports
Informative illustrations, graphic images, and diagrams are effective in conveying information and can greatly boost the impact of your manual. These materials provide better retention of information. Be creative and at the same time, innovative. Try to do some research on how to correctly use infographics to learn more about its effectivity to produce an all-inclusive visual-worthy instructional material.
5. Proofreading The Final Draft
Never forget to proofread your work to prevent unwanted typos and grammatical errors. To help review and polish the contents of your material, have someone reassess the manual. Review the document occasionally and make timely revisions to keep it updated and extend its efficacy.
6. Conduct A Trial Run
To guarantee its efficiency, testing the functionality of your manual is necessary to help point out certain weaknesses or flaws in its contents. Send a copy of the final draft to a group of people or colleagues and let them follow the procedures in the manual and evaluate it. Collect their opinions and comments about the steps in the manual and ask them if the contents are understandable, helpful, and effective.
Read More
Earn 20% commission on every sale from your Share
Bloggers: Publish/Mention Template.net products on your website, blog, Social Media or Via Email & Earn affiliate commission of 20% for every sale