Trying to keep up with market trends and the growing competition, businesses across various industries continue to vie for the customer's attention. It has never been more important to put the word out and promote your brand and at the same time, it has never been more challenging either. Whether you're looking to increase your customer base or simply connect with your audience, a brochure gives you the platform to tell your story.
Elements of A Good Brochure
A brochure's ultimate goal is to lead an audience into an action such as a sale, obviously. However, before this happens, you first have to get the customer or your target audience to pick it up and actually read it. Here are the elements that can increase the chances of someone picking up your brochure:
1. Cover: Create a cover that catches the eye of a potential customer or client. Such a cover has a clean design and is ideally made up of a phenomenal photograph, the business logo and a phrase that attracts the reader enough for him to want to learn more, The most catchy and effective phrases are set in bold, large type that pops off the page, fewer than ten words and placed on an area on the brochure where it is prominent.
2. Font and Font size: Choosing the right font is another strategy to set the mood of your brochure's message. For instance, Comic Sans wouldn't be the right font to use for a surgical canter's promotional brochure. That would be so wrong. You also have to make sure that your text is readable so be careful in choosing your background color. You don't want your message to be lost within a font that's difficult to read. Try to use different sizes in highlighting the most important information. Size also helps create visual interest and adds value to the design.
3. Photos: The use of photos and images are another great way to tell your company's message without the need of text, but that doesn't mean you would be dependent on them for your brochure to garner its desired result. Limit your images to 2-4 pictures so the audience wouldn't be overwhelmed.
4. Name and Logo: Your brochure should be built around the company name and it's a logo. Even if your brand is fairly popular and your logo easily recognizable, having it as a focus of the design should be consistent across your promotional materials because this is what your audience is most likely to look for and remember when passing by your establishment. Place your business name and logo where it would be prominent on the brochure's layout. If you can put it both on the front and back cover, then so much the better.
5. Contact: Without your contact details, customers won't have a way to reach you, except perhaps if they make time to search for your page on the internet. If you want them to take advantage of the product and service you are offering, however, you should have your business name, email address and phone numbers on the brochure as well as your website.
11+ Brochure Templates in Word
Recruitment Tri-Fold Brochure Template
&nbsp
&nbsp
&nbsp
&nbsp
&nbsp
Size: (US) 8.5×11, (A3) 17×11 inches
Hotel Bi-Fold Brochure
&nbsp
&nbsp
&nbsp
&nbsp
&nbsp
Size: (US) 8.5×11, (A3) 17×11 inches
Apartment Brochure Template
&nbsp
&nbsp
&nbsp
&nbsp
&nbsp
Size: 16.54×11.69 inches
Wedding Planner Bi-Fold Brochure
Details
File Format
&nbsp
&nbsp
&nbsp
&nbsp
&nbsp
&nbsp
Size: Available in (US) 8.5×11 & (A3) 17×11 inches + Bleed
Fundraising Brochure Template
&nbsp
&nbsp
&nbsp
&nbsp
&nbsp
Size: US (8.5×11) & A3 (17×11) inches
Free Multipurpose Brochure Template
Details
File Format
&nbsp
&nbsp
&nbsp
&nbsp
&nbsp
&nbsp
Size: Available in (US) 8.5×11 inches + Bleed
Free Catering Brochure Template
Details
File Format
&nbsp
&nbsp
&nbsp
&nbsp
&nbsp
&nbsp
Size: Available in (US) 8.5×11 inches + Bleed
Corporate Business Brochure
Details
File Format
&nbsp
&nbsp
&nbsp
&nbsp
&nbsp
Size: Available in (US) 8.5×11 inches + Bleed
Free Summer Camp Brochure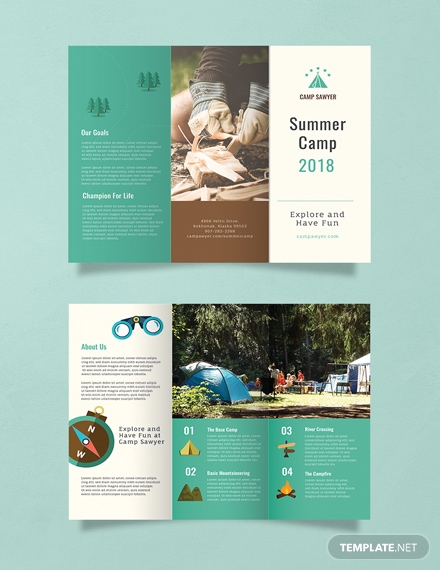 Details
File Format
&nbsp
&nbsp
&nbsp
&nbsp
&nbsp
&nbsp
Size: Available in (US) 8.5×11 inches + Bleed
Free Product Brochure Template
[/ns_image]
Details
File Format
&nbsp
&nbsp
&nbsp
&nbsp
&nbsp
&nbsp
Size: Available in (US) 8.5×11 inches + Bleed
Download
Construction Company Bi-Fold Brochure
Details
File Format
&nbsp
&nbsp
&nbsp
&nbsp
&nbsp
&nbsp
Size: Available in (US) 8.5×11 inches + Bleed
Steps to Design an Excellent Brochure Template
Now that you have a general idea of what a brochure layout should include, you may want to try creating one with elements, information and a design that gets positive first impressions. A well-thought brochure design can help increase a business's customer base especially if you use these steps as your guide:
1. Understand your audience: Before planning the design of your brochure, you need to have a good understanding of what your audience wants. What would make them choose to do business with you instead of the store around the corner? What's the takeaway of doing business with your company? What can you offer that they can't find in your competitors? If you're not sure what the answers to these questions are, this is a good time to consider asking them with the help of your sales force as well as your customers. Use the input you get by adding them as part of your brochure's main features.
2. Decide on your AIDA (attention, interest, desire, and action): AIDA helps break down what could otherwise be messy or overwhelming content on your brochure. These four things together are perfect in grabbing attention, getting potential customers interested enough to read the material in full and boost the chances of getting a sale on the product you're marketing. This can also get people to act whether it is to ask further questions, visit your company's website, call you over the phone for service clarifications or buy the product they're interested in.
3. Use relevant photos: Images are a great way to let your audience get a good view of what you're selling them. Photos are undisputed when it comes to evoking interest, excitement or the kind of reaction to convince them that your business or product is the best choice for them. Make sure that you have high-quality images at the ready, otherwise, you can just use professionally-shot stock photos you can use for free which are available across the internet.
4. Make it professional: You may end up writing compelling content for your brochure but it won't get much attention or the results you need if it ends up with a poor or haphazard design. A crowded layout or one that lacks visual hierarchy and organization will confuse a customer and text that's either too small to read or too big to understand will fall short of making the desired effect which also runs the risk of your company lacking professional quality. You don't want that. If you're designing them yourself, make them look professional by using templates which you can edit and customize as needed.
Tips for Designing A Brochure
A high-quality brochure makes a lot of difference when it comes to effectively communicating what your business is about and what you can provide your customers. A poorly-designed brochure on the other hand, can lose your chances of scoring potential clients and letting them choose the competitors instead. Here are some tips to make sure you don't suffer the same fate:
Pick your format: After deciding on your brochure's content, use it to know your brochure's specific purpose so that you can decide which format works best for you (bi-fold, tri-fold, z-fold). For instance, if you're creating a menu or want to include a whole lot of detailed information, tri-fold is a good choice. But if you want to emphasize imagery by making it a large part of the brochure, the bi-fold brochure would provide you with more space.
Have a layout for your content: Once you've decided on the design, you can start filling the brochure with the necessary content. If you are using a template such as the ones attached in this article, you can just customize and edit as you go. It's best to also make use of headings in breaking up your text. Just try to keep it to one or two fonts for easy reading. Take some time in mixing it up a little to try different options.
Types Of Brochures
These are the most common types of brochures used by different businesses:
Tri-Fold Brochure: Having three folds as the name suggests, you can consider this the version that follows after the bi-fold brochure. The tri-fold format offers good space for lengthy information and content since it's usually divided into six panels and are probably the most common type because of its cheaper printing cost. It's also a lot more handy for the person reading it.
Gate Fold Brochure: This type of brochure isn't really rare, but they're fairly unpopular because of their more expensive printing cost. However, it can be very effective if maximized and used correctly. Most of the time, they're used for high-end marketing as these brochures are made of high-quality paper which reaches the target audience in perfect condition, even when sent through the mail.
Bi-Fold Brochure: Bi-folds are pretty common among businesses since they allow quite a good amount of space for text and images to fit together with a minimum cost for printing en masse. They are folded in half, making four sections, the fronts and back cover.
Brochure Sizes
Depending on the type or format, a brochure can follow any size, although the following are the most common:
(Opened or flat) 8.5″ x 11″, or a normal letter format
Other popular sizes are 8.5″ x 14″, 11″ x 17″and 11″ x 25.5″
Brochure Template FAQs
In the age of the digital ways of marketing, are brochures still effective?
Marketing brochures are still one of the most effective and versatile ways in informing an audience of their products and services. They are pretty simple to design if you have already drafted your content and they remain to be one of the most cost-effective materials to use. They're also great for mass distribution which reaches a wider audience.
What else do I need to pay attention to, in my brochure design, aside from the cover?
The cover design might cause people to pause, but the phrase on the cover is the invitation to pick up the brochure and read it. There are a couple of ways to arouse the reader's curiosity to look further. One technique is to ask a question on the front and answer it within. The other technique is to start a phrase on the cover and continue it inside the brochure.
They may be traditional but brochures are far from being so easily brushed aside by other means of marketing, digital or otherwise. Some may think that a brochure is no longer relevant, especially now that everything seems like it's been digitized. But that's far from the truth. A professionally designed brochure can be an important lead-nurturing marketing strategy.