Want to improve your tourism business' marketing collateral without spending a ton of money? Then this guide is for you. Here, we talk about the steps on how to create winning travel brochures. We will also show you multiple examples of downloadable brochure templates.
41+ Travel Agency Templates in PDF, Word, Excel, PSD, HTML5, WordPress, Google Docs, PowerPoint, InDesign, Apple Pages, Google Sheets, Publisher, Apple Numbers, Illustrator, Apple Keynote, Google Slides - START DOWNLOADING
5 Steps To Make a Travel Brochure Templates
A travel brochure is typically a printed document that contains informational text about a specific topic, location, setting, or object. Read all the steps below to familiarize yourself with the brochure-making process.
Step 1: Choose a brochure design theme.
It all starts with a design theme. All your travel agency or travel destination you are promoting. This way, your brochure design will not deviate from the message that you are trying to tell.
Step 2: Select a brochure size.
Next, it is important to choose an optimal brochure printing size. The larger the brochure, the more information you can put into the printed document. On the other hand, brochures in smaller sizes also make you more creative and inventive because they allow you to skimp on space and put only the most necessary pieces of information on your brochure.
Step 3: Write compelling copy.
Then, don't forget to write a compelling and engaging sales copy or background information about the travel services you offer or travel destinations featured in your brochure. It is also recommended to write an engaging call to action as it prompts readers and customers to find out more about your brand.
Step 4: Download a printable travel brochure template.
To make things easier you can also download a printable travel brochure template. These pre-formatted templates will contain all the necessary text and image placeholders you need to create a good travel brochure.
Step 5: Print on high-quality cardstock.
And the last step is to print out on high-quality cardstock. Remember, your travel brochures will be considered as advertising documents. Therefore, they should be visually appealing and readable.
10+ Travel Brochure Templates
Embedded below our downloadable travel brochure templates in Photoshop, MS Word, Illustrator, InDesign, Publisher, and Apple Pages file formats.
1. Bi-Fold Travel Brochure Template
If you want a travel brochure that looks like a booklet, then you will love the Bi-Fold Travel Brochure Template shown above. This elegant brochure template will suit hotels, inns, bed-and-breakfast places, and other properties who want to advertise their businesses through the printed medium.
2. Travel Agency Bi-Fold Brochure Template
Whether you are part of a government agency, a local town's tourism council or just want to coolly advertise your small travel business, the Travel Agency Bi-Fold Brochure Template will work for you. As a bi-fold brochure template, it allows you to put in multiple images and travel package descriptions without overwhelming readers.
3. Travel Bi-Fold Brochure Template
The Travel Bi-Fold Brochure Template (featured above) allows you to input product or service information in four spacious pages. When customizing this printable brochure template, make sure that you use a high-resolution photo as your cover photo. Also, don't to forget to add an engaging Call-To-Action on the cover to attract more customers.
4. Travel Company Bi-Fold Brochure Template
The Travel Company Bi-Fold Brochure Template (embedded above) is the go-to business brochure template as it is specifically created for companies operating in the travel and tourism industry. The template is pre-formatted with text placeholders that you can fill with background information about your country. When used as a company brochure, do not forget to add your official logo or letterhead designs.
5. Vintage Travel Brochure Template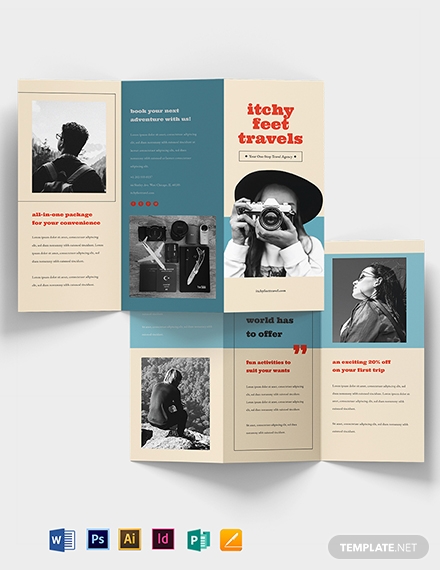 Want a handy brochure that any potential customer can stuff into their pockets or bags for later perusal? If yes, you will love the Vintage Travel Brochure Template featured above. This editable tri-fold brochure template may be small but it can be packed with all the necessary information about your travel company or tour services.
6. Travel Agency Brochure Template
Visual appeal is an important element to consider when making any kind of brochure. With the Travel Agency Brochure Template (shown above), you are guaranteed to have an attractive travel brochure design. This template's use of an orange and yellow color palette makes the document look inviting and welcoming. And this is a good thing for a brochure that sells people the idea to travel to any place in the world.
7. Travel and Tour Brochure Template
Just like any tri-fold brochure, the Travel and Tour Brochure Template (embedded above) allows you to write information in three panels or pages. And since this is an editable template, you may customize the print sizes based on the amount of information you want to put in your brochures.
8. Travel Tri-Fold Brochure Template
Print advertising is still an integral part when marketing a business in the modern world. With the help of the Travel Tri-Fold Brochure Template (shown above), you will have an easier time convincing people to visit any destination. Download and customize this sample brochure template to match the ambiance of the travel destination you are advertising.
9. Holiday Travel Brochure Template
When it comes to travel brochure advertising, the use of high-resolution photos does not always guarantee a sale. To benefit for your brochures, you also need to craft relevant and highly convincing sales copy. Craft lines that appeal to a specific customer. Use the Holiday Travel Brochure Template (pictured above) as it comes with pre-made content that will suit those who are selling holiday travel packages.
10. Modern Travel Brochure Template
An effective advertising brochure does not always have to be colorful and laden with nifty design elements. Sometimes, it can feature minimal yet important details and can appeal to a lot of potential customers. If you want this kind of travel brochure design, check out the Modern Travel Brochure Template featured above. 

11. Simple Travel Brochure Template
Looking for a minimalist brochure template design? Check out the Simple Travel Brochure Template shown above. This editable brochure template uses a neutral color palette that you can modify to match your official business colors or branding image. The template also incorporates bullet points when presenting information and this organizes all the pieces of information presented on the brochure.