Fundraising brochures are distributed with the intention of inviting a certain target audience or the public, in general, to donate for a noble cause, either in cash or in kind. These brochures may be created and distributed by an individual or organizations like schools, hospitals or charitable groups involved in social work.
5 Steps to Create a Fundraising Brochure
Step 1: Select Your Target Audience
The first thing to think about is to decide the target audience and thereafter design the brochure according to their mindset. The audience may be the general public or a small group related to a specific cause, like a school fundraising event; in which case the target audience would mostly be parents and ex-students of the school.
Step 2: Take Professional Help
It may be easy to draft a brochure roughly, but arranging the written matter logically in an interesting manner is quite a challenging job. It is, therefore, necessary to take professional help to get the best results. It is a better option to use ready-made templates to achieve a perfect finish and save precious time.
Step 3: Keep the Text Concise and Positive
Keep the textual matter concise and to the point with short sentences. Use bullets to emphasize important points on separate lines. Add correct contact details. Avoid negative words and passive voice while writing the text. You want the reader to read past the first page, so try and keep it engaging and interesting.
Step 4: Choose the Appropriate Design, Color and Shape
There are a variety of shapes for brochures to choose from. You can be innovative and experiment with them because there is no standard brochure design that you need to stick to. However, avoid too bright and colors and flashy graphics that distract the reader from the actual content.
Step 5: Include Testimonies and Initiate the 'Call To Action'
Including testimonies of prominent and well known persons will add weight to your brochure making it easier to get the required response. Lastly, add the call to action, inviting the reader to act right now by making a phone call, sending an email or visiting your office/website.
10+ Fundraising Brochure Templates
1. Fundraising Event Bi-Fold Brochure Template
This elegant fundraising brochure template can be used to reach out to people to donate for a meaningful cause in society. It is a bi-fold designed template with attractive designs, suggestive headings and text, which will just need to be modified and edited a little. It can be shared digitally as well.
2. Fundraising Event Tri-Fold Brochure Template
This tri-fold word brochure template makes creating a fundraising brochure so much easier by providing you with versatile layered content, graphics, images and smart objects. The template is available in standard A4 and US sizes, and can be easily downloaded, customized and printed.
3. Professional Fundraising Brochure Template
Use this professionally designed bi-fold brochure template to inform people about the activities of your organization and how they can help by doing their bit for society. The template is fully customizable so you just need to add images and edit the content to suit your needs.
4. Printable Fundraising Brochure Template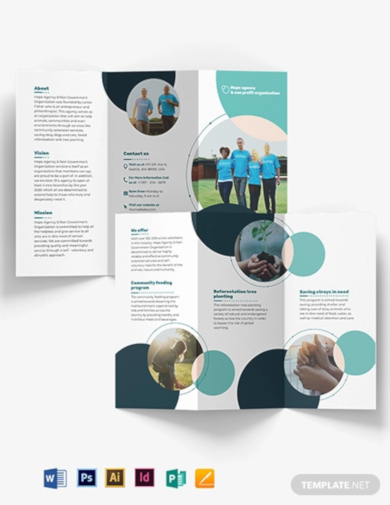 Get people to take notice of your noble work and inspire them to donate for a worthy cause, by using this fully editable tri-fold brochure template. Just fill in all the necessary details and related images in the placeholders to get the desired result. The colors can be customized as well.
5. Editable Fundraising Brochure Template
This fundraising brochure template can be used to showcase the nature of your non profit organization and it's various undertakings. The template is designed in such a way that it requires very little editing, so you can create your own unique brochure within minutes from any device, anytime.
6. Standard Tri-Fold Fundraising Brochure Template
This fundraising event brochure is designed for promoting your charitable cause and motivating the reader to participate by contributing wholeheartedly in the vision and mission of the organization. This brochure template is very versatile and the pages have dummy content which can be used as guidelines to make your work much more easier.
7. Basic Charity Brochure Template
Highlight your social work by using this captivating charity event brochure template designed to advertise and make sure people come forward to generously help touch people's lives. The template contains high-quality layout and is easy to edit, download and print individually as well as commercially.
8. Capital Fundraising Brochure Sample
This corporate fundraising brochure is designed in PDF format and explains to the reader the cause for which donations are needed, and the different ways in which they can help. The brochure makes optimum use of available space, and uses color highlight for the different headings to make them more prominent.
9. Fundraising Campaign Brochure Example
This is a very well designed non-profit brochure in PDF format which can be used to promote the well being of differently abled people in society, and help them live a dignified life. The template is very versatile and can be used directly after minor modifications.
10. Elegant School Fundraising Brochure
This corporate fundraising brochure can be used to raise scholarship funds for the education of school boys who come from less privileged backgrounds. The template is well formatted with inspiring slogans and high quality images. It is a perfect template for those working to achieve the goal of 'education for all'.
11. Fundraising Brochure Format Sample
This creative brochure template can be used as a framework to create a fundraising brochure to suit your needs. It explains the purpose of the brochure, what needs to be achieved, as well as in what way donations can be made. Download and customize this document to involve people in your worthy cause.