When it comes to providing prospects with something that showcases your capabilities as a professional, there's nothing more comprehensive than using a portfolio. Here, we've got a collection of portfolio brochure templates that you can download and use as promotional materials. Check out the templates below and give your business a boost with it.
Steps to Create a Portfolio Brochure
Step 1: Decide on a type of brochure.
In terms of brochure types, there's the bi-fold, tri-fold, roll fold, accordion fold, and gatefold type, just to name a few. Since there are so many to choose from, simply familiarize yourself with these and how they are being used. Afterward, go with the type that you think will best convey your content.
Step 2: Download a portfolio brochure template.
As we have said in the introduction, this article has portfolio brochure templates that you can download. To be specific, there are over ten templates below to choose from, and each of them has a unique and eye-catching appearance. Scroll down to see the templates yourself, and click on the download button of your chosen template.
Step 3: Customize the design and write the content.
After downloading a brochure template, you can then start customizing it using an editing tool that's compatible with the template's format. You can edit the design, rearrange the elements, and also add the necessary content to the brochure. As long as the template and editing tool are compatible with each other, this step will go smoothly.
Step 4: Make the brochure's cover page.
Aside from the portfolio brochure's interior, you should also create the brochure's cover page. This is what prospects will see when they first lay hands on your brochure, so try to make it as impressive as you can. Also, keep in mind to include the business' or your own name and a compelling photo on your cover page.
Step 5: Finalize and print your brochure.
Evaluate the design and re-read the content before printing it. If ever there are any errors on either of the two, now's the best time to correct them. Doing so ensures that your portfolio brochure is indeed worth reading, which in turn can benefit your business since it will help boost your reputation.
10+ Portfolio Brochure Templates
1. Professional Photography Portfolio Brochure Layout
Even if green isn't your favorite color, its presence on this photography brochure combined with some grey gives out a dramatic aura from the design. This template is indeed perfect for showcasing a photographer's most impressive shots, so why not give it a try yourself? The entire layout consists of smart objects which are very easy to customize.
2. Multipurpose Portfolio Tri-Fold Brochure Layout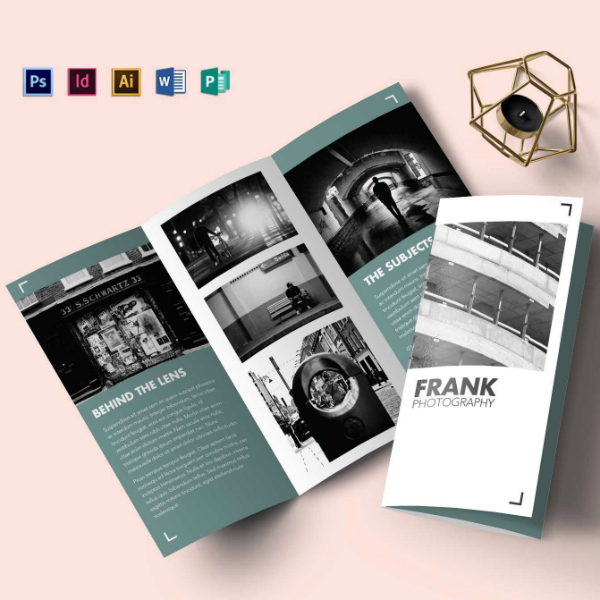 Whatever business you have, if you need to present something through a portfolio, go ahead and use this highly editable brochure template. With this template, you can easily draw attention from prospects and most likely convert them to paying customers. Choose from five available formats including Illustrator, Photoshop, InDesign, Word, and Publisher when downloading this template.
3. Business Portfolio Tri-Fold Brochure Design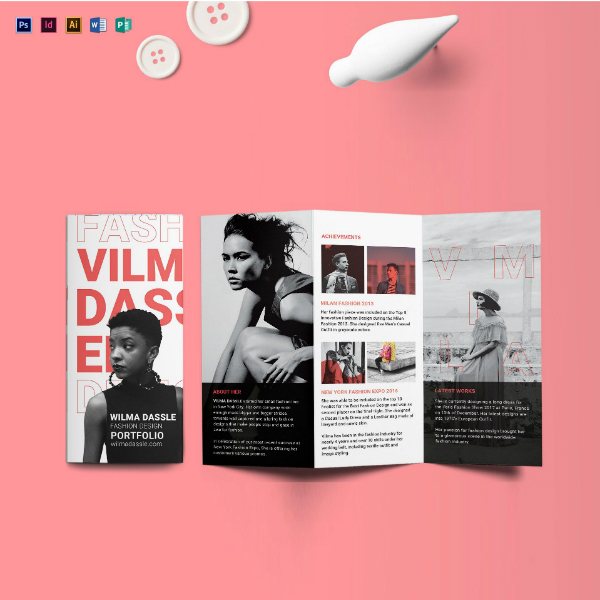 Don't compromise on quality since it will reflect on your business' credibility. If you're trying to showcase a portfolio, use this catchy brochure template to make a good impression on your prospects. This template is very easy to edit and you can choose to download it in Adobe Photoshop, Illustrator, InDesign, Word, or Publisher.
4. Stylish Portfolio Catalog Brochure Template
Download
Whether you're planning to use this portfolio brochure for personal or business use, you can easily make the most out of it by simply following the instructions provided. We can guarantee that all text and graphics on this template are made using smart objects, allowing for very easy editing. Put some style into your brochures by using this template.
5. Printable Architecture Portfolio Brochure Example
Download
For an architect to gain clients, they will need to show them some of their best work through a portfolio. By using this architecture brochure template, you can easily get that done by just downloading this and adding the necessary content. To complement the portfolio, make sure that the images used are clear and comprehensible.
6. Creative Agency Portfolio Brochure Format
Download
What else do you need from a brochure template that's easy to edit, ready to print, and already comes with vector images and fonts? That's basically everything you need to create a portfolio brochure to promote your creative agency. You will need either InDesign or Illustrator to open this since this is a template in INDD, AI, and EPS.
7. Architecture Interior Portfolio Brochure Sample
Download
Here's a downloadable portfolio brochure template that's ideal for both personal and business use. One unique feature of this template is its square shape, and the columned layout makes arrangement of the content a lot easier. Also, this professional brochure template has an auto page numbering feature which helps in keeping track of the page numbers.
8. Elegant Business Portfolio Brochure Design
Download
Having a presentable portfolio brochure is very important if you want your marketing tool to be noticed by prospects. By using this template, you'll be able to do that because this is made up of a well-organized layer allowing for easy customization of text, colors, images. Afterward, you can also enjoy the print ready feature of this template.
9. Interior Design Portfolio Brochure Format
Download
Interior designing is more or less like fashion, but with furniture pieces and other elements placed inside a structure. This modern brochure template is specifically designed for interior designers for them to showcase their work. With this, prospects can determine how well the interior designer is at handling their job.
10. Minimal Business Portfolio Brochure Template
Download
If you want your portfolio's content to stand out more, why not go with a minimal design? This way, it can direct the reader's attention towards the more relevant information without being distracted by other elements. To help you achieve that easily, here's a minimal portfolio brochure template that you might want to use.
11. Creative Studio Portfolio Brochure Sample
Download
Make your readers realize that you're the best in the business and that they should choose you over your competitors with this portfolio brochure. Since this template comes in a tri-fold style, organizing the content can be done very easily. Also, you can get this brochure template in Illustrator, Photoshop, and InDesign.