Many good business card designs incorporate the unique aspects of a certain line of work into the card itself. The idea behind this is obvious—the business card is an important mini advertisement in itself. It represents your company and you as a professional.
It is more common to find designs for the most obviously creative fields—graphic design, photography, boutique businesses, etc. While the fancy architect card is a close cousin, it seems that construction contractors are being overlooked.
Sample Construction Business Card Template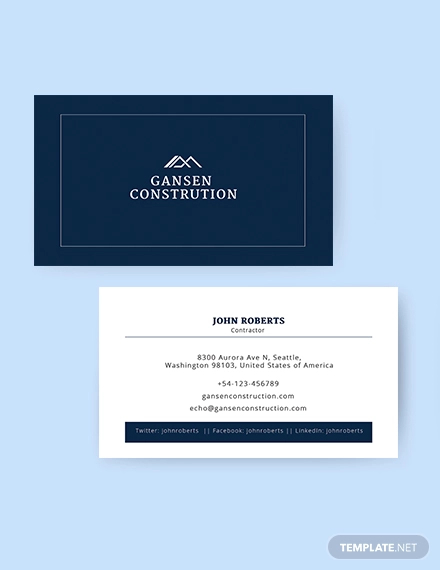 But the building industry is based on craftsmanship. It is also inherently creative.
Properly represent the creative as well as practical nature of your construction business with these similarly creative and practical template designs. Our templates can be downloaded for free or licensed at a minimal cost.
Premium Modern Construction Business Card Template
Simple Commercial Construction Business Card Template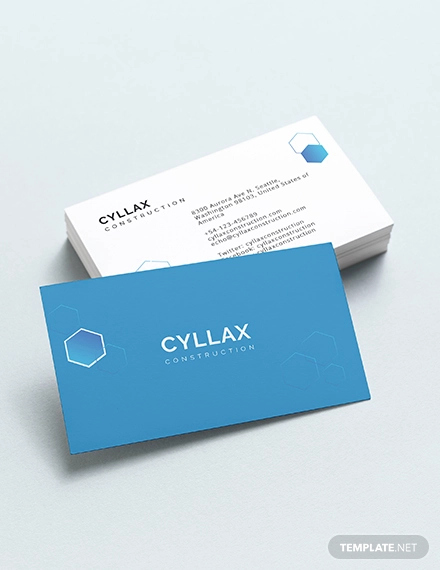 Construction Manager Business Card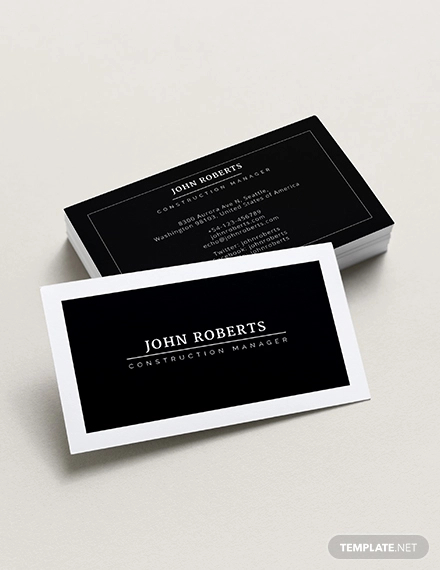 Construction Company Business Card
Download
Construction Equipment Business Card
Download
Sample Construction Business Card
Download
Construction Business Thank You Card
Download
Choosing a Business Card for Your Construction Company
If you are a construction company contractor and take real pride in your work, it might seem absurd to settle for real estate business cards.
Understandable.
The real estate agent's relation to buildings is very different from your relation to it. A good business card should naturally reflect this.
You already know the card must convey the basic ground details:
Your company's name and logo
Your name and job position within the company
The company address
Your contact details
Your company motto or mission, if applicable
But beyond this, you have to be creative so that it will be memorable to whoever receives your card—whether it is a potential client, a potential investor or supplier, or a potential employee.
A clever, creative business card will proclaim the competence and values of your company without words, only with design.
What does your construction company want to be remembered as? These templates will make sure the message comes through.
Use these free templates to help carry across your most important qualities as your competitive assets:
Modernity (see modern construction business card)
Creativity (see sample construction business card as just one example)
Competence and craftsmanship (professional construction business card)
Expertise, specialty (see the metal construction business card)
Work ethic and virtue (see construction business thank you card)
Construction Business Visiting Card
Download
Modern Construction Business Card
Download
Metal Construction Business Card
Download
Professional Construction Business Card
Download
How to Use These Templates
These templates were designed to easily create excellent printable construction business cards. And with the right tools, using these templates is simplicity itself.
Once you have decided on a design, simply click to download. These files will save as PSD, Vector, AI, or EPS formats—this is to make them fully customizable in a digital imaging software such as Adobe Photoshop and Adobe Illustrator.
Open these files in the photo-editing software and edit in your details where indicated.
Note: Don't have the software or the expertise to edit? Download the template and bring it to a digital print store in a portable hard drive, along with a list of your information and any logo to include in the card. They will likely be able to modify the template for you before printing.
Have these printed back-to-back on good-quality card paper.
Note: If you're already at the print store and require a large number of cards, it would be good money spent to have these professionally printed. They would also likely have these cleanly cut out for you. Otherwise, use a tabletop manual card cutter or a razor and ruler.