Job seeking is one of the most challenging events that every individual must take. It surely is not an easy task to do as well—from endless resume and cover letter making, looking for prospective employers, to repetitive questions from recruiters. It is essential to always create a good first impression toward hiring managers, and this should mirror, apart from your resume, through your cover letter samples.
If you're seeking for a banking position and this is your first time crafting your own cover letter and you don't seem to know what is the proper format, templates can be of great help. Here, we offer banking cover letter templates that you can download anytime. These are ideal as reference for drafting your cover letter.
Free Banking Cover Letter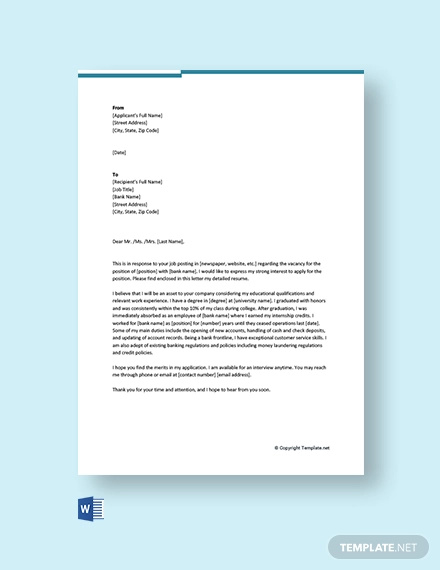 Free Commercial Banking Cover Letter
Banking Resume Cover Letter Template for Experienced
Banking Resume Cover Letter Template for Freshers
Investment Banking Cover Letter Sample
Banking Job
Customer Service Cover Letter
Bank Internship
Officer Cover Letter
How to Write a Banking Cover Letter
You should write your necessary details at the top portion. The name and contact information should be on the right side, and the hiring manager's name and contact details are on the left side. In case you don't have the name, make use of the company name and address.
Make a clear and concise introduction. This is the part where you should state who you are and how you learned of the job vacancy. You also include what attracts you to the position and to the company. Write at most 2 to 3 sentences.
Write down your background. This part is where the lengthy paragraph starts. Begin by writing what you are currently doing and give relevant experiences you've had. Highlight the relevant skills applicable to banking.
Conclusion section. This is the area where you write down your contact information and include that you look forward to hearing to hearing from them. This should be in short sentences.
Regardless what your background is, always keep your cover letter concise, reasonable, and relevant. With templates, you can never go wrong. These are ready-made cover letters that are ideal for beginners and even those with experience in cover letter making. Our Best Cover Letter Template samples and Cover Letter Examples are perfect for you.
Banking Branch Manager
Banking Relationship Manager
Corporate Cover Letter
Commercial Banking
Graduate Cover Letter
Guidelines for Cover Letter Making
Your cover letter should consist of contact information, a salutation, the content, and suitable closing.
When it comes to salutations, it is necessary to include an appropriate salutation at the start of the cover letter.
For closings, ensure to make use of a professional close statement to your cover letter.
For formatting, you should always follow the standard format. Include the purpose of your writing cover letter, what you have to offer, and in what way you will follow up.
Cover Letter Templates
For a more convenient and easy way of making a cover letter, templates are always the best choice. This page offers not just resume templates but cover letter templates too! They are well-written and well-organized templates for a more professional and polished cover letter.
Our Simple Cover Letter Templates are ideal for those who want a generic and simple cover letter. You can simply add or omit details that are already added to it. With just simple modifications, you will have your desired cover letter.