Letters
69+ Resignation Letter Templates – Word, PDF, IPages
Always have your letter written on time before the day you want to quit the job. A period of two weeks before the date you plan to hang your boots is a good time to do so. Since your position needs to be replaced and possibly any property for the company that you had in your possession returned, such a time will allow you wind up gradually and smoothly without running into hurdles to undergo the due process.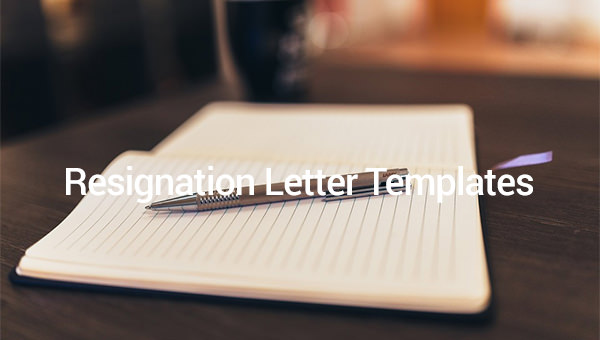 Free Simple Resignation Letter Template
Free Sample Resignation Letter Template
Resignation Letter Templates
Resignation letters are sent to employers when you decide to leave your job. If you are resigning from your job, you can check out Resignation Letter Templates for ideas to write a Resignation Letter. Take note of the following points when you are writing a Resignation Letter:
Write in short and be direct with the message

Give at least a two weeks notice before you quit

Write the date and day of your resignation

Talk to your manager before you send the letter about your resignation

Say thank you for the opportunity to work in the company and talk about the skills you have learned

Offer assistance during your transition

Include your contact details in the letter for future references

Follow a formal business letter writing format

Edit and proofread to avoid errors in writing
Free Resignation Letter Format
Free Formal Resignation Letter Template
Free Employee Resignation Letter Template
Free Two Weeks Notice Resignation Letter Template
Doctor Resignation Letter
Resignation Letter Due to Relocation
Accountant Resignation Letter
Resignation Letter Due to Career Change
Simple Resignation Letter with a Reason
Free Manager Resignation Letter Template
Free Thank You Letter to Boss after Resignation Template
Free Short Resignation Letter Template
Free Thank You Resignation Letter Template
Free Resignation Retraction Letter Template
Free Retirement Resignation Letter Template
Free Retail Resignation Letter Template
Free Resignation Letter to Company Template
Free Acknowledgement of Resignation Letter Template
Free Resignation Letter to Client Template
Free Resignation Letter Template Due to Study
Free Resignation Letter Template for Personal Reason
Free Resignation Letter Template for Career Growth
Free Board Resignation Letter Template
Free Resignation Letter Template Due to Travel
Free Resignation Letter Template Due to Health Issues
Free Immediate Resignation Letter Template
Free Internship Resignation Letter Template
Free Heartfelt Resignation Letter Template
Free Resignation Letter Template for Teacher
Free Resignation Letter Template due to Pregnancy
Free Resignation Due to Lack of Promotion Letter Template
Free Part-Time Job Resignation Letter Template
Free Resignation Letter to Boss Template
Free Nurse Resignation Letter Template
Free Director Resignation Letter Template
Free No Notice Resignation Letter Template
Quit Your Job On A Positive Note With A Professional Resignation Letter
Are you feeling something like "Oh! Finally, I would be outta here soon." ? Well, when it comes to switching to a new job, you must make sure to part with your current company on a positive note with a job resignation letter. It's a gesture of courtesy towards your present employer who has helped you to maintain your livelihood for so long. Also you can use Free Cover Letter Templates.
Sample Teacher Resignation Letter
Including the right words while resigning from a job can be crucial. So this template is here to help you and guide you do right that. This uses free fonts and Word compatible formats.
Sample Teacher Resignation Letter Format
This Teacher Resignation Letter is complete with all the formats of an official letter, a demo body and even the address. This template is downloadable in a Doc format and only uses free fonts.
Sample School Nurse Resignation Letter
This is a nurse resignation letter template. The text and format are already give, modify in the areas you deem as necessary. The template is fully customizable and fully-editable, you can change the names, addresses and other contents of the letter.
Sample Sales Manager Resignation Letter
If you're a sales manager in a company and planning to call it a day on your job, download and use this sales manager resignation letter template. This is in MS Word format and packed with free fonts and editing settings. Customize and use as you wish.
Sample Retirement Resignation Letter
The Retirement Resignation Letter matches all requirements in content, the somber tone and of course the right format. However, all the fonts and demo contents are completely editable on Word.
Sample Resignation Withdrawal Letter
Sample Resignation Cancellation Letter
Sample Resignation Acknowledgement Letter
Sample Resignation Acceptance Letter
Sample Research Assistant Resignation Letter
Sample Reporter Resignation Letter
Sample Nursing Resignation Letter
Sample Maternity Leave Resignation Letter
Sample Nurse Resignation Letter
Sample Health Resignation Letter
Sample Good-Bye Resignation Letter
Sample of General Resignation Letter
Sample Funny Resignation Letter
Sample Resignation Letter
Sample of Formal Resignation Letter
Sample Employee Resignation Letter
Job Resignation Letter Format
Standard Email Resignation Letter PDF
Sample Union Resignation Letter
Sample Resignation Letter Notice Period
Free Resignation of Director Letter Example
Simple Trainee Resignation Letter Downloadable
Sample Letter for Immediate Resignation
A Employment resignation content letter template is a handy document when you have decided to call it quits and inform your boss or manager regarding the same. The templates listed on this page are designed to match corporate standards and adhere to rules of professionalism which should get displayed in letters of this genre. You can also see letter templates.
Of course you can inform your boss or reporting authority about your plans to resign verbatim, but office etiquette states that a formal letter of resignation needs to be submitted so that it remains on record. The format of a resignation letter is supposed to be formal, you must be sound thankful and appreciative, and also mention your reason for resigning from your existing employment.
> Resignation Letter 101
The definition of a resignation letter is obvious, however, the rules of putting it in differ from company to company. Ideally, companies stipulate in their company policy and employee contracts that employee resignation letter due to low salary to need to initiate the resignation proceedings to weeks in advance. A two-weeks notice period is the hospitality industry resignation letter -standard.
> Why People Leave Jobs?
Employees resign from their job for a variety of reasons. It could because a better job-opportunity has come through or they looking to migrate to another country or state for good, or they are planning to resume further studies. Whatever be the cause of resignation, it is required that outgoing employees specify the same in the resignation letter specimen. You can also see employee plans.
> The Perfect Resignation Letter
Are you looking for professionally written resignation letter examples to help you with formatting a perfect resignation letter? Well, it might be no rocket science to draft a resignation letter but you have to really proper with the content of the letter- as any mis-step here might hamper your future in the new job that you are about to join soon.
> A Sample Resignation Letter Would Appear As
"Dear (name of your boss),
This is to formally notify you that I have decided to resign from my position (your position title) with (name of the company)." Then, you will mention the date of your resignation.
Finally, mention -"It was a great pleasure working here. I wish you all success."
Here's What to Include in the Resignation Letter!
> Be Right with the Basics
Your resignation letter should be addressed to the correct concerned person- it could be your boss or HR manager- as per the rules of your company. The letter must clearly mention your current position & the particular date of resignation. Be formal in your approach & simply state that you have decided to resign- you don't have to sugar-coat the fact or get fluffy with your tone. You might or might not include the reason for resignation; if you include don't get elaborate with it.
> Be Positive with the Letter
An ideal resignation letter always carries positivity. When you draft your resignation letter, remember to talk about your current boss and his company in glowing terms. Reminisce about the good memories you've gathered during your time. Mention in a line or two about the skills and learnings that you take away with you from the experience.
> Thank the Company
This point is in connection with the point mentioned above. As mentioned earlier, your resignation letter is a courteous gesture on your part and hence you must show your gratitude to the company for letting you prove yourself on the important projects. Your resume portfolio must speaks of the major projects that you have settled in your career- remember those could not have been possible had your company not being confident about you.
> Promise to Assist in the Transition Period
The best resignation letter example always concludes with your willingness to help the company in the transition period. You don't have to get detailed with it on the letter as you can always inform about it to your boss in person. Just state that you are ready to help with all necessary assistance your company might need from you- however, never guarantee anything which you won't be able to deliver.
> Wish your Company Success
The last line of the letter would be a wish of continued success for the company on your part. If you are not leaving on hostile terms, also promise that you would be in touch. You might need the help of your company for some reference or recommendation in future.
What to & what not to do with your Resignation & Resignation Letter
> The Do's
> Always Resign With a Letter
You should always make sure to announce your resignation formally with a resignation letter format in Word. Your boss might know that you are leaving if you have told him over a casual chat but still you have to declare it formally with a letter.
> Clear your Computer
Always clear your personal files from your office computer as you are about to hand out the resignation letter.
> Stay Positive
A line or two about your colleagues would be nice to add, and moreover, they'd also feel special too. Thank them for being such an inspirational set, talk about the bonding shared. All in all, maintain the positive tone throughout the letter.You can also see letter with cover letter.
> Be Thankful to the Company
If you're quitting your current job for a better opportunity, don't forget to show your gratitude to your existing organization. Talk about how the experience has molded you into a better professional and human being. Such facets need to be talked about in a letter of resignation, because it is your final parting note.
> Be Specific with Date
Your resignation letter must not just state your decision to quit. You have to be really specific with the date.
> The Don'ts
> Abrupt Resignation
This is a complete no-no when it comes to your resignation. You are a valued employee of your company and your office would need some time to prepare itself for your replacement. So, always send the letter at least before two weeks of your resignation.
> Bad Words About the Company or Boss or Colleagues
You must not use any foul words on your letter even when your boss has just been a jerk with you. Remember, your new company might need a letter of recommendation from your previous company and any impolite behavior on your part- irrespective of the situation- might ruin the chances of your recommendation letter. Besides, what if you have to get back to the company at some point of time in future? It happens, so, be careful.
> No Grunts
Do not bear any grudge against the company and your resignation letter must not show you as some disgruntled employee. Be good with everybody in the office in the last weeks. Your new company would run a background check on you and a part of process would mean inquiries within your current office. Any badmouth or impoliteness on your part in your current office, either in person or on the letter, might mean a dim report on you.
> Unwillingness to Assist New Replacement
Make sure you display a forthcoming and welcoming attitude when it comes to offering your company any assistance on your part during the transition phase. You must seem and sound willing to be cooperative on all levels in your final days at the organization.
> Searching Online for Templates?
As you look forward to search online for sample of resignation letter template, you will find endless links offering templates for you. But all cannot assure true quality for you and hence you have to be really careful while formatting your letter with the help of an online template.
> No Worries, We Are Here to Help
However, not to worry as template.net is here to help you with the most fitting editable resignation letter templates. Designed by professional experts, all the templates here assure standard resignation letter formats to ensure the most professional letter on your part.
How to Write a Resignation Letter Format?
When writing a resignation letter you should ensure that you do not get into the bad books of your past employer. Thus, you need to write an impressive letter. It is imperative that you follow the perfect format for the purpose. You can use a Retail Resignation Letter Template for the purpose. However, if you wish to design it yourself, here is a brief description of how you can write a resignation letter format.
1. Start with your name, address and contact details.
2. This should be followed by the date.
3. Next, add in the name and address of the recipient.
4. This should be followed by the salutation. Make sure that this is a formal one.
5. Go on to write the content of the letter citing the reason for your resignation, how long a notice period you are willing to give etc.
6. Conclude the letter with your signature and your name in the bracket.
Top 10 Resignation Letters
Resignation letters are of different types. These vary based on the kind of job one is engaged in or the reason for quitting of the job. The variation may also come about depending on the conditions put forth by the person resigning the job. The top 10 resignation letters that are used in the everyday lives include
2. Maternity Resignation Letter
3. Resuming Education Resignation Letter
4. Better Opportunity Resignation Letter
5. Voluntary Retirement Resignation Letter
6. Reducing the Notice Period Resignation Letter
7. Waiver of Notice Period Resignation Letter
8. Career Change Resignation Letter
9. Sabbatical Resignation Letter
10. Relocation Resignation Letter
Benefits
Whether you are using a Sample Board Resignation Letters or a medical resignation template, you should understand that using these have several benefits. Let us take a look at what these are.
Designed by experts, these help you draft the perfect and professional looking resignation letter.
The templates give you a clear idea of the format and the sections that should be included in the letter.
With these templates, you can be rest assured that you do not miss out on anything important.
A resignation letter template helps you save a lot of your time.
We have come up with a versatile range of templates to help you in choosing the right format for resignation letter. Moreover, you can even choose the resignation letters based on your profession such as sample of resignation letter for nurses or teachers and so on. Our Copy of resignation letter sample PDF would even allow you to pick the right letter style according to the reason for resignation- be it relocation or some better job opportunity.