There will always come a time when a nurse decides to leave an institution and move on to other opportunities, either in the same field or not. In such cases, the nurse would be required to inform their superiors and the administration about their decision, and the best and most nurse formal way to do this is by submitting a resignation letter.
A nursing resignation letter is a kind of resignation document sent by an employee who is working in the field of nursing to their employer or superior. This letter should explain to the employer the reason why the employee has taken this particular decision of leaving the position. If you are a nurse and are planning on resigning, then worry no more. Check out our collection of Resignation Letters to help you in making your own letter.
Nurse Resignation Letter
Rigistered Nurse Resignation Letter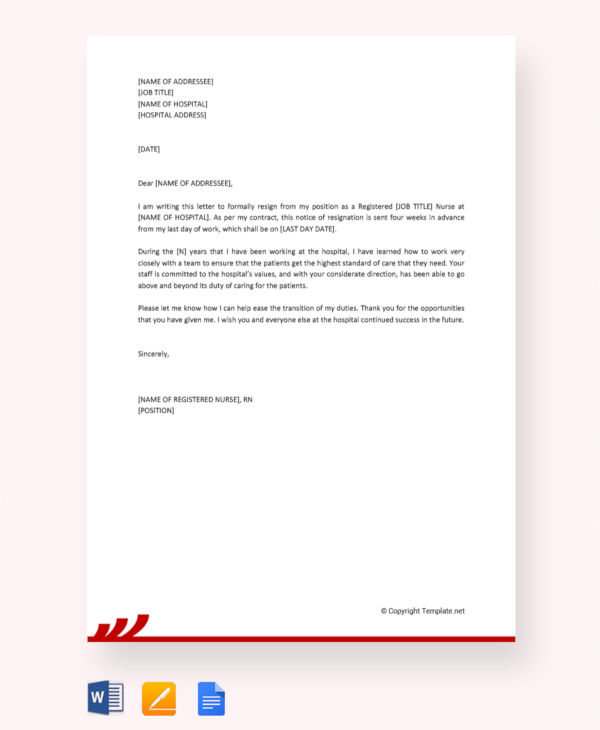 Staff Nurse Resignation Letter
School Nurse Resigantion Letter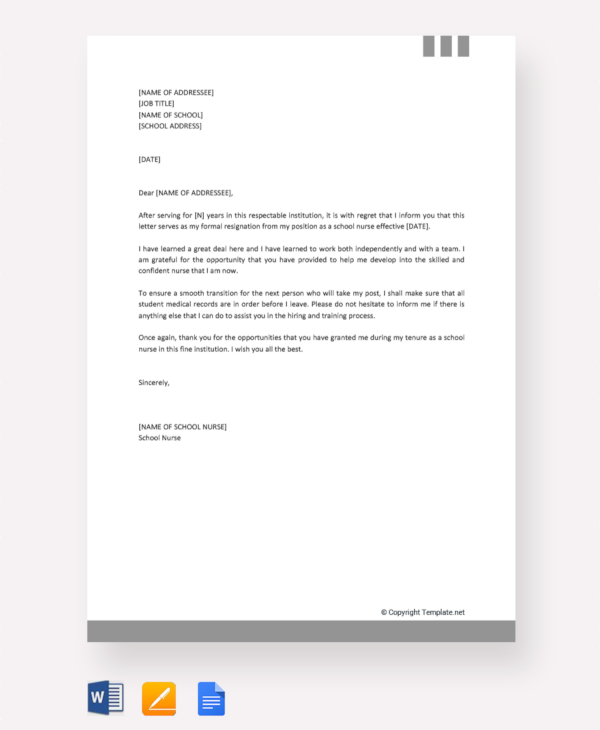 Nursing Resignation Letter 2 Week Notice
Nurse Resignation Letter with 2 Week Notice
Staff Nurse Resignation Letter
Nursery Nurse Resignation Letter
Dental Nurse Resignation Letter
School Nurse Resignation Letter
How to Write a Nurse Resignation Letter
The letter of resignation that you will hand to your employer serves as the last document that can showcase your character as an employee. It can leave a big impression on who you are especially when it comes to the entirety of your stay in the business and the way that you would like to end it. If you are in the nursing industry, here are some of the information that should be present in your nurse resignation letter:
Heading Section of the Letter
Starting with the topmost part of the heading, write the name of the person whom you will be giving your letter to and their designation below their name. Below that is the name and the address of the institution. The last part of the header is the date of the writing of the letter.
Salutation Section
Address the recipient formally by using either Mr. or Ms./Mrs. or Dr. followed by their last name.
Main Body of the Letter
Start by mentioning the duration of your stay in the institution then inform them of your intent to leave from your position. Briefly state the reason of your resignation. You may request your superior to treat this as resignation notice letter. Mention that your stay in the institution will be memorable, and end this section by wishing your colleagues and the whole institution well.
Closing Section
End the letter formally by using either "Respectfully" or "Sincerely" with your typed complete name below it. After which, finalize the letter by placing your handwritten signature over your name.
Nurse Practitioner Resignation Letter
Nurse Immediate Resignation Letter
Nursing Assistant Resignation Letter
Nurse Resignation Letter due to Personal Reason
Free Nurse Resignation Letter
Why Download Our Resignation Letter Templates?
These templates were done by professionals from all around the world, hoping to help you out in writing your own resignation letter. These templates can be access and downloaded easily and for free. These templates come in Microsoft Word format and are fully editable using either Microsoft Office or Apache OpenOffice. Rest assured that these templates will provide you with clear and legible printouts. For resignation letter templates, you don't have to look anywhere else. Download our templates now.
For even more resignation letter templates, also check out our collection of Email Resignation Letters and Internship Resignation Letters.