Letters
12+ Job Application Letter For Engineer
Are you an engineering graduate? If you are in an engineering job, you need a cover letter with your sample resume to increase your chances to get the electrical, civil, junior, or assistant position or employment. However, engineers have different requirements and expertise. Whether a fresher or experienced applicant, our application of job letter for engineer templates have the necessary information for various engineering job titles.
You can apply to a new employer for an executive position or sample list your specific software, mechanical, network, or DevOps engineer skills. Our application letters make it easier for you to apply for the engineer jobs you always want.
Engineering Job Application Letter Template
Job Application Letter For Software Engineer
Application Letter For a Job Vacancy Template
Engineer Student Job Application Letter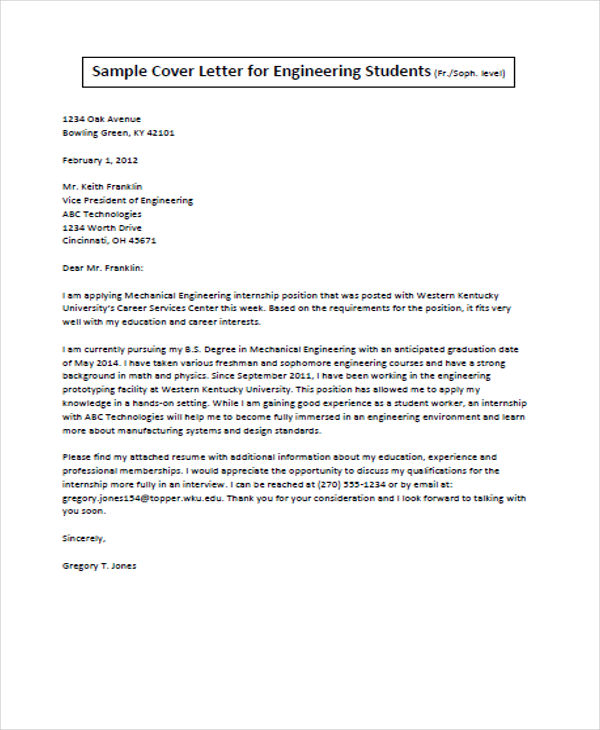 wku.edu
Mechanical Engineer Job Employer Application Letter
resume-resource.com
Junior Electrical Engineer Job Application Letter
publishyourarticles.net
Free Executive Engineer Job Application Letter
workbloom.com
What Makes an Engineer an Engineer?
An engineer is a profession that designs different materials, structures, and systems while considering the limitations imposed by practicality, regulations, safety, and construction expenses. They assume the responsibility for the development and application of engineering science and knowledge, notable in research, design, construction, manufacturing, managing, and the plan education of the engineer.
However, in modern times, the role of engineers have even taken the roles of managers where they are responsible for making sure projects are on sample schedule, writing Loan Application Letters, and even checking up employees assigned to them from time to time. To say that engineers are a different class is an understatement
How to Write an Application Letter
So you just got off university as an engineer. But how could you distinguish yourself from the literal billions of engineers across the globe? Here's how:
Language. Check over the spelling and grammar several times as misspellings and typos on an application letter in PDF can eliminate the possibility of getting an interview from the company.
Format. The cover letter in PDF should be brief, not longer than one page in length. Typically, three or four short paragraphs are adequate. Keep your application simple letter looking professional and use a standard font and avoid from using bold and underlined text.
Content. State on the printable letter that you have the knowledge and skills necessary to fulfill required for the position. It will avoid the appearance that you have sent them a generic cover letter professional, which could have been sent to other companies for almost any position. If you are responding to an advertisement, make sure that you address all of the qualifications mentioned in the advertisement.
Convey that you can add value to the large organization and associate the company's services with your capabilities. As much as possible, avoid making the common egocentric mistake of describing why the position would be good for you. Companies are interested in how your skills, abilities, and ideas will benefit them.
Lastly, close the sample cover letter in Docs by taking the initiative and requesting an interview. Simple List your contact information for follow-up purposes should the hiring manager decide to call you back.
Fresher Engineer Job Application Letter
jobtrails.com
Civil Engineer Employment Job Application Letter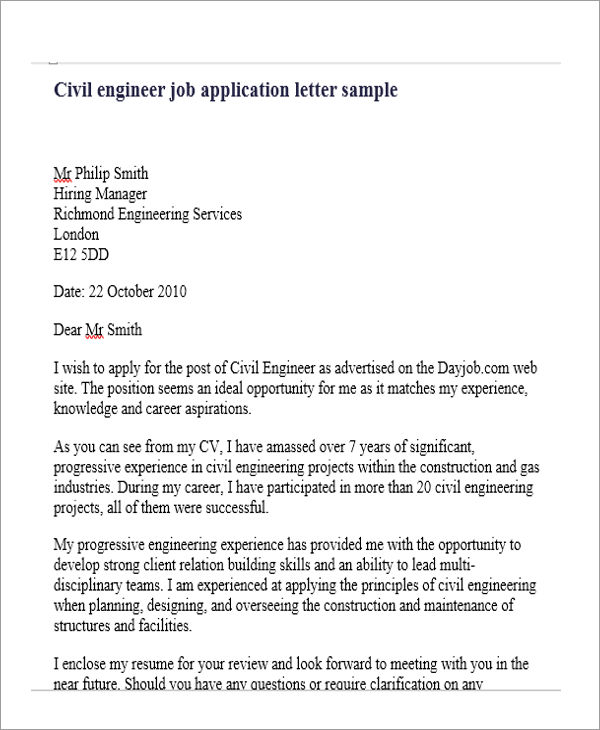 dayjob.com/
Free Network Engineer Job Application Letter in Word
careers.wa.gov
Experience Assistant Engineer Job Application Letter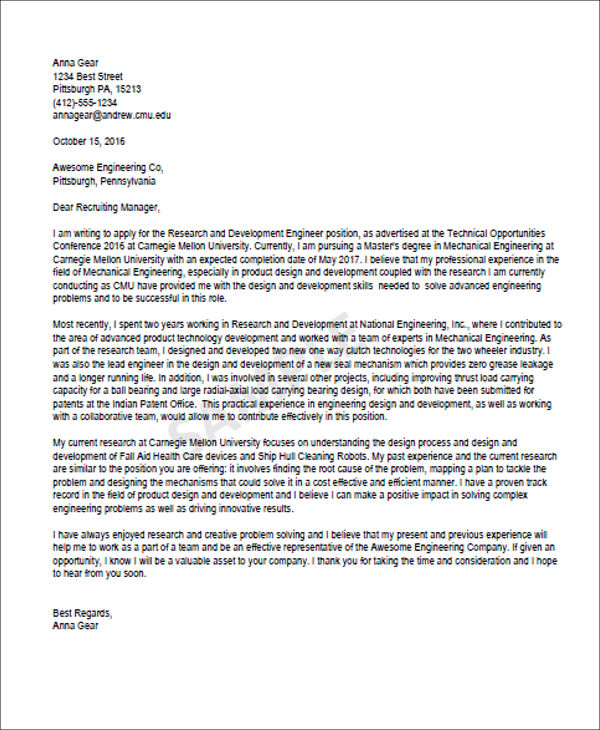 cmu.edu
Intern Engineer Job Position Application Letter
mindsumo.com
Free DevOps Engineer Cover Letter
asset.velvetjobs.com
Why Download Our Templates?
These templates were selected from among the best ones on the development web and were written by knowledgeable professionals. You may be able to download these templates easily and for free, and you can choose to save it in either Google Doc, Docx, or PDF format, depending on which one suits you. These templates are fully editable as long as you have the needed IT software such as MS Office and Adobe Acrobat.
More in Letters