Like most of the job selection procedures, teaching jobs also require the candidate to write an Application Letter. A job application letters for teacher primarily explains the qualification and education background of the applicant along with their relevant work experience. The applicant is also supposed to mention reasons that make him/her suitable for the job.

Prior to writing the Job Application letter make sure you research about the school. To write a successful teaching job application letter, focus on the specifications mentioned in the job description and explain how you are fit for the role. Including references in your application letter always acts as a bonus. Before sending the Application Letter double check for all kinds of errors including language and grammar.
Job Application Letter for Teacher
Application Letter For Any Position Template
Application Letter For a Job Vacancy Template
Formal Job Application Letter Template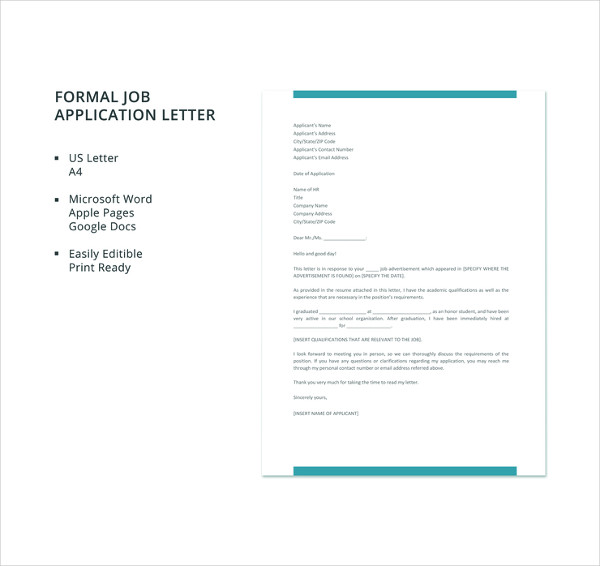 Job Application Letter for Primary School Teacher
Job Application Letter for School Teacher
Science Teacher Job Application Letter
Short Job Application Letter for Teacher
Job Application Letter for Secondary School Teacher
Basic Format of a Teaching Job Application Letter
Start by writing about your interest in the job and also mention how you found out about the position. Keep the introduction brief and crisp.
Next, mention your strengths that make you suitable for the job. Start by mentioning your education background. Make sure you list down your education related information in chronological order.
Then, you can mention detailed information about your education background. Make sure you list down your education related information in sequential order.
Add relevant work experience as it helps in creating a strong Job Application Letter.
Conclude your Simple Application Letter in not more than 2 sentences, and sign off appropriately with your name and contact information.
Common Job Application Mistakes One Should Avoid
Make sure your teaching job application does not have the following errors
Spelling, punctuation or grammar mistakes- If you are applying for a teacher's job you should know that such errors are not acceptable. Re-read your application to avoid these errors

Not including your contact information- It is important to provide your contact information, especially phone number, in the job application letter. It helps the employer to reach out to you easily.
Applying for the position you are not qualified for- make sure to apply for the position you qualify for in terms of education as well as experience.
Job Application Letter for Nursery Teacher
Job Application Cover Letter for Teacher
Job Application Cover Letter for Experienced Teacher
Benefits of Using a Job Application Template
We suggest you use the given templates for writing your teaching job application letter, as they help you in creating an error Free Application Letter.
The major advantage that you get by using an application template is that it helps you with the layout of your application letter.
They provide you with the elements that you need to include in your application samples, in an organized fashion.
And, they also give you an idea about the language and the terminology that will help the applicant in creating a great impression. Use these templates as a guide to create an impressive job application letter.
How to Use Job Application Templates
Use the templates given here as a reference to create your job application for teaching. First, go through the various Job Application examples given and then decide the one that suits the best for the position you want to apply. There are some templates that you can use directly without the need of any editing or customization. We hope you find the given templates effective and helpful. We have job applications for experienced teachers, for nursery teachers, for primary teachers etc.