Strict schedules must be tracked in order to make sure that you can maximize the hours spent for any activities being done like the hourly planner template where the each hour has their own task that must be completed in selected time. You can get this in personalized Daily Planner Templates in Microsoft word, excel and pdf file where all of the things you must do for every hour can be compiled.
Here it is achievable to make the most of each minutes past while accomplishing each of the task listed. You can achieve satisfaction as you are able to finish all the steps in an hour or more; you can modify the list arrangements and table form that can help you create the planner you need.
Daily Hourly Planner Template
Daily hourly planner templates help you in keeping an hourly plan for you in an interesting way. These templates use a lot of tools and latest designs and images to make your work creative and exciting. You can get these templates in different patterns and styles.
Daily Hourly Schedule Template
Printable  Hourly Planner Template
Daily Work Hourly Schedule Template
Daily and Weekly Hourly Planner Template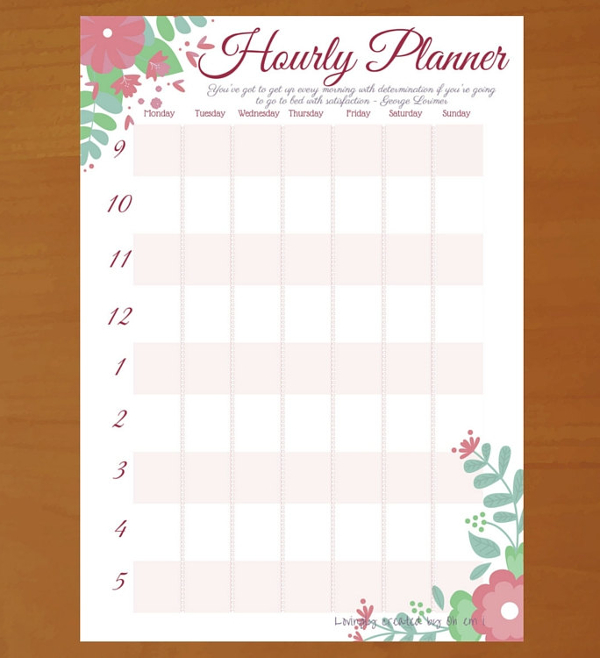 > Use and Purpose
Hourly planner templates help you in making an hourly plan easy and exciting. The templates for hourly planner have different images and designs that make them one of the classiest templates. You can also see Daily Meal Food Planner Templates.
> Why do I Need Hourly Planner Templates?
Hourly planner templates make your hourly planning much easier with their latest techniques and styles. These templates use modern designs and innovative tools to give you the best results without much effort. The beauty of these templates creates a lasting impression on the viewers.
> How to Create/Make Hourly Planner Templates?
Hourly planner templates are one of the most interesting templates, created by the finest designers so that you can achieve perfection in your work. You will find that these templates are easy to use and the designs used in these templates make your work a lot more exciting and amazing. You can also see Trip Planner Templates.
Hourly planner templates provide you with the best templates as they have the latest tools to support your work. These templates make it easier for you to plan your hourly schedule, and the designs and patterns used are interesting enough and would give an all-new touch to your work. These templates can be edited and customized too, and you can download them from any website.