The best lesson plans for toddlers are those that focus on a play & learn environ. You have to make learning fun to engage the little ones in your classroom. The various activities that your lesson plan template here would include are ample dump & fill opportunities, ramp & roll and games where the tiny ones would be able to understand the cause & effect relationship. You may also like Weekly Lesson Plan Templates
Toddler Lesson Plan Template
Free Toddler Weekly Lesson Plan Template
Free Toddler Daily Lesson Plan Template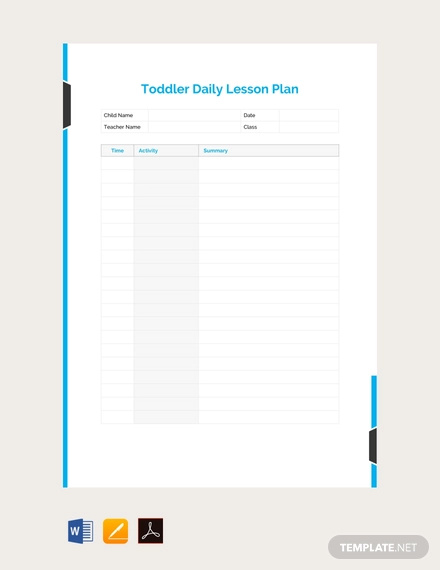 Toddler Lesson Plan Template
This is a brief gist of a toddler lesson plan. It starts with the name of the Printable lesson plan and is followed by the preparation steps, the equipments needed and the things to be learnt by the toddlers from this lesson.
Toddler Colors lesson Plan Template
You are getting a detailed color unit lesson plan here. It starts with a little summary on the lesson followed by the materials needed to impart the lesson, the additional essentials and it concludes with special notes.
Free Toddler Weekly Lesson Plan PDF Template
Pre-Toddler Lesson Plan Template
This pre-toddler lesson plan starts with the days on the left side of the template. Then, you have the subjects to be covered in the lessons and lessons to be included under every subject, each day. You may also check Music Lesson Plan Templates.
Toddlers PM lesson Plan
This weekly toddler lesson plan has listed the different study areas for the little ones on the left side of the template. The right side is about the topics to be covered under each subject, each day of the week. You may also see Elementary Lesson Plan Template.
Toddler Spring Lesson Plan Template
Fall Lesson Plan for Toddlers
Toddlers Lesson Plan for Music
The Free Lesson Plans for Toddlers PDF will help you to structure your lesson plan systematically so that the kids get a dose of each of the learning activities equally. This will not only ease your burden but would also make sure that you don't mistakenly skip out on the needed lessons.