Event planning is important for every other activity under the sun. But the term 'event' is mainly used for those which are more celebrated and distinguished than the others, namely a party or a sports match etc. An event involves a lot of components & Plan Templates which need to be taken care of. Thus it's a very complex job to design an event from the scratch. Here comes the event planning checklist samples. You can also see Maintenance Checklist Templates.
Event Planning Checklist Template
Restaurant Event Planning Checklist Template
Restaurant Training Event Checklist Template
But apart from these dedicated tools which are mainly used for very complex event planning, there is a whole set of available event planning checklist templates for free. If the event planning basics are kept quite clear, handling these templates is not a big deal at all. Event planning worksheets can also play a very major role in these cases. You can also see Moving Checklist Templates.
Event Marketing Plan Template to Print
Event Planning Checklist Template
Simple Wedding Checklist Template
Blank Checklist Template
Event Planning Checklist Template
Event Budget Planning Template
Downloading and using Event Budget & Planning Template can help you stay organized, plan everything in advance, note down the contact details of your vendors, decorators, and band, and almost all the crucial things along with the control on funds. You can easily use these templates with fixed headers or can modify several sections to ensure that it caters your exact needs and requirements, end up working for your better. You may also see Employee Checklist Templates
Event Planning Timeline Template
Hosting wedding ceremonies, product launch events, and other get together events can be difficult task because it involves a lot of assignments and things that are required to be arranged. All of these templates come with various segments, including pre, post, and event checklists that can help you plan and execute all the pre-designed event strategies with ease. You may also see Induction Checklist Templates
Event To Do List Template
The Event To Do List Template can help you organize, plan, execute, cross-check, and confirm all the necessary things that are essential for making your event a big success. Starting from the food menu, décor and performers, and lasting till return gifts and list of invitees; all of these can be planned and organized by just downloading and using the right templates.
Event Planning Checklist Template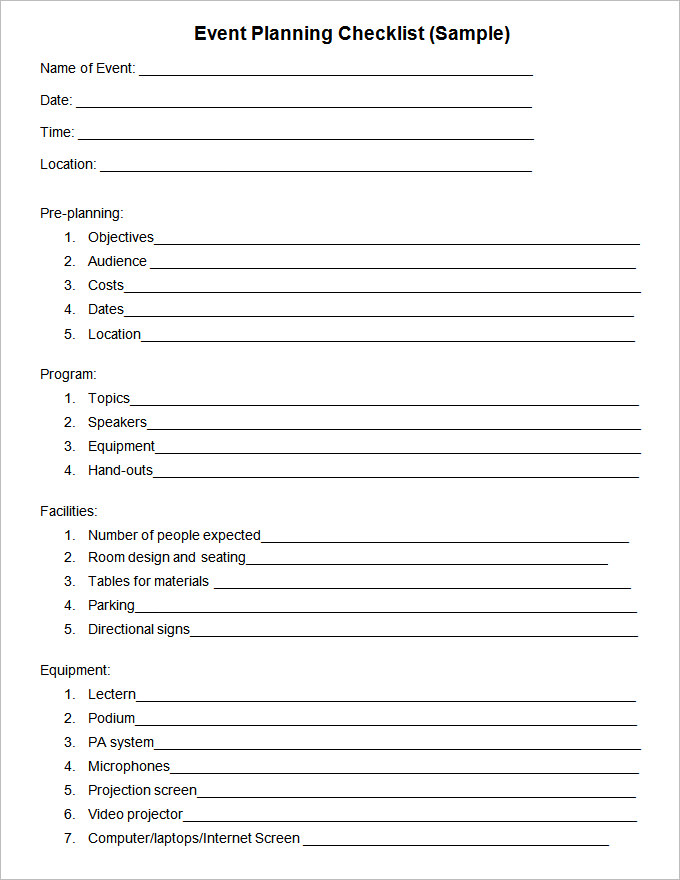 Sample Event Planning Checklist Template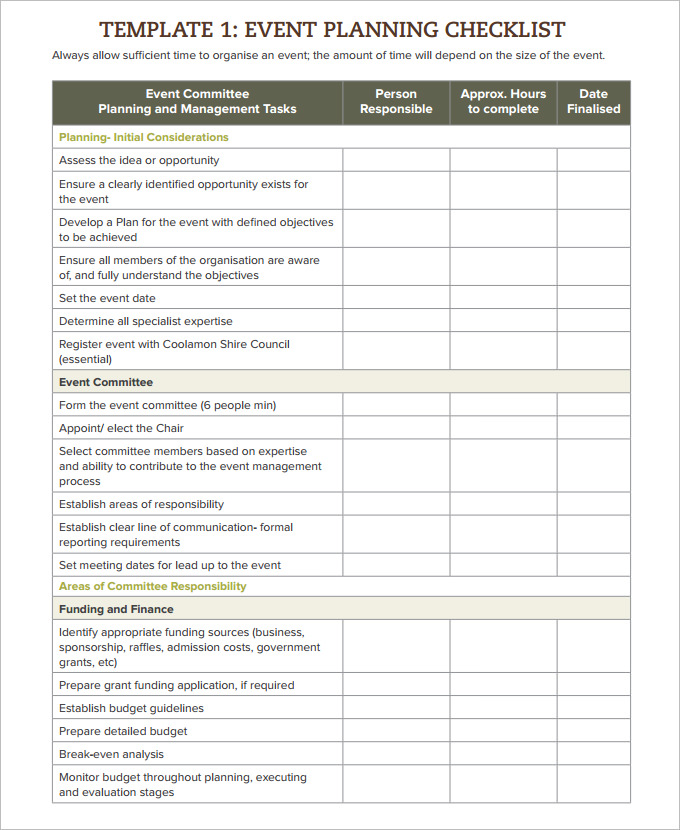 Davis 
Center
 Event
 Planning Checklist
Event Planning Checklist DOC Format
Catering Event Delivery Checklist Excel Format Template
Post Event Checklist Excel Format Template
Event Planning Master Sheet Checklist Template
Event Action Sheet Blank Checklist Template
What All Templates You Can Download Under This Category?
One of the most important and crucial templates that you must download and use before hosting a big event is the Catering's Event Guide – Getting Started. Apart from this, you can also download, modify, edit, create, and print various templates including Event Checklist for Advancement Events, Event Checklist for External Affairs Events, Sample Reception Budget, Event To Do List – sample (Doc), and finally the Event Evaluation Form. You may also see Business Checklist Templates.
Corporate events are seemingly one the most complex event categories, thus is the importance of corporate event planning checklist templates. There are a lot of Checklist Templates that can be downloaded for free for almost every genre of events. Corporate event planning checklist template is just another among these.
They are available in various formats and versions to help you create and share a detailed event checklist. The readymade templates are available for instant download to assist your entire event crew in keeping a check on pre-planned activities and their current status. You can easily modify the sections of these templates to plan, keep a check, and organize very complex event schedules with great ease.