Plan Templates
5+ Shooting Schedule Template
Lights, Camera, Action! Looking back to our youth, or even still up today. Film becomes a platform for us to venture into a new reality. We are being drawn to the rolling motion picture and also captivated by the different series of engaging stories, that the film wants to deliver. Ever since it's beginning, human obsession for film already becomes a breakthrough to our history. Here's the catch, yes we do love film, but for sure most of us don't know how film works behind the scene.
5 Steps To Create A Shooting Schedule
Film making revolves around distinct stages: pre-production, production, post-production, and distribution. Pre-production is the most important part of film creation. This is where the preparation for film production marks. By this time you already need to start gathering your team, the actors, and your shooting location. It is also a vital part of the film making process, for this is the time where you organize your shooting schedule. Here is the list of how you can make and start your own shooting schedule.
Step 1: Assemble Your Crew.
There is no such thing as one-man-production. In film making, your crew is the most important foundation. Film production must have the manpower to work on the specific task on your desired project film. This time, you need to assess them one by one as to their work. You have to also know their specific role on the team. Assign them according to what department are they into, whether in art department, gaffer, crafts, and services, etc. With this, your production team can now go through.
Step 2: Everyone Must Be In Sync.
Now that you have already gathered your team. In this stage, the essence of teamwork must be at the top. Everyone in your team has a different role. The director is different from the director of photography, same goes with the crafts team to the actors. So the point in here is that everyone has different work, so the team must set a goal. Make a table, sort everything, set every department's schedule then you're good to go!
Step 3: Script Up!
Hold on! There is still a crucial part coming up. Most of us think that script is a series of lines that every actor must throw. No, you are wrong. Script is also a list of what are the items needed for a particular scene. Wardrobes, props, and all the items that are necessary for your shoot must be included in your list. Make a list of these props according to when it is needed according to what scene.
Step 4: Set The Production Budget.
Part of the shooting schedule is the financial flow of your production. This part is the most difficult for some. You need to have a financial breakdown in every shoot day. Breaking down your financial flow can also help you in determining the possible items that need to have alternatives. With this, the budget could be saved for the future expenses that you may encounter soon.
Step 5: Set Everything.
Finally, sort everything up. Make sure that you already filled the every finest detail. Location, shoot calendar, prop list, etc., all of these must be present in your shooting schedule. When you finally have your shooting schedule, make sure that all of your crew are aware of it. You need to mass produce a copy of it and make sure that it is of everyone's knowledge.
5+ Shooting Schedule Template
1. Free Film Shooting Schedule Template
Planning and plotting your shooting schedule takes a lot of organizing skills. Sometimes it is very hard to make start one, especially if you don't have the right tool. Free Film Shooting Schedule Template is here to save your day. This template is for free and is very easy to use just for you. Download this template now!
2. Free Movie Shooting Schedule Template
Are you having a hard time making a shooting schedule for your project film? Do you want to have a schedule sheet that is ready to use? Well, worry no more. Here is the template that you need for your upcoming shoot. It is available in these various formats: Google Docs, MS Word, Pages, and PDF.
3. Free Film Production Schedule Template
Being on the film production side takes a lot of time management. You need to put in so much effort so that your crew can stay up to date all the time. This template is the answer to your sleepless nights. It's efficient, easy and ready to use whenever you want to. Don't waste your time. Grab this template now.
4. Free Sample Film Production Schedule Template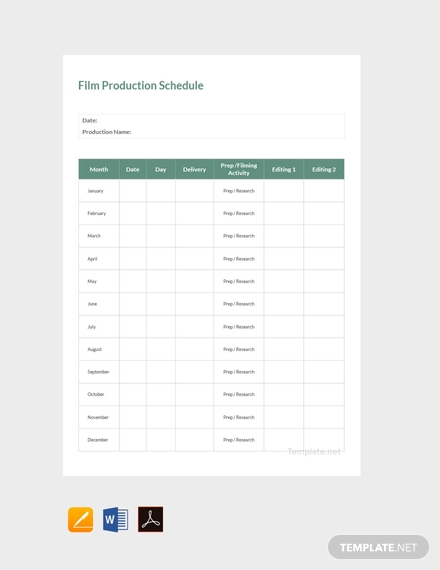 The secret of having a good-quality film output is a good film production management. One way to do that is to have an effective shooting schedule. Free Sample Film Production Schedule Template is here to achieve your desired film goal. This template comes with minimal and simple design so it is easy for you to use. You can also edit this with your own preferred choice.
5. Free Sample Production Schedule Template
Being ready when you are in film production, means something. It is one of the best quality that a production manager must have. This determines the workflow of your production team and the outcome of your film. If you think you have got what it takes to be a production manager. Allow us to help you become to become one! By using this template, your dream of becoming an effective production manager would become at ease. Grab this template by clicking down the download button.
6. Shooting Schedule
Simple and precise. This is what this template offers to you. It comes with minimal and simple design layout, so plotting and sorting your shooting schedule has never been this so easy. What are you waiting for? Grab this template and let your team be involved on what is going to be the next big thing in the cinema!
More in Plan Templates