Agreements
10+ Multiple Employer Welfare Arrangement Templates in Google Docs | Google Sheets | Excel | Word | Numbers | Pages | PDF
Each worker sells his or her labor power to earn a living. Businesses have to see the wage earner as an indispensable part of their corporation. Through the production process, they can have mutual benefits. The executives can gain the profit they desire while the workers can have the capacity to get by with their daily lives. Human dignity, which includes worker's rights, pushes for benefits that make every employee truly human. So it is not only for business continuity that employers invest for the laborer's welfare, but to humanize the enterprise and to treat everybody as humans, i.e., not cogs in a machine. Thus, collective efforts through arrangements can make this doable! You may also see some of our document templates.
Table of Content
10+ Multiple Employer Welfare Arrangement Templates in Google Docs | Google Sheets | Excel | Word | Numbers | Pages | PDF
1. Estimate Sheet
If you are a big company and in need of a budget projection for employees benefits, then this sheet template can help you with the job. This file is compatible with Google Docs, Google Sheets, MS Excel, MS Word, Numbers, Pages, and PDF for your convenience. Grab this template now and get started with your estimates!
2. Healthcare Strategic Plan
Taking care of your employees is the duty of every employer. Planning for their health care is necessary. With the help of this plan template, you can plot out goals for your workers. You can input your ideas either through Google Docs, Pages, or MS Word. Plus, printing is easy since the file is available in A4 and US Letter sizes. Download this file now and begin thinking about your employees' health!
3. Mental Healthcare Plan
Physical health is also side by side with mental well-being. Make sure that the health insurance covers the mental state of your workers and place that detail with the help of this template. Get this document as inputting your ideas is easy since this file has a helpful layout. So click the download button now and start caring for your employee's mental state!
6 Steps How to Step into a Multiple Employer Welfare Arrangement
Any business needs workers to get the job done, and providing them with benefits will surely encourage them. However, sometimes, resources are not enough; thus, you need help from other corporations as well. This moment is when an employer steps into a MEWA (multiple employer welfare arrangement). Follow the simple list below to get successful arrangements done!
Step 1: Do a Headcount
Check the number of your employees by going over through your HR documents. Make sure that everybody is well-accounted for so that you excluded no one. All workers deserve what they are due, so accurately do a headcount.
Step 2: Create an Estimate
You need to project the costs per employee. So better go through the legalities and check the mandatory benefits that each worker needs to have. Plus, if you are benevolent, then include something from your initiative. When you have a complete outline of the benefits to give, then do an estimate of the costs.
Step 3: Review your Resources
Check if you are capable of delivering the insurance that your employees need and to what extent do you need help from other employers. Go over your income statements and other revenue documents. See whether entering into an arrangement with others is manageable or not. Always see your capacity first so that you have something to prove to other concerned parties, as well.
Step 4: Assess
Do the analytics and check if the conditions are right for the desired action plans you want to take. You need to clear out uncertainties and grasp the whole scenario before you can develop a concrete plan. Either way, assess the situation carefully so that you can present a comprehensive report document to other employers.
Step 5: Propose for Partnerships
Arrangements start first with proposals. The initial results of your assessments is a sufficient ground to establish a convincing proposal document. So when you are inviting other business executives over for a quick meeting, have them at the edge of their seats with your exciting prospects.
Step 6: Seal the Deal
An arrangement needs to be binding. It can even elevate into a mutual agreement contract. Make sure that negotiations end up fruitful. Thus, there is nothing like benevolent employers concerned with their employees' welfare!
4. Employee Benefit Plan Explanation Letter
Amicably convince potential partners about your employees' welfare through this document. This file comes with a professionally made layout that will guide you with your inputs. Since this file is available in both A4 and US Letter sizes, printing is no big deal. So better grab this template now and prepare your eloquent words that can catch wandering ears!
5. Participation Agreement
Handshakes, paired with the right document, is a done deal. Make sure to plant bridges for effective cooperation for the best of your employees through this template. Download this document now and type the negotiation results either through MS Word, Pages, or Google Docs.
6. Financing Agreement
Employee benefits come with a cost. Since this arrangement presumes shelling out resources, make sure that parties agreed with the involved finances. Begin the arrangement by downloading this editable template. Make sure to ready your MS Word, Google Docs, and Pages editing skills. So grab this template now and start taking the next step towards having fruitful partnerships!
7. Healthcare SWOT Analysis
Before pushing for your health plans, make sure that everything will be smooth. So grab this analysis template and start racking your brains out before executing any plans. Key in your much-needed logical assessments through Pages or MS Word. Plus, printing is convenient as the file is ready in A4 and US Letter sizes. Download this template now and begin the rigid intellectual scrutiny!
8. Employee Cost Analysis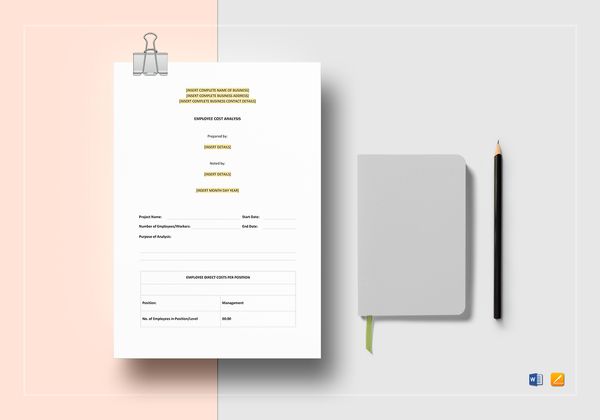 You should first reflect on the possible expenses so that you can properly negotiate with other employers on the expenditures. Make sure that the association of businesspersons are well aware of the costs through this template. Make sure to download this file and start editing through MS Word or Pages. Presenting this to others is easy as it is print-ready in both A4 and US Letter sizes. Download this document and start thinking about the possible costs!
9. Cooperation Agreement
Enter in an amicable relationship with other employers with the aid of this agreement template. Keep certain that the commitment to promote employee benefits is well within the understanding of concerned parties. So start establishing the terms of cooperation through Pages or Word and print it when you are ready. Click the download button and start establishing connections
10. Sel-Funded Multiple Employer Welfare Agreement Checklist
Getting the requirements ready to establish partnerships with other employers is key to getting the task done. Thus, download this document, which shows a sample checklist of what to prepare. Do take the time to study this file!
11. Multiple Employer Retirement Plans and Welfare Arrangements Guide
A simple guide such as this document will surely aid you in getting the arrangement done. Do download this document and study its content. Plus, grab the critical details that will prove useful when you enter into such arrangements.
More in Agreements