Making similar documents or structures over and over again is exhausting. It would be nice if there was a pre-created document you could come back to every time. Well, thanks to templates, document-making or other related menial tasks have now become easier. With it, you can just edit some minor details, and then you're good to go. No need to start from scratch since it's already preformatted. Convenient, isn't it?
Business Project Report Template
Download this business report project template in order to minimize the burden that comes from creating a new report document from scratch. This template not only lets you cover the overview details of the project but also its financial aspects in a detailed manner. You can easily make changes to this document by editing it any of the file formats such as Pages, MS Word, and Google Docs.
Project Report for New Business
Prepare a detailed study for your project report by downloading and using our new business project report template that is specially designed for those who are starting out fresh in their business. Details such as the background of the company, a summary of the project, and its financial aspects can be addressed in this document in an organized manner. Feel free to edit the project details in all versions of MS Word.
Sample Project Report for Investors
Provide an overall picture of your proposed business to investors by making use of our sample report template. It ensures that you work and solve on different areas of your project even before any problems occur. It comes with ready-made content, so all you need to do is just fill in the details using any Word document.
Project Report Template for Investors
Business Development Report Template
Free Project Report Template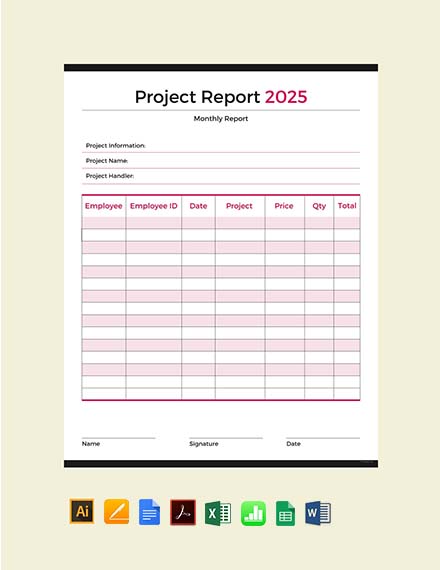 Small Business Project Report Template
Laundry Business Project Report Template
Business Plan Project Report Template
What Is a Business Project?
A business project is a formal articulation of business objectives, reasons they are achievable, and plans for achieving them. It might likewise contain foundation data about the association or group attempting to achieve those objectives.
Strategies for success may target changes in recognition and branding by the client, customer, citizen, or bigger group. At the point when the current business is to accept a noteworthy change or when arranging another venture, a three- to five-year marketable strategy is required, since financial specialists will search for their investment return in that time span.
People Involved
Business plans or projects may be internally or remotely engaged. Remotely focused plans target objectives that are critical to outer partners, especially investors. They normally have detailed information about the association or group attempting to achieve the objectives, and creating Project Report Templates come in handy.
With revenue-driven elements, external partners incorporate financial specialists and customers. External partners of nonprofits incorporate benefactors and the customers of the nonprofit's services. For government organizations, external partners incorporate citizens, larger-amount government agencies, and universal loaning bodies (i.e., the International Monetary Fund, the World Bank, different monetary offices of the United Nations, and development banks).
Business Management Project Report Template
Business Communication Project Report Template
Business Development Project Report Template
Applied Business Project Report Template
How Business Project Is Presented
It is regular for organizations, particularly new companies, to have three or four configurations for a similar business project. A "lift pitch" is a short outline of the arrangement's official synopsis. This is frequently utilized as a mystery to stir the enthusiasm of potential speculators, clients, or key accomplices. It is called an elevator pitch as it should be content that can be disclosed to another person rapidly in an elevator. Since report samples are a major help to us. We have a rundown of business like Report Templates that you can make use of. All have very detailed outlines and contain a variety of contents, which are ideal to suit what you want.
Why Planning Is Necessary for a Business Project
Most businessmen have seen what no planning or lack of foresight can do to a business project, regardless of how awesome a thought that venture may have been at first. Lack of common sense frequently implies poor worker confidence, can unfavorably influence benefits and can thwart an organization's capacity to survey the future and act in like manner. Great arranging can help limit chances and can position an organization for future development. Regardless of whether business tasks are huge or small, appropriate planning is fundamental.
For an easy report making, our collection of business project report templates is here to assist you. There are 7 samples that you can make use of.