Report Templates
21+ Report Card Templates- Word, Docs, PDF, Pages
A report card is one of the crucial elements of recording the results of an evaluation of a leaner. Many learning institutions opt to design their form cards rather than purchasing the standard commercial ones. You need to be on the front line when it comes to making the best cards for the institution. Whether you are an IT providing services to clients or otherwise, there are certain credentials that you must know regarding the creation of a report card. You can compose such an inspection mark sheet for 5th grade, 8th grade, special education, highschool, primary school, university, teacher business, and much more. You may also see report samples.
Progress Report Card Template
Provincial Report Card Template
Report Card Templates
Are you someone who is running a school and need to prepare report cards for your students? Then, you can check out Report Card Templates in PDF available online. Report cards are essential for students because they document students' performance in their studies. They are used for assessing the students systematically by the administrators. Take note of the following points if you are preparing a Report Card for your students:
The name of the school

The name of the student

The course of the study

Official signatures from the institute

Attendance

Subjects studied

Grades scored by the student in each subject

The overall score of the student

School year and the examination
Kindergarten Report Card Template
Summer Report Card Template
Weekly Progress Report Card Template
Home Schooling Report Card Template
Student Progress Report Card Template
Free Sample Daily Report Card
Free Blank Report Card Template
Free Daily Progress Report Card Template
High School Report Card Template
Free Student Report Card Template
High School Inspection Report Card Template
The High School Report Card Template is one of the most commonly used and highly downloaded templates that can help you create high school report cards in Excel spreadsheet format. All of these templates are highly compatible to ensure that your share your student's performance with their parents in Microsoft Excel, Open Office, or Google Drive formats. You can also see Report Templates.
Preschool Report Card Template
oklahomahomeschool.com
Home School Business Report Card Template
edu.gov.mb.ca
As the name suggests, the Home School Report Card Template in Pages enables you to create free, professional-looking, and simple-to-understand report cards at home for analyzing your kid's performance. You can download and use all of these templates for all grade levels in the English language to make sure you're your kid stay aware of his/her performance and make unlimited efforts to improve it.
Primary School Daily Report Card Form Template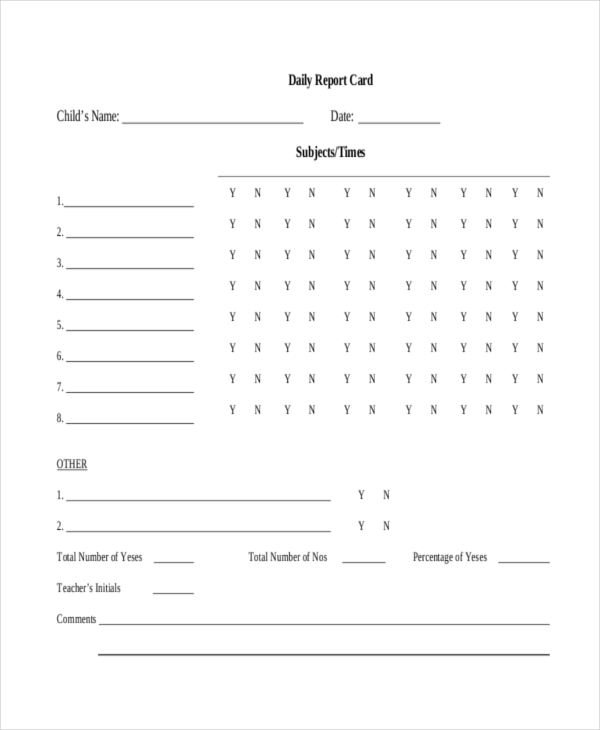 ccf.buffalo.edu
College Report Card Comments Template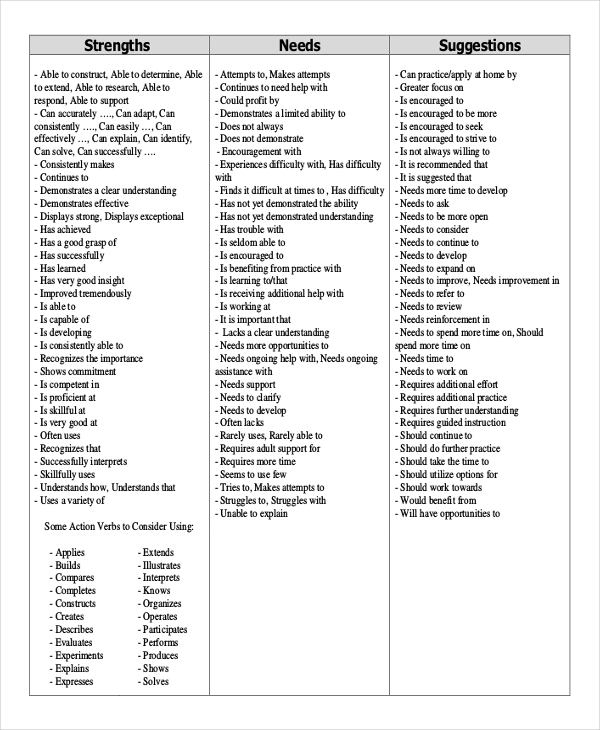 tcrsb.ca
The Report Card Comments template is used and downloaded for seeking various professional comments and appreciation or motivational messages that you can fill in your ward's report card. All of these comments are highly motivational and can help a child in performing better with a constant focus on maintaining his/her current performance level.
8th Grade Year Report Card Template
laguardia.edu
Grade Year Report Card Template is one of the easiest and fastest solutions to create a scoring card as per the gained grades. All you need to do is to modify the template as per Course level, grading scale, and credit keys to ensure that you generate and share accurate report cards during each school year.
Special Education Programs Report Card
edu.wyoming.gov
University Teacher Undergraduate Program Report Card
uncfsu.edu
5th Grade Report Card
cloverleaflocal.org
Grade10 Result Marksheet Report Card
managebac.com
Why Downloading and Using These Templates Is Important?
One of the biggest challenges that most schools, universities, and even homemaker faces while drafting a detailed performance map for their students, college pupils, and kids. The Report Card Template is strategically designed and developed to help you keep a track of your ward's performance, analyze which subjects he is good or bad at, his extracurricular interests and other Project Report Templates can help you groom him in a better way. All of these templates play one of the crucial elements for recording the result and performing the evaluation of a leaner to provide a clear picture to a ward's parents or guardians.
Avoid the common designs and structures that are available in almost every commercial version. Such ideas are too old for our time and some have been redone enough times to warrant any uniqueness or personality in your new. Choose your way of doing it and stop going the usual way. Inject in a full dose of very new designs, color shades, and patterns.
Conclusion
All of these readymade templates are available to ensure that you create professional-looking templates with great comfort. You can easily download, create, print, and even re-use a single template for various purposes by just modifying the headers, sections, and fields that require personal data to be filled in.
If you have any DMCA issues with this post, please contact us!