Tracking Templates
4+ Issue Tracking Templates
Certain issues or matter is now easy to track when there is a template tool that can help you with. An issue tracking template is part of management tracking template where it is designed to help the management with ease in handling different issues and make certain solutions on time and put it on record. You can also see Budget Tracking Templates.

Issue Register Tracking Template Download
A set of Issue Register Tracking Template is available to assist you while defining various problems and issues that come your way while operating a business, completing a project, or disclosing an idea to the business development team or specific clients. You can easily generate reports by using these templates to create a detailed project mapping plan that never fails.
Issue Tracking Template Download
The Issue Tracking & Management Template is one of the most downloaded and widely accredited templates to help you keep a track of issues that has come mid-way while progressing towards completion of a project. All of these templates are filled with various factors and parameters that can assist you in performing both accountability and analysis tasks with great ease.
CDC UP Issue Management Tracker Template Download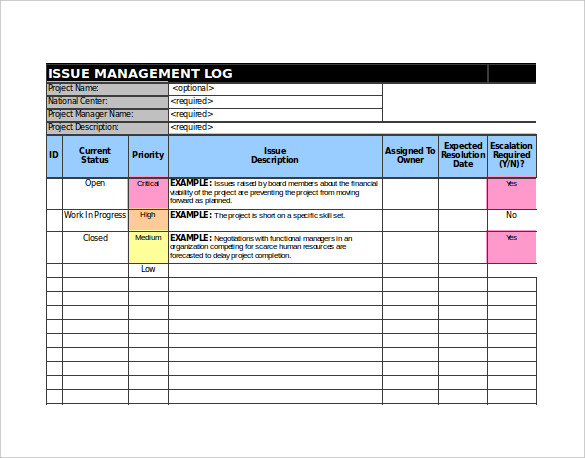 The Project Issue Tracker Template helps the project management team to spot, locate, find, and report various issues that are hampering the performance of the project and keeping it away from its usual pace. You can easily download and use these templates to keep a track of all the activities and developments of the project in detail.
Issue Tracking Template
The Issue Tracking Database Template is one of the finest tracking tools that can assist in ensuring a systematized tracking of various processes that are being performed to meet the goal or project deadline. All of these templates can make tracking of issues an easy task and helps you in generating accurate reports within a few minutes.
With the support of Word, Excel or PDF format, the samples provided and seen in issue tracking template via online are free to be downloaded. The sample can be modified according to the subject issue after you have selected the right sample appropriate for the business. You can also see Tracking Templates.

> Why You Must Use These Templates?
Encouraging a team towards achievement of the common goal is somewhat easier, but the situation may become worst when uncertain issues and problems arise to hamper the performance. One of the crucial problems that might arise while working towards pre-defined goals is rise of uncertain issues. The issue tracker templates enable you to cross check the existing issue with the pre-face problems and relates the current situation with the one that has already been resolved. You can easily use these templates to define, describe, and enlist details and factors, and overcoming strategies that can assist in resolving in existing issues in no time.

> Conclusion
Having a set of pre-defined instructions and issue tracking database maintained at your end makes your task of problem-solving easier and faster. Most of the higher management members, team leaders, managers, and even board of directors and strategic analysts use these issue tracking template to maintain optimal ease while handling different issues and applying certain solutions to overcome the problem with great comfort.