Tracking Templates
7+ Sample Vacation Tracking Templates
The vacation tracking template is like task tracking sheet where you could know how many days you will have in your leave, your place where you must go and anything that you want to try for the first time in your life. You can have it in sample format where you can customize it that you can apply in your workplace or in your personal life. Like a to-do list that can show you the rundown of all the activities you must complete in a set duration of time. Many of the people nowadays can find these Tracking Templates accommodating when they are the kind of people who really loves to go out and explore the world.

Employee Vacation Tracker Template
The Employee Vacation Tracker Template is one of the basic and simplest templates that can assist all the human resources professionals in calculating, analyzing and reporting the number of leaves a particular employee has taken in a mentioned period. Additionally, these templates can be used by employees to stay productive and manage their leaves and work, before they avail their causal, annual, or even restricted leaves quota.
Employee Vacation and Time Off Tracker Template
The Employee Vacation and Time Off Tracker Template helps you to analyzes, determine, track and manage the employee vacation timings, along with the detailed timesheet describing about the roles and responsibilities that an individual requires to fulfill once they joins back. All of these templates can assist in monitoring the exact vacation period and drafts a detailed plan for managing their timings when an employee isn't available in the corporate premises.
Employee Evaluation and Vacation Tracking Template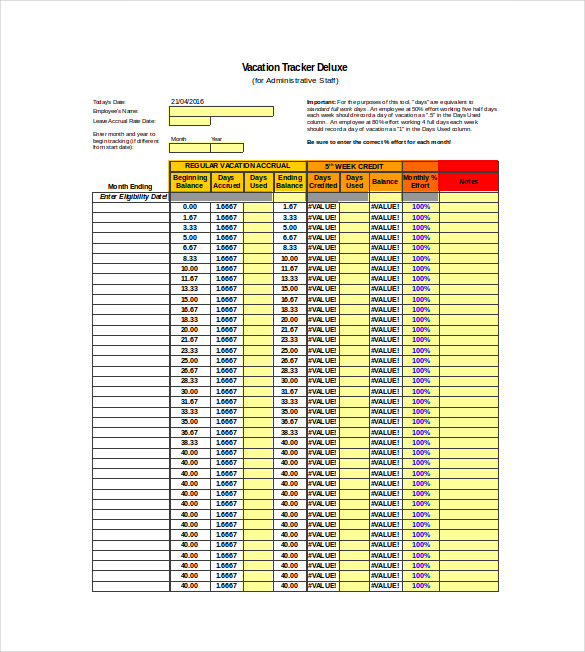 As the name suggests, the Employee Evaluation and Vacation Tracking Template is one of the common templates that can be used to analyze an employee's performance, create a detailed review report, along with the description of leaves he/she has taken in the particular period. The templates can assist in managing the review process by documenting the employee's performance against pre-set goals.
Employee Vacation Tracking Calendar Template
The Employee Vacation Tracking Calendar Template is a detailed calendar format for tracking the leaves of your full-time employees with ease. All of these templates help you to create detailed natural time sheet progression by adding or removing as many employees as you desire. You can use these readymade templates for marking present and absents of various employees, without wasting your valuable time.
Custom Employee Vacation Tracking Template Sample Download
trumpexcel.com
Excel Format of Vacation Tracker Template
chandoo.org
Vacation Days Tracker Excel Format Template Downoad
docs.google.com
Employee Vacation Tracking Template Free PDF Format Template Download
finetemplates.org
> Why You Must Use These Templates?
Keeping a track of employees, their performance, leaves, task completed, and other vital factors that can build or defame the image of a particular employee can be quite difficult. All of these templates can be quite important in managing, monitoring, and analyzing an employee's performance with ease. One of the biggest benefits of using these already made templates is that they can be customized and can be altered to meet desired objectives of various business teams and departments. These templates can be of great help for managers and shift captains while they stay busy in tracking – which employee is on leave, which resource is busy doing what, and how well the employee is performing.

> Conclusion
They ensure that every employee is fairly allocated vacation time and analyses their performance to created detailed review reports. These already made templates are straight forward and easy to use, thus, can be downloaded, customized, and edited to meet desired purposes at large. Working as an efficient tool to identify absences and their associated reasons, you can use these templates for tracking company holidays, floating holidays, and bonus days with high comfort.