Tracking Templates
11+ Asset Tracking Templates in PDF | DOC
Keeping a regular check on the physical assets that you own is a wise thing to do. And if you want to that more effectively, then you need to enhance your asset tracking practices, which refers to a particular method of tracking physical assets by using various technologies. Asset tracking can be considered as important as managing your inventory because through this; you can know the location, status, maintenance schedule, and other relevant information about the physical assets of your organization.
Table of Content
5 Steps On How to Create an Asset Tracking Report
Step 1: Introduction
Start your asset tracking by providing a brief introduction. Your introduction should be like a summary of what exactly you are going to explain in your document. The introduction must not be that long and make sure you specify those elements which are relevant to the topic. Provide information about the reason for which asset tracking is being implemented.
Step 2: Description
After you provide the introduction to your asset tracking, you can start with the details about the process which is being used by you or your company for managing or tracking assets. Give a detailed description of the company or the organization which owns the asset. The description is a crucial part as it lays out the important elements of how a particular software of certain tracking technologies will help in tracking down the assets.
Step 3: Overall Benefits
Next, you can move on to pointing out the benefits of tracking devices, tracking software and various other methods to track any asset of a company like tractors, trolleys and other essential assets. The reader must know how tracking assets will help in the proper management of the assets that a company or an organization owns.
Step 4: How It Works?
Once you've stated the benefits, the next step includes how asset tracking works. Here, you must not only define the whole process in detail but also explain how the whole process of tracking any kind of asset works. It may vary depending on the various methods used for tracking assets so be specific while explaining the whole procedure.
Step 5: Specifications
Do not forget to supply a proper set of specifications as it will deal with what kind of materials are required in the process of asset tracking. These specifications will differ based on the methods applied in every asset tracking. Specifications generally include details about the power, mechanical and other specific materials.
11+ Asset Tracking Templates
1. Asset Tracking Template
omni-id.com
In every factory, it is a fundamental necessity to know what components or containers you have and where they are. This asset tracking template will provide you a method that will allow you to track the location assets, count them and record their status. It contains information about an asset tracking application that is simple and configurable to your needs. Download this template now and enjoy all its perks.
2. Corporate Company Asset Tracking Example
oracle.com
A company may face many challenges in case of managing assets such as dealing with a large volume of data associated with these assets, tracking, and maintenance of assets. If your company is facing that kind of challenge, then this sample asset tracking template will be the best fit for you. It consists of an asset lifecycle tracking application that will provide tracking, visibility, control of assets of various companies. You can download it in any device of your choice.
3. Company Asset Tracking Template
semtech.com
In case you want to track assets or make an asset list related to airports and seaports, then have a look at this asset tracking template. It explains about a specific technology that is easy and economical for smart supply chain and logistics to track valuable assets including vehicle fleets and on-ground equipment. By downloading this template, the managers of any company will get an affordable window into all the information they require from the assets at work.
4. Areas Asset Tracking in PDF
mtl-inst.com
Is your facility which deals with hazardous areas, in need of an asset tracking method? If that's the case then feel free to download this asset tracking template in PDF format and get enlightened with a beneficial method for your use. The template includes detailed information about a particular asset tracking method that will help in monitoring the location of mobile equipment and workers in the facility. Avail this template now and allow your facility to ensure complete plant coverage in the most critical locations.
5. Asset Tracking Case Study Template
cg4assettracking.com
Are you thinking about preparing a case study on asset tracking? If yes, then this template can be a perfect reference for your purpose. It deals with a professional project tracking report or a case study that is about tracking assets and how these tracking methods are implemented along with its background and challenges. Its simple and effective use of language will be quite convenient for you. Downloading it will be worth your while.
6. Enterprise Asset Tracking Template
cognizant.com
In case you want to trace the physical assets of your company, then you can rely on this template for making it possible. Take the help of this template which deals with the information about an association that is responsible for tracking assets. This template contains information on a new digital capability that allows assets to be tracked and monitored remotely and also to prepare an asset inventory in a well-written manner. We are sure this template will be completely beneficial for you. Avail it now.
7. Corporate Asset Tracking Template
tatacommunications.com
Any kind of traditional management tracking suffers from high capital investment, poor location visibility, and asset health along with higher maintenance costs and thievery. This template deals with a sample asset tracking which involves a particular asset tracking that will help in avoiding such kind of problems. You can take the help of this template if you need an easy to deploy, easy to maintain and cost-effective asset tracking option. Hurry and get it now!
8. Asset Tracking Example in PDF
orangehrm.com
If you need to track your assets quickly, you can take this template as your guide, as it deals with important information about an asset tracking method. It includes information about asset tracker that enables you to manage your company asset list and inventory into one complete, cost-effective, easy to use application that can be applied to any company. If you want to know more, you'll have to download it now!
9. Asset Tracking and Management Template
gs1si.org
If you are looking for a document that will grant you information about how you can manage your assets, then make sure you go through this standard template that includes a detailed explanation of how you can do a proper progress tracking without any hassle. Why not download this template and avoid waste of time and effort? This template is all you need to manage your assets in a well-organized manner. So grab this template today.
10. Asset Tracking System Template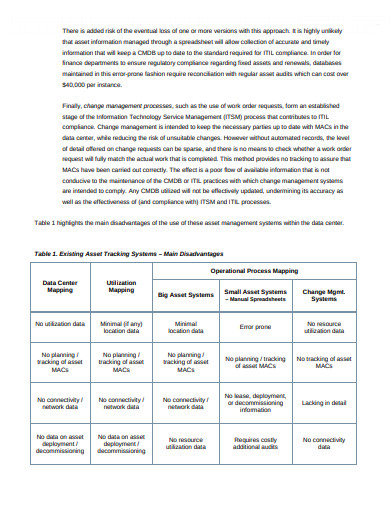 panduit.com
Getting worried about how you can manage your asset tracking system? There's no need for worrying anymore as you can rely on this template which deals with integrated asset tracking solutions that will increase productivity, reduce costs, improve visibility and take control over the management of infrastructure. And the best news is that you get all this information for free. So why wait for tomorrow when you can download it now.
11. Organization Asset Tracking
arubanetworks.com
By utilizing this standard template that includes an asset tracking report, you'll get help in choosing the right option for tracking the physical assets of your company. This template deals with a particular tracking procedure that helps in locating assets and improve efficiency. It is a financial and compliance lifesaver for today's customer-focused organizations. It can be used in hospitals and large retailers to better manage what they have, reduce lose which in turn improves customer satisfaction. Hurry up and get this useful template now!
12. Asset Tracking Form Example
rccdc.org
In case you require a form that is required for equipment tracking, this asset tracking template will be a suitable one for your purpose. It consists of a ready-made form that can be used to log in to all computer equipment or any asset. You can even make any kind of customization if you want any changes in it or just fill in the blank areas to use it instantly. Download this template and get your asset tracking done in a short time.
More in Tracking Templates