Dancing, what could be a better way to have fun while keeping yourself fit? While there's a common misconception which states that only those who are graceful can dance, any person who's capable of moving to a beat can dance. What's important with dancing is the person's ability to listen and move with the beat, and their willingness to enjoy. You may also see modern flyer templates.
Dance Class Studio Flyer Template
Dance Lesson and Studio Flyer Template
Dance Class Flyer Template
Back to School Dance Flyer Template
Dance Classes Flyer Template
If you have the passion to promote the art of dancing as well as the skills needed to teach people how to dance, then it would be best for you to put up a dance studio. But how can you promote your dance studio to the public? By effective marketing tools, of course, and one of which is the use of flyers. Below is a collection of dance flyer templates that can serve exactly that purpose, check them out below.
Modern Dance Studio Flyer Template
Let's get started. Above is a beautiful modern-themed flyer template that has a clean and organized look that many people would surely like. This would be an ideal invitation flyer template to use if you are planning on inviting people to learn a variety of dance styles.
Modern Monochrome Dance Studio Flyer Template
Pink Simplistic Dance Studio Flyer Template
What Are Flyers and Why Are They Relevant?
A flyer—also spelled as flier, and also referred to as leaflet or pamphlet—is a small sheet of paper that is used for marketing and recruitment purposes. Through flyer distribution, copies of the flyer are distributed by hand to the public, and this is probably the most common method, though flyer designs can also be posted in public places the same way that posters are being used or it can even be sent through the mail.
With regards to its usage and its contents, business flyers usually include images or illustrations of the products, their corresponding details, a few other relevant information, and the industry's contact details. But aside from just being used for business purposes, flyers can also be used to spread information regarding an event. These flyers, on the other hand, contain all the important details about the event that will help answer the what, when, and where inquiries from the readers. Lastly, flyers can also be used as a recruitment tool to invite volunteers to join an organization or aspiring employees to apply for a position in an establishment.
But what makes flyers important for businesses? It is because they have been proven to be a very effective advertisement tool, which is obviously the reason why they still exist today even with all the digital and paperless methods available. It only goes to show that most people still do prefer tools that are tangible over those that are digital. And the wonderful thing about flyers, aside from being very effective, is that they are inexpensive and are very easy to make. You may also see PSD flyer templates.
Tips When Designing Flyers
When designing flyers, there may be a lot of things to consider with regards to how you can make them really capture people's attention. In fact, there are too many factors that it may become too stressful or too tedious to even think about them. Because of this, people will most likely take these factors for granted resulting in a poorly-made flyer design. So to keep you from stressing yourself regarding these factors, let's limit it to the three most important ones. You may also like green flyer templates.
1. Making the design captivating. This one is very self-explanatory. The best way to make your flyer noticeable is by making the design itself eye-catching. The idea is just as similar as trying to stand out in a crowd, the more effort you put into your clothing or makeup, the more likely that you will get noticed and may be appreciated as well. For flyer designs, its not only about the elements that you incorporate into the design that makes it visually appealing, but also how you arrange those elements. You may also see elegant flyer templates.
2. Don't take colors for granted. The design may be a very important aspect for flyers, but most people tend to forget about the proper use of colors and even color psychology. The beauty with colors is not from its appearance alone but also on its ability to express feelings and emotions, and the more it becomes relevant if you consider applying the science of colors on the design. And when adding colors, there's no reason to be shy about it, crank up the saturation to a satisfying level, but not too much that it makes the elements look ugly. You may also see abstract flyer templates.
3. Respect the white space. And of course, the white space that most people neglect. Every design needs a sufficient amount of white space to keep the elements from creating chaos with each other, but the amount is entirely up to you. You may want to add white space in between elements, or you may also have it surround the other elements. You may even be allowed to exaggerate the amount of white space that you put on a design, the most important thing is that the elements are distinguishable and the design doesn't look cluttered. Therefore, respect the design's white space. You may also see fantastic invitation flyers.
Green Minimalist Dance Studio Flyer Template
Love green? Check out this modern-themed minimal flyer template that you can use to advertise your dance studio. Though you can always change the color scheme to something that suits you better.
Striped Rounded Frames Dance Studio Flyer Template
Blue Bubbles Dance Studio Flyer Template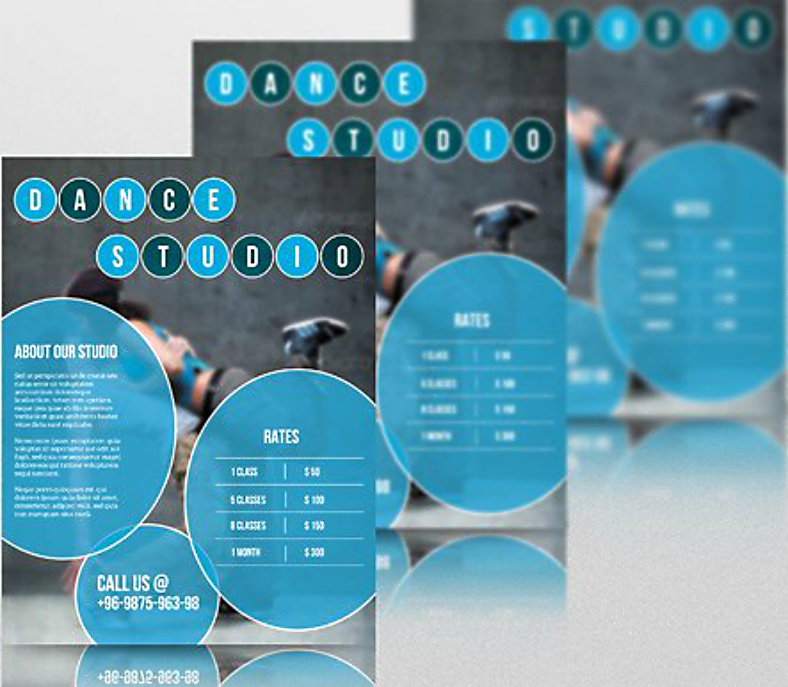 Red Scheme Dance Studio Flyer Template
What Are the Benefits of Dancing?
If you are into dancing, then good for you, but if not and don't see its importance, then read on. Dancing is far more than just for entertainment, it can actually bring a lot of benefits to the body as well as the mind. The list below further enumerates how dancing is able to benefit us. You may also like free flyer sample templates.
Dancing can help increase your muscle tone, muscular strength, endurance, and flexibility.
Dancing can help boost your self-confidence, self-esteem, social skills, and overall mental functioning.
Dancing can help strengthen your bones as well as decrease the risk of developing osteoporosis.
Dancing can help improve your body's motor functions, coordination, agility, and balance.
Dancing is good exercise and can help promote heart and lung functions, as well as help in managing body weight.
Dancing can help enhance your physical, psychological, emotional, and general well-being.
Mosaic Inspired Dance Studio Flyer Template
Pink Dance Studio Flyer Template in PSD
Motivate people and let them learn how to dance properly in your very own dance studio. Above is a professional flyer template that you can use to promote your establishment and make yourself known to the general public.
Red Black Triangles Dance Studio Flyer Template
Beautiful Blue Borders Dance Studio Flyer Template
Blue Triangles Dance United Studio Flyer Template
What Are the Types of Dances Throughout the Years?
1. 1920's – Shimmy, Charleston. During the 1920's, the most popular types of dance or dance moves include the shimmy and the Charleston. The shimmy involved keeping the head and the entire body still, with only the shoulders being moved in a quick, alternating back-and-forth motion. The Charleston, on the other hand, was known for being wild and charismatic, and it involved swift yet graceful twisting moves with the legs. You may also see beautiful flyer templates.
2. 1930's – Jazz Dancing. When we say jazz dancing, it has elements of tap, ballet, jitterbug, and some African-American styles considering that jazz music was made popular by the African-American people. Jazz dancing is notable for being energetic, and features isolated moves which refers to movements that are only performed by some parts of the body while the other parts remain still. You may also see word flyer templates.
3. 1940's – Swing Dancing. This type of dance actually pertains to several dance styles which include the Lindy Hop, Balboa, and the Collegiate Shag. Characteristics of swing dancing depend on the specific style, such as Lindy Hop being physically vigorous, Balboa being highly conservative, and the Collegiate Shag being an uptempo style reaching over 200 beats per minute. In general, swing dancing is a fast-paced dance that requires a lot of energy from the performers. You may also see 3D flyers.
4. 1950's – Hand Jive, Cha Cha. The hand jive is a popular type of dance that was performed alongside a rhythm and blues music, and involves various complex hand movements and claps. These hand movements include slaps on the thighs, fist pounding, and regular hand clapping. The cha cha—shortened term for cha-cha-cha—on the other hand, is a Cuban type of dance this is accompanied by a type of music of the same name. This type of dance can be described as patterned, following specific counts or beats, with the male dancer taking the lead. You may also see A4 flyers.
5. 1960's – Lock and Pop, The Robot. The lock and pop—usually shortened to just popping—is a type of funk, street dance that originated in California during the 1960's. From the name itself, this dance involved popping movements by quickly contracting and relaxing specific parts of the body, causing a jerking motion. The robot, on the other hand, is often confused with popping, though this type of dance is very different since it involves smooth and swift movements of the body, imitating a stiff robot. You may also like sample holiday flyers.
6. 1970's – Disco, Salsa. The disco is a not only a type of dance, but is actually a musical style in general that started to emerge from the urban nightlife scene in the US during the early 1970's. During the mid-1970's to the early 1980's, disco's popularity skyrocketed and was seen as a reaction against the domination of rock music. Salsa, however, is a Caribbean type of dance with some Puerto Rican and Cuban elements. Just like the disco, salsa dances were commonly held in nightclubs and bars. The salsa is very notable for its movements that include weight shifting and stepping while keeping the upper body level and almost unaffected with the lower body's movements. Speaking of disco, you may want to check out our collection of disco party flyer templates.
7. 1980's – Rock and Roll. This type of dance actually started during the development of the rock and roll music in the late 1950's, though it only became very trendy during the 1980's with some modifications with the dance movements. This dance usually follows a 4/4 measure, and is known for being fast, ranging from 176 to 208 beats per minute.
8. 1990's – Zumba. A type of dance that is also an aerobic exercise at the same time. The Zumba was created by a Colombian dancer named Alberto Perez. This type of dance incorporates movements from hip-hop, samba, salsa, merengue, mambo, with some traditional exercise movements such as lunges and squats. Since we mentioned about hip-hop, you may also want to check out our collection of hip-hop flyer templates.
9. 2000's – Electronic Dancing. Electronic dance is a type of dance that is performed alongside an EDM—abbreviation for electronic dance music. This type of dance actually began to emerge during the late 1980's to the early 1990's, though it only became popular in the 2000's when it was seen as an opportunity to revamp of the dance culture.
10. 2010's – A Mixture of the Previous Ones. It's probably safe to say that today's trend in dance is not original and is simply borrowed. It actually means that in today's decade, you can actually witness bits and pieces of the previous dance types being mashed together. You may also like A5 flyer templates.
Diamond Framed Dance Studio Flyer Template
Hip Hop Modern Dance Studio Flyer Template
Modern Mosaic Dance Studio Flyer Template
Modern Minimalist Dance Studio Flyer Template
So what did you think of the collection of dance studio flyer templates that you have just seen? Did it make you excited that you want to start dancing as well? We hope it did since every single on of these flyer templates were made by today's most imaginative and skillful graphic artists from all over the world, and we chose only the most visually stunning ones from hundreds of the best ones we found on the internet. Rest assured that when you download a flyer template from our website, it will indeed be worth your money. You may also see PSD flyer templates.
Since we mentioned about money, how much will you actually need to spend for these designs? You'll be glad to hear that you can download these templates for a very low price that you no longer need to worry about breaking your budget. Exceptionally-made flyer templates that are affordable? Believe it. And lastly, with regards to customizing these templates, you can actually edit them fully depending on your preferences. So what are you waiting for? Get yourself busy by downloading a flyer layout template now so you can start making your own dance studio flyers.