Pharmacists are the people who are responsible for giving us the right drug we need. Of course, these drugs are prescribed by the doctor. Some of these drugs don't need a doctor's prescription while most need one. You may also like medical flyers.
Pharmacies need to be promoted as well. In doing this, a pharmacy flyer needs to be distributed. Flyer samples increase the awareness of people over a product, event, and service. If you haven't decided on a template, go over our collection for some fresh ideas. You may also see half page flyers.
Pharmacy Flyer Template
Pharmacy Advertising Flyer Template
Drug Flyer Template
Chiropractor Flyer Template
Sample Medical Flyer Template
Medical Flyer Template
Pharmacy Flyer Template
Pharmacy Company Flyer
Pharmacy Services Flyer
Tips For Designing A Pharmacist Flyer
A pharmacist flyer is neat and clean to look at. This is the most common theme of flyers for a healthcare professional. A designer should have a minimalist sense when it comes to designing these kinds of flyers. Sure a little design won't hurt, but the professionalism should be kept intact. Take note of these tips in designing a pharmacist flyer.
1. Use white as background color.
White is widely associated with healthcare. Make it a background color of your flyer. This gives the reader the feeling that the flyer is a professional healthcare provider. While you can use other colors in your flyers, white remains to be the most relevant when it comes to healthcare related material. Nothing beats the assurance it gives to patients and ordinary readers alike. You may also see clinic flyer templates.
2. Keep it simple.
As much as possible, keep the design simple. Healthcare flyers do not need to be flashy as other flyers. It is built on simplicity and nothing else. Also, keep the language simple as you are promoting the pharmacy or hospital you are working for. There's no need to use pharmacy terminologies for that matter. You may also like modern dental care flyers.
3. Put specific information.
Information such as the company background, an address of the pharmacy, contact numbers, email address and other matters should be written on the flyer. Everything should be specific. Do not overcrowd information as this would make readers ignore your flyer. Organize the information you put on the flyer to create some sense of harmony. You may also see promo flyer templates.
4. Write in a friendly tone.
As a designer who uses flyers for promotion, write in a friendly tone that does not sound too annoying. The friendliness should be there since you are offering products and services to your customers. Never lose sight of the fact that flyers are still promotional materials and your aim is to bring in more people to avail your products.
5. Be minimal in design.
Have a minimalist approach to your design. Give your flyer an air of professionalism as you go on with the design in the whole process. You can experiment with colors and shapes but see to it that the professionalism of the whole flyer is not sacrificed. You may also see business flyers.
Pharmacy and Health Care Flyer
Pharmacy Medical Services Flyer
Simple Pharmacy Flyer Template
Pharmacy and Medical Supply Flyer
Pharmacy Flyer Design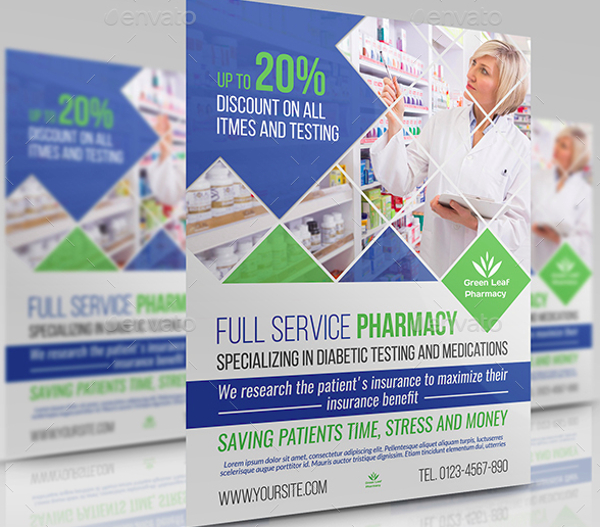 Pharmacy and Drug Store Flyer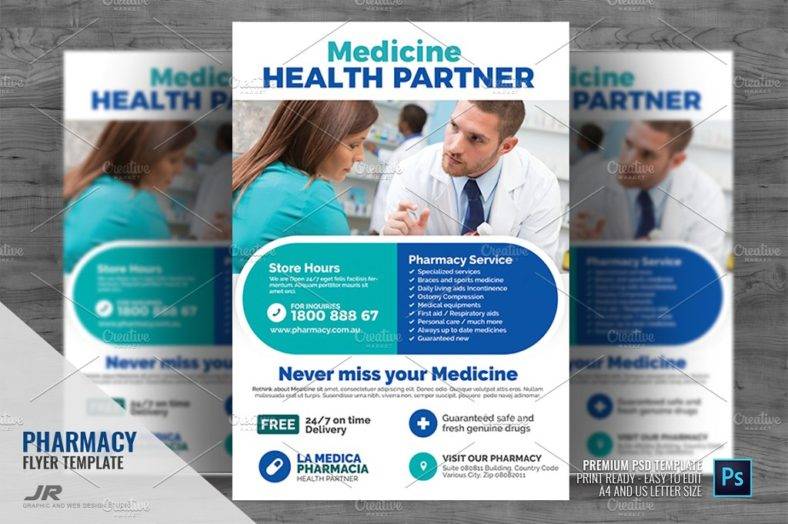 Pharmacy and Medical Clinic Flyer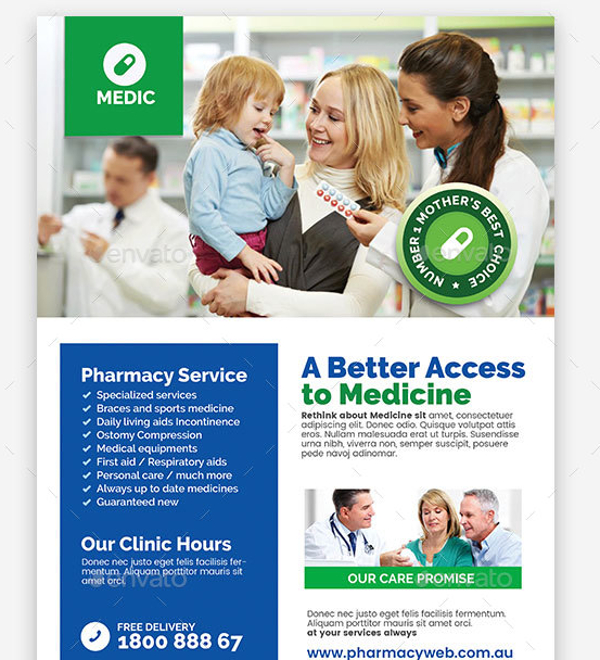 What Pharmacists Do
A pharmacist's job is not only limited to selling medicines inside the pharmacy. They do more tasks that we don't know about. They have a huge responsibility hanging on their shoulders since it is the patient's recovery that's at stake. One wrong prescription can lead to several grave consequences. Here we have enumerated some of the things pharmacists do when selling us our much-needed meds. You may also see free flyer templates.
1. Ensure the quality of medicines.
Pharmacists working in big pharmaceutical companies ensure that the quality of medicines being produced is high and effective. They make sure it has the right amount of formula that can heal a patient with every medical condition. The quality of medicines being produced in the market is very important since it will be used by the public. An otherwise bad one can lead to disaster. You may also see sample flyers.
2. Handle the delivery and supply of medicines.
Pharmacists are in charge of accepting delivery and the amount of supply of medicines needed for the pharmacy. After the delivery, they arrange the medicines according to generic names. They have memorized each and every generic name so there's no reason to have everything scrambled up. In case of loss of supply, the pharmacists will just call up the supplier to send the lacking drugs. You may also like professional flyers.
3. Advice patients on medicines.
Another part of a pharmacist's job is to advise patients on the medicines to be taken. This includes how many tablets to take, the dosages, how often to take it, and the reactions that might occur when taking the medicine. They also need to answer the patient's questions regarding the medicine to take. Their extensive knowledge of medicine is an essential tool in these situations. They also advise buyers in pharmacies on what medicine to buy and give them options which can make them save a little. You may also like modern flyer templates.
4. Supervise the production and preparation of medicines.
Before the medicines are being supplied to pharmacies, pharmacists make sure to oversee the production and preparation of it. They put in the right amount of chemicals and have it undergo lots of lab tests to ensure its effectivity. The preparation process also needs to be looked on. There has to be no mistake in preparing the medicine. Each step is thoroughly inspected by pharmacists to avoid errors. You may also see advertising flyers.
5. Provide other services to patients.
Pharmacists are not just trained to provide us the medicines we need. They also give other services such as cholesterol management, blood pressure measurement, and smoking cessation. These services also play a vital role in the recovery of the patient. A patient has to cooperate with the pharmacists in the process of taking his medicine. You may also see design flyers.
Kinds of Drugs
Several drugs are produced and made available worldwide. In medicine, drugs can only be categorized based on their chemical activity and the medical condition which treatment it serves. These drugs help in maintaining the physical, mental, psychological, and emotional aspects of a person. Some of these drugs are used while some are abused. Below is a list of drugs classified by its chemical content. You may also see PSD flyer templates.
1. Inhalants
Inhalants are a broad range of drugs that produce vapors and is consumed by inhalation. Since it is inhaled, it deprives the body of oxygen and can affect the heart, kidney, and liver. Inhalants can be found in household items such as glue, paint thinner, and pen or marker ink. These kinds of drugs are abused by children and adults since it can only be found in the house. You may also see green flyer templates.
2. Stimulants
Stimulants are drugs that increase the body's activity more than its usual routine. These drugs make you feel alert, focused, energetic, angry, and paranoid. Cocaine and methamphetamine are examples of stimulants. You may also like abstract flyers.
3. Depressants
Contrary to stimulants, depressants slow down the body's activity, especially in the brain and nerves. This is used for people who can't sleep well, manage seizure activity and relieve anxiety. However, excessive use of depressants can lead to seizures and death. You may also see flyers for business openings.
4. Hallucinogens
Along with depressants, hallucinogens target the central nervous system and alter your sense of perception of time, space and reality. It makes you dreamy in a sinister way. These drugs make you see or hear things that do not really exist. Too much addiction to hallucinogens will affect your mood in the long run. You may also like flyer background templates.
5. Cannabis
Cannabis, or marijuana, is the most widely abused drug globally. It is taken from the cannabis plant. Cannabis is intended for medical and recreational use. It affects the heart, appetite, memory, learning, and behavior when used excessively.
6. Opioids
Opioids are prescribed to treat pain and cough. These are common drugs worldwide. It targets the opioid receptors inside the body.
7. New psychoactive substances
New psychoactive substances or NPS are also known as "designer drugs". It produces similar effects to the body as that of cocaine.
Pharmacists have so much to do aside from selling us drugs. They provide us the care we need through medicines. So for designers of pharmacy flyers, we wish you the best and work hard! You may also see elegant flyer templates.