Usually, the design for the supermarket flyer designs is kept simple. The reason is that the focus in on the showcase of the products rather than the overall aesthetics. But, as the owner of a supermarket, you can deviate from the bland and boring design and opt for something with more flair and appeal. This is when we come in. We have gathered and curated various beautiful designs and templates that you can use for your supermarket. You can never resist downloading at least one of them! You may also see flyer samples.
Supermarket Flyer Template
Retail Supermarket Flyer Template
Modern Supermarket Flyer Template
Flat Supermarket Flyer Template
Why are Flyers Important Marketing Tools?
For some people, flyers are deemed ancient tools that do not bear enough significance to be considered as part of the promotional tools. It has become a trend in this digital era to do the promotions through social media and other online platforms. With a single tap on the button on your smartphone, a message can be instantly sent to everyone on your phone contacts or friends/subscribers/followers list on your social media accounts.
Also, you can instantly post a promotional video or a poster on your social media accounts for everyone to see. Convenient and efficient, right? But no matter how many things technology serves on the table, nothing beats the long-standing, tested and proven efficacy of flyers when it comes to promotion. In this section of the article, we will elaborately discuss some points on why flyers are still important in this modern time.
1. They are Tangible
Everything today has been made convenient, and communication is not part of the exception. Most, if not all, entrepreneurs are fervently using social media as the main platform for promotion because everyone has an account for different social media sites. They post announcements for events and photos of their business' products and services on these online platforms. But sometimes, they forget how important to hold something is. Receiving more than a handful of notifications daily makes it easier for people to dismiss or ignore emails and notifications that they don't find interesting. But with a tangible promotional item, they have to do something about it.
With flyers, people can choose to keep them in their pocket, bag, or any other compartment that they can put them in, and they can also choose to throw it away if it's uninteresting. But even if they throw it away, the important thing is it has at least reached them. There will be moments when they realize that the flyer that they threw is useful for them in unforeseen circumstances. Also, when something is tangible, it is easier to remember them, like how it feels to hold them and know what its content is. They get to give it a glance before doing something about it. You may also like PSD flyer templates.
2. They Reach Your Audience
Even with the power of the internet, flyers can still hold a candle to it when it comes to reaching the audience. Flexibility is a flyer's primary characteristic that needs to be fully utilized. The term "flexibility" used in this context is the flyer's ability to be used in different ways. You can use them as sample newspaper inserts, in door-to-door mail drops, or distribute them in crowded places like malls and in the streets.
What this implies is that the flyer can be conveniently carried to different places and reach more audience. The flexibility of a flyer also breeds another character that would be useful for promotion, and that is its handiness. With the flyer's handiness, a person can fold a flyer into a size where it can be put inside your bag or small enough to fit in your wallet or pocket.
3. They are Attractive
The beauty of flyers is not something that one should take lightly. The designs for flyers are made to be eye-catching so they will snatch people's attention at first glance. The designs can vary from minimalistic to extravagant ones depending on the theme or look that you are going for. Beauty is subjective, but even if the design that you have chosen for the flyers may not satisfy everyone, as long as you caught their attention, then that is already enough. The goal is to get people's attention and make them wonder what the flyer is all about.
Once you pique their interest in the design, they'll surely ask questions or look up to know what the flyer is about. With the flyer's design, you get to make them search and acquire information about your small business and create an engagement between you and your prospects. Knowing this, there is a great possibility that flyers will turn your prospects into customers. And with customers comes profit. The success of your business is assured from here on. All of these can happen if your flyer's design is stunningly attractive. Beauty is power; use it to your advantage.
Big Sale Supermarket Flyer Template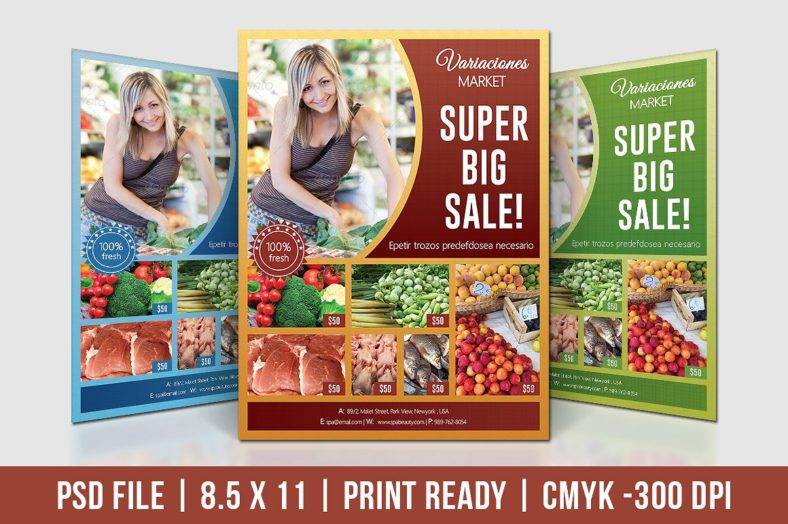 Simple Supermarket Flyer Template
Discount Supermarket Flyer Template
InDesign Supermarket Flyer Template
Organic Food Supermarket Flyer Template
Sale Supermarket Flyer Template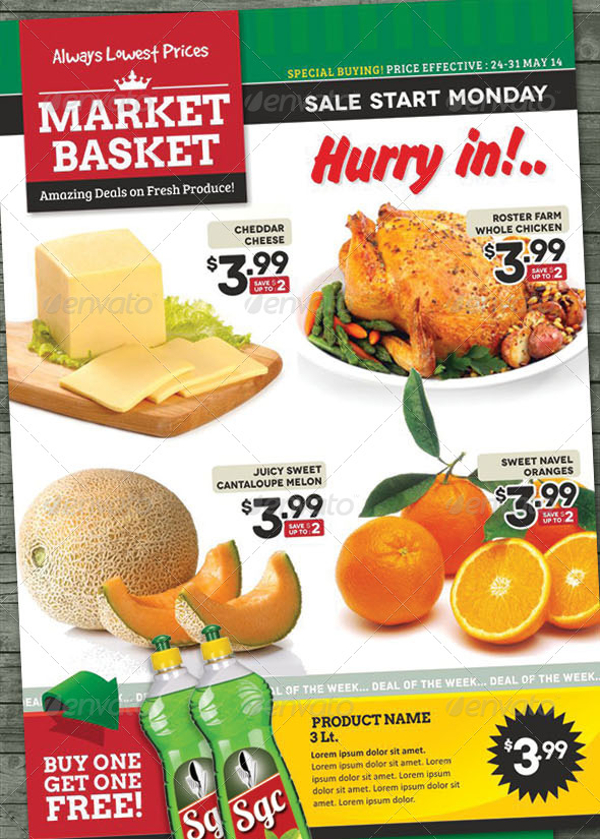 Sample Supermarket Flyer Template
4. They are Cost-Effective
Flyes may be low-cost promotional materials but they give very high impact. You can create your design or download one from sites that showcase various works of graphic designers. The designs can be printed on different paper materials; you can even print it on the cheapest bond paper that you can find. If you don't want to make the flyers yourself, you can pay for inexpensive printing services.
But either way, the results that you get by using flyers is what you expect from it and it sometimes even exceeds it. When one receives a flyer, they will surely put it in their bags or any compartment that they can put it in where they can carry it anywhere.
They will pin in at their refrigerator or pinboard, or they might even put in their cabinet so they will see it every time they change clothes. Aside from being cost-effective, using flyers requires less effort for its effectivity to take place. You can easily distribute them on the street, in the mall, or any place where crowds of people pass through or stay at.
5. They Improve Your Business' Sales
Gaining a wide reach would only translate to an increase in sales. No matter how slow and small the progress is, as long as the sales keep going up, it means that your business is improving and that the efforts you have put into promoting it has finally yielded positive results. It may take a while for the power of the flyers to take effect, but it will surely move your business forward. Tell your subordinates or employees to double their pace as it may start getting busier than usual. You may also like event flyer templates.
6. They Solidify Your Business' Identity
Flyers are stunning messengers that spread information about your business. And as such, you should take into consideration the design of the flyer and the information that you will be presenting. With regards to design, the flyer should be attractive enough to capture the target audience's attention and pique their interest. For that, you need to carefully plan what colors, images, and cool fonts to use.
You also need to plan for the layout, like the spacing of the images and texts from each other and the margin. Overall, the design should be distinct. Regarding the information, you need to make sure that the details that you are making the recipients need should be catchy as well.
Don't bore them to death; use precise chunks of information that are useful and easy-to-remember for them. Be careful with your introduction as it is the most crucial part that will make your recipients read further. The design and information that you provide work hand in hand to solidify your identity and, at the same time, to possibly acquire a new client. You may also like modern flyer templates.
7. They Invoke Your Creativity
What's great about the flyer is that it is the perfect canvass for you to create your masterpiece. The layout of the flyer is large enough for you to use as many elements as necessary. But, before you get carried away by summoning your inner Picasso, make sure that the design that you choose to create will be relevant to your simple business, which, in this case, is about adventures.
There are different kinds of adventures and they all have different demographics. The design that you will create should be appropriate to your chosen theme. For example, if you are offering activities for the kids, it is expected that your design is appropriate for such audience, like using bright colors and a light atmosphere of the visuals.
If you are offering off-road activities, then you can use darker colors like that of the ground to indicate that things are going to extreme and dirty. There is no limit in the ways of designing your flyer. Keep those creative juices flowing and create the best design out there!
Products Supermarket Flyer Template
Clean Supermarket Flyer Template
Contemporary Supermarket Flyer Template
Stylish Supermarket Flyer Template
Have You Found the Right Design?
Some people disregard the design of their supermarket flyers because they only focus on showing the products. While this may be effective to some, it would be most effective if the design of the flyers will not only showcase how good the products are but will also compel to buy them. That's why it is important that you get a design that would help do so. We hope we have helped with the dilemma of finding a stunning design for your supermarket flyer. Good luck with your business! You may also like free flyer templates.