Death is the destiny of humankind; you should not fear it at all. If you've lost someone you love, through either a road accident or an illness, you can use funeral flyer templates to create a funeral flyer, and then distribute the flyers to friends and family members who would like to take part in the funeral. Because the template is easy to customize and 100% editable, you shouldn't find it difficult to personalize it at all. You can also see Funeral Card Templates.
Funeral Flyer Template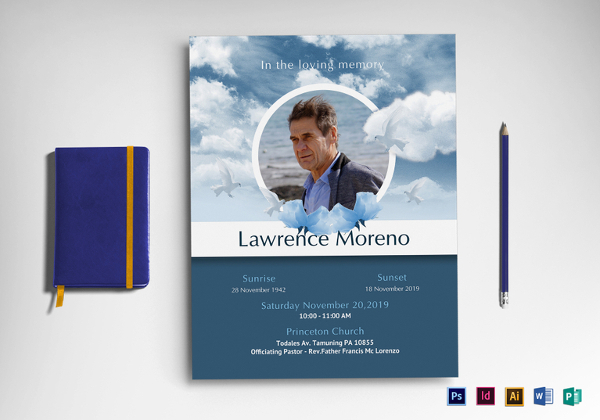 Funeral and Church Flyer
This template is for church members who would like to host a funeral event. By using this template, it becomes easier to welcome a lot of people to the event without spending a lot of money. You can also see Funeral Templates For a Father.
Simple Funeral Flyer
If you are looking for both a simple and an affordable funeral flyer template, you will find this one useful. Features include CYMK color mode, editable and well-organized layers, and a 300 DPI resolution. You can also see Funeral Booklet Templates.
In Loving Memory Funeral Flyer Program
The template is cheap but has a very high quality. You can edit the layout in Adobe Photoshop. The features include bleed support, high-resolution, and CYMK color mode. It is easy to edit and print ready.
Elegance Funeral Program Flyer
This is an easy to edit Photoshop Document file featuring the CYMK color mode, high-resolution 300 DPI, and bleed support. The designer has used only free fonts during the design of the template.
Memorial & Funeral Program Flyer
Save your time and energy by downloading this funeral program flyer. The premium template is not just clear and clean, it also features CYMK color mode and bleed support and is print ready.
Double Sided Memory Funeral Flyer
The Double-Sided Memory Funeral is a premium model for those who need an easy to use, print ready funeral flyer template. It features PSD editable layers, high-quality Photoshop effects, and Adobe elements.
Funeral Program Brochure Flyer
The flyer features fully editable layer and uses only free fonts. You can tweak the layout in Adobe Photoshop or use the template as is. Moreover, the template is print ready.
Final Journey Funeral Flyer
Final Journey is a clean, clear, and impressive template featuring a higher level of creativity. The design is well thought out, and a little editing is required, if any. Overall, the template is print ready.
Memory Funeral Program Bundle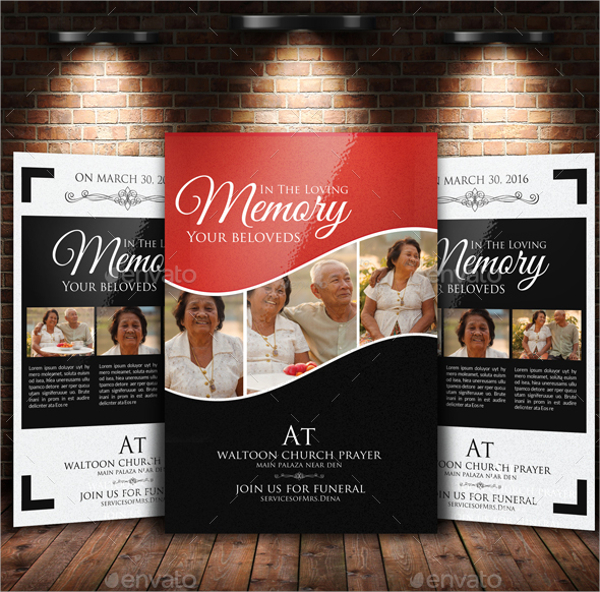 If you are looking for a high quality and an affordable bundle, this package will be suitable for you. It is a cheap, print ready premium template featuring the CYMK color mode and easy-to-edit text layers.
Funeral Plan Flyer Template
The template is print ready; there is no customization required so only edit the sample text by replacing them with yours, and make as many prints as possible. Commercial free fonts are used here.
Burial Flyer Template
This template is 100% editable and is easy to customize. However, you can still use the template as is; just edit the text and you will be good to go.
Unless you don't want friends and distant family members to take part in the funeral ceremony, you should use the funeral flyer template. Because this flyer is a perfect and the cheapest communication tool, you should use it to create awareness of the funeral event.