Flyer
23+ Pool Party Flyers – Free PSD, Word, AI, EPS Format Download
There are no striking events in summer like the pool parties. You can celebrate these exciting moments with friends and family in clubs or at the beach. You must excite people in order to attract them to your simple party. For this reason, you should utilize these stunning Party Flyer Templates. You can use them for invitations and advertising purposes. They come in different sizes, color schemes, styles, and themes making them just right for all events.
Pool Party Birthday Flyer Template
Pool Party Flyer
Pool Party Flyer Template in PSD
Summer Pool Party Flyer Template in Word
Summer Bash Flyer Template
Summer Cruise Party Flyer Template
Editable Summer Beach Party Flyer Template
Summer Beach Flyer Template
Summer Pool Party Flyer
The A4 sized summer pool party flyer is print ready and bears editable content in 300 dpi resolutions. This 8.3 X 11.7 template contains CMYK colors and free fonts for single users.
Minimal Pool Party Flyer Template
Minimal pool party flyer is an easy to use and customize template featuring organized layers, PSD files, CMYK colors, 300 dpi resolutions, .25" bleeds and print ready Photoshop document which is editable with CS4+.
Adult Pool Party Flyer
The Pin-up girl pool party is an easy to customize file that you can personalize for printing and use in social media platforms. It comes in different sizes for use as invites, flyers and posters.
Pool Party Invitation Flyer
The pool part Invitation Flyer features a colorful design with the portrait of a pleased female holding a beach ball. The vector illustration is fully editable and customizable. You can easily download and modify its elements.
Event Pool Party Flyer
This A4 sized event pool party flyer template contains 300 dpi, CMYK colors and a print ready format. Its images, colors and free fonts are easy to edit and zoom.
Club Pool Party Flyer Template
The Club Flyer Template comes as an editable PSD template. It features easily editable and customizable texts, images and colors. You require adobe Photoshop CS4+ to alter this design for private and commercial projects.
Roof Top Pool Party Flyer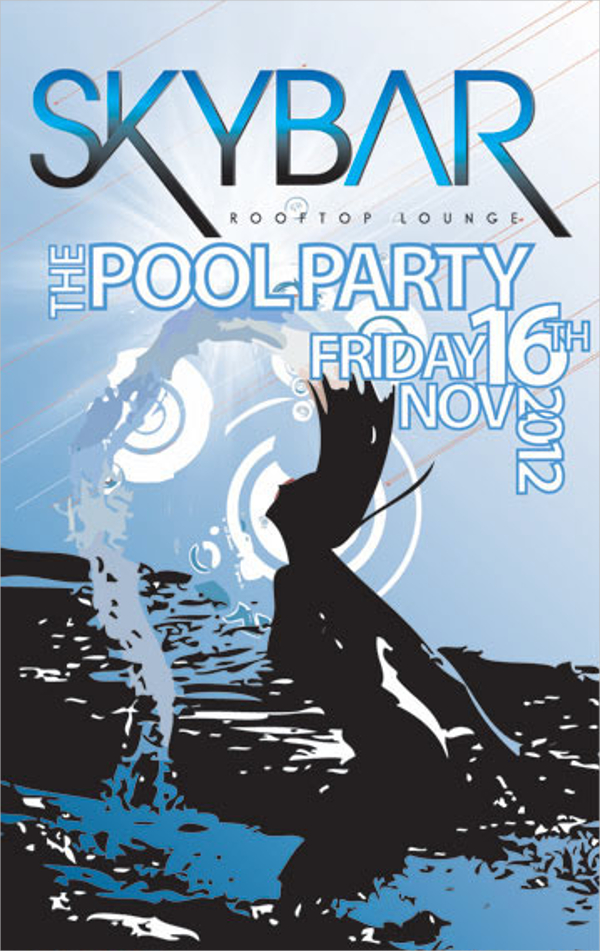 Sky bar pool party flyers are suitable for advertising. They feature the portrait of an entertained human dancing. They are also editable and customizable.
Beach Pool Party Flyers
These beach pool party flyers come in PSD file formats of size 4 by 6 inches. They contain CMYK color mode, layers, free fonts, 300 dpi resolutions and are print ready. They are also customizable.
The Midnight Pool Party Flyer Templates invite people to and promote upcoming summer, beach and club parties. The print-ready PSD file is available in HTML and all the files are in layers and 300 dpi resolutions.
Sand Sea Pool Party Flyer PSD Template
The Sand Sea pool party flyer template features 300 dpi, CMYK colors and two PSD files. This classic template is easy to use and customize. You can resize and edit its text and colors by using the provided guidelines.
Doosh Music Pool Party Flyer
Doosh pool party & music video template features a sexy yet modern design that is easy to use. You can edit and customize its fonts, colors and size to produce a high quality flyer.
Pool Splash Party Flyer Template
The pool splash party flyer template comes with a PSD file and help document. The A-4 sized flyer design contains bleeds, layers and 300 dpi. It requires Adobe CS3+ for customization and editing.
Splash Pool Party Flyer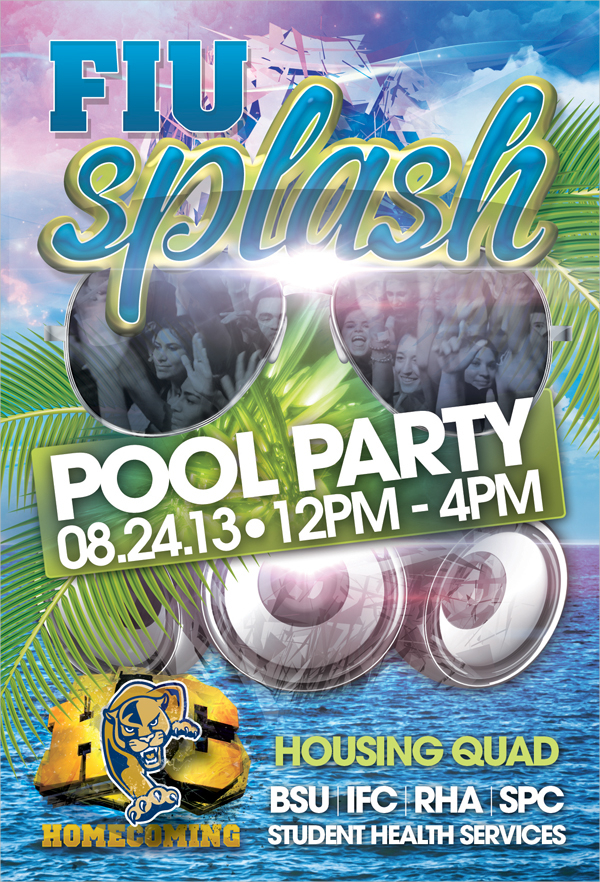 The FIU splash pool party flyer for both single and multiple users is efficient for online and print advertising. It features graphic design and typography with editable colors and customizable content.
Pool Party Free PSD Flyer
The editable and customizable pool party free PSD flyer suits swimming clubs, tropical and bikini events just to mention a few. Its outstanding layout features sunshine vibe, bright colors and unique graphics.
Pub Pool Party Flyer

Download
Finally, you can utilize both free and priced party flyer templates. The summer season presents you with diverse events and to get the maximum benefit from them, you should use these affordable yet striking party flyers. They are appropriately colored and designed to suit both day and night time events for the old and young.
More in Flyer