Flyer
19 + Racing Flyers – PSD, AI, InDesign, Word, EPS Vector
Racing events have been extremely popular even before the invention of the automobile. Races have evolved from being just competitions to high profile social events. Racing flyer designs are a very handy and useful way to promote these events.
They can be printed and manually distributed, stuck at various places to get people's attention and can be evenly spread on social media or various platforms that provide huge outreach. There are many sample flyer templates that are available online for you that you can easily edit and customize to create the right racing flyers for any particular race.
Bike Race Flyer Template
Auto Racing Flyer Templates
Race Night Flyer Template
Street Racing Flyer Template
Car Racing Flyer Template
Racing Contest Event Flyer Template
Drag Race Flyer Template
Racing Flyer Template
Gear up and go full throttle in advertising your racing event with the help of this flyer template using this racing flyer template that is mentioned above. Enjoy original suggestive headings and content that you can freely change using any popular Windows or Apple application. All you would have to do is download the template, edit and customize the flyer as per your needs and requirements. Download it now!
Bicycle Racing Flyer Template
This flyer template that is given above, is perfect for writing and making content about bicycle racing flyers. The right graphics and texts are used to attract the reader's attention and contain them for a long time as needed. It also uses bright colors to make a statement. Not only is it editable, but it can also be customized as per the needs of the user. It is not just limited to the computer, but it can also be downloaded on any electronic device with ease.
Car Racing Flyer Templates
A well-designed car racing flyer for your racing competition is finally here. Download this template at a very affordable price now! The template uses high-quality images and graphics files that are easy to customize using Photoshop, InDesign, and many other file formats. Its high resolution of images and fonts will definitely contain the attention of the reader for a long time. Check it out now!
Bike Racing Flyer Template
Get a sold-out ticket crowd for your venue with the help of this attractive flyer template. This can be used for motorcycle racings anytime, anywhere with ease. This full-bleed, fully customizable template is complete with standard fonts and licenses as needed. Edit with your chosen app or program that is compatible with Photoshop, Publisher, etc. You can also have it printed commercially and distribute it.
Free Car Racing Flyer Template
A professionally designed flyer template that uses an eye-catching photo of a race car and well-formatted designs are mentioned above. Download this for free and promote your car racing event to the best of its abilities. It can easily be edited and printed as per the needs and requirements of the user. Try it out now!
Bicycle Racing Flyer Template
5 Steps to Create a Racing Flyer:
Step 1: Choose a File Format
The first thing you need to do is pick the right file format for your flyer. This means that you need to pick the right size and shape as well. There are many sample flyer templates that you can take help from and choose the best out of the lot for you to make the right flyer needed. All you would have to do is download the template, edit and customize it as you like.
Step 2: Pick Colors and Background
Be wise in choosing the color you pick. The background has to be able to elevate what you mention in the flyer, so the texts and fonts are clearly visible to the reader without fail. This way, it makes your flyer readable sand easily understandable to the readers. The color and the background should not take away the attention from what is being mentioned in the flyer. Contrasting colors with the background might make your flyer look even more attractive. Make sure that you pick lite colors and the background shouldn't be too bright or too dull, just right!
Step 3: Insert Images
The next thing for you to do would be to add images in the flyer. Visual aids play a major role in attracting the audience's attention and to keep it contained for a while until they finish reading the flyer. These visual aids speak louder than words ever can. But remember, do not fill your flyer with images, as it has to be an equal distribution of texts and fonts as well. This way, your flyer looks elegant and attractive to the person reading it.
Step 4: Fonts, Infographics, and Details
Adding the right font, graphics, and design in the flyer is very important. You can also take the help of flyer designs in InDesign for more. Add al the details necessary in the flyer. Details like the name of the event, contact details, pricing for the tickets, the location, the website, etc. should be mentioned. This way, it makes it easier for those who want to be present at the racing to buy tickets. Remember to keep the budget in mind while designing your flyer without fail.
Step 5: Review and Print
Fill all the white spaces with the right texts, and details as needed. Do not overdo it, and make the flyer look clumsy. Digital flyers that are available online can be of great help yo you in making the perfect flyers online and those can be shared on any social media site with ease. Review your flyer once you are done designing them without fail, as there might be mistakes you would have missed. Make the necessary changes, pick the right size and shape to print your flyer and distribute them.
Wild Racing Flyer
This is a very well designed flyer template that comes in 4*6 inch size with a 0.25-inch bleed area and has CMYK color mode and 300DPI resolution. You can also see School Flyer Templates. It can be easily edited and customized and has a font download link for Mvsans, Godbold fonts.
Vintage Racetrack Flyer
This is a very enticing racing flyer template with a vintage look to give a feeling of "old school" or nostalgia. It comes in the size 16*20 and just needs to be provided with the track name, town and year for the flyer to be prepared.
Auto Racing Flyer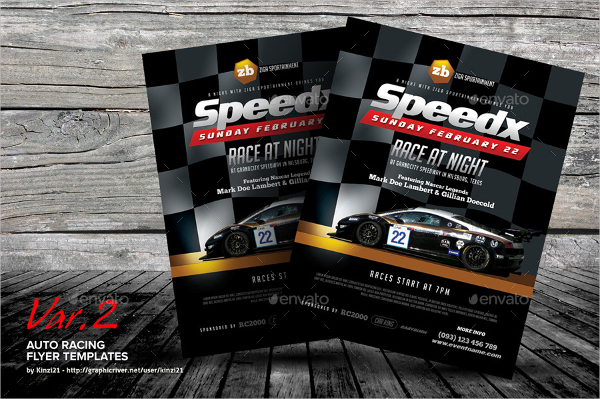 This well-designed template that is given above is very useful for promoting automobile racing. It is available in 3 designs, all in the print size of 8.5*11 inches with 0.125 inches bleed size, CMYK color mode with 300 DPI resolution and is editable using Adobe Photoshop CS3. It is available with Chunk Five, Infinite Justice and Big Noodle Titling fonts.
Motocross Flyer
The above-mentioned racing flyer template can be very useful for motorcycle racing championships. It is available in US Letter (8.5*11 inches) and A4 (8.26*11.69 inches) size with 0.125 inches bleed area, CMYK color mode, 300 DPI resolution and is editable using Adobe Photoshop CS3 or higher. Yellowtail, Peace Sans, Chunk Five, Infinite Justice, and Big Noodle Titling fonts are available.
Bike Race PSD Flyer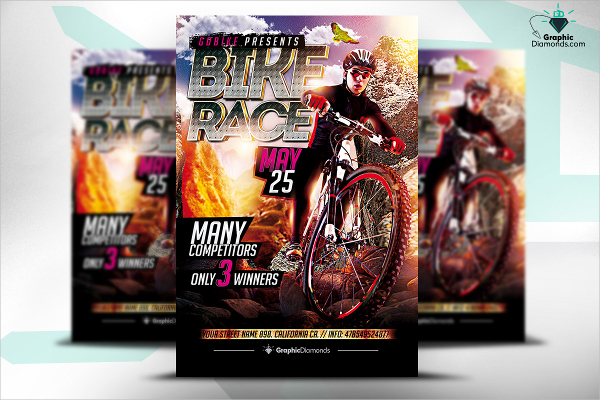 This template is a high-quality racing flyer, which comes in handy to promote amateur races. It comes in Intro and Big Noodle Titling fonts and can be edited using Adobe Photoshop. It has an organized and colored layer structure and comes in 300 DPI resolution.
Night Race Flyer
These amazingly designed racing flyer templates are perfect if one needs to promote a professional racing event on the levels of formula one. It is fully bled, comes in 2 colors and has a size of 8.5*11inches and 0.25 inches bleed area. It has CMYK color mode with 300DPI resolution and is fully editable.
Bicycle Racing Flyer
If one needs to conduct a bike race on an international level, this unique racing flyer template will come in very handy. It comes in a size of 210"*297" with 0.25" bleed on each side, has CMYK color design and 300DPI resolution and is easily editable and customizable. It comes in Impact Label font.
This is a very elegant racing flyer template that can be used for racing dragon boats or kayaks. It can accommodate details of events along with the names of sponsors. It comes in A4 (8.26*11.69 inches) size.
Rota Race Flyer
If one wants to organize a bicycle race as a celebration of a particular event, this racing flyer template is a perfect choice. It comes in vivid colors as well as in black and white.
NG Team Racing Flyer
Emuplay Car Racing Flyer
Dirt Bike Race PSD Flyer
Conclusion:
For a wide variety of races of cars, motorcycles, bicycles, carts, boats, etc, these flyer templates are sure to attract a huge crowd. Car show flyers will surely help a lot in publicizing the events. These flyers will definitely boost the attendance and participation in the races. Go through them and choose the best that fits your needs.
There are many Word flyer templates that are able online and can be of great help to you in making the right flyer you need of any kind. Choose the flyer template best suited for your purpose and promote it by creating attractive flyers using any of the above-mentioned templates. Happy designing!
More in Flyer