If you're looking to create some mind-blowing flyers around the vintage theme, you would ideally want to work with a good template that blends visual appeal and flexibility. You may also see flyer examples to get the best flyer options to choose from.
Vintage flyer templates make it easier for you to design flyers that are perfectly suited to spread the word about any retro theme parties being organized by your or your organization, a product range that's centered on the vintage theme, and your antique shop or old collection. Use the Retro Flyer PSD Templates available on our website for amazing flyer designs.
Create a Flyer in 5 Easy Steps
Have you been searching for the right way to create the best flyer for your current business or a party you want to host? If so, then follow these 5 easy steps to create one of the most fashionable flyers on your own:
Step 1: Select a Flyer Template
So many free flyer templates are available for you, so you can download the best one which you think is the most suitable for you. They come in ready-made sizes and unique designs so you don't have to worry about spending a lot of time and effort in designing a new one from start. You can use various themes for your flyers to make them look different and unique from others.
Step 2: Choose the Colors and Fonts
The colors and fonts can either improve or reduce the look of your flyer. Figure out different colors that would suit the theme of your business/party. Getting the right font is equally important if you want everything to be in sync with each other. Use retro party flyer templates to create the best olden-look themed flyers now!
Step 3: Add Your Images
Once the template is selected along with the color and fonts that have to go in it, you can design your flyer by adding graphics and images that match the theme of your party. Place your images wherever necessary, but remember, do not fill the flyer with just images.
Step 4: Insert Your Information
The way you present the information is the most important part of a flyer. Therefore, place the contents in an attractive manner. Your readers should be able to read all the text you put in the flyer. Do not fill the flyer just with information, but be wise in choosing what goes where. Flyer examples can be of help while creating them at the comfort of your home. Write what specifically you assume the customer to know about you.
Step 5: Review and Print
After all the information has been entered, preview your flyer. Before you finalize, check for any errors and correct them. Try out digital flyers, as they come in a better presentation and are more colorful. Make your flyers unique and attractive, so that people will be interested in reading it completely.
Vintage Flyer Template
Vintage Event Flyer Template
Vintage Night Party Flyer Template
Vintage Newspaper Flyer Template
Vintage Music Flyer Template
Vintage Summer Party Flyer Template
Unique Vintage Template
Higher resolutions are supported by this template in addition to the CMYK color profile and variable bleed margins. Smart objects are included besides the configurable menus and interfaces for added flexibility.
Retro Party Template
This template has in store multiple images and a print-ready interface for the designers to make use of. Bleeds are included in addition to the layered PSDs and certain downloadable files besides a fully layered approach.
Vintage Flyer Template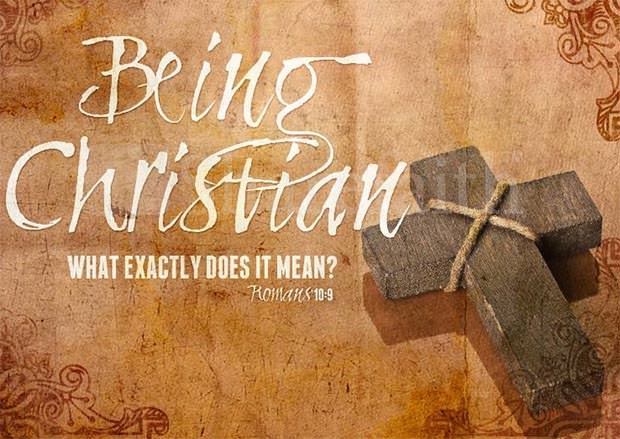 Striking designs and the reverent imagery pack a punch thus making this template an instant hit. Parchment backdrops are included in addition to the rope cross lays and a captivating layout.
Flyer PSD Template
Layers panel can be seamlessly integrated with this template in the picture beside the modern designs and free font sets. The print-ready interface surely packs a punch whereas the editable layout comes in handy
Indie Vintage Template
This template showcases 2 PSD files in addition to the multiple page textures and well-organized layers. CMYK compatibility makes this an instant hit whereas the print-ready layout provides the needed boost.
Vintage Flyer Template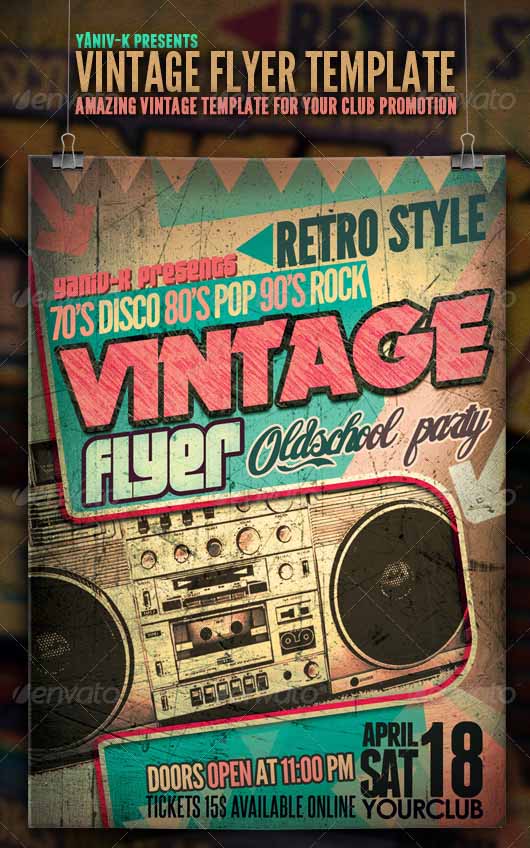 This is a well-organized template which has in store higher resolutions followed by a customizable interface. PSD files come in handy for the professionals whereas the print ready interface renders added flexibility.
Damask Vintage Template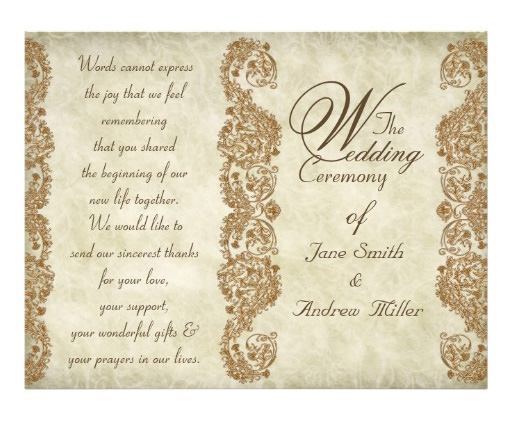 Trims can be made with this scalable template which also sports a CMYK empowered color profile. Modifiable layers are up for grabs in addition to the 3 color variations and grouped PSD files.
Retro Night Template
This template includes both the versions for the professionals ranging from advanced to basic besides the fully editable interface. Photoshop inspired PSD files to come in handy in addition to the CMYK compatibility.
Club Disk Template
This template comes across with a changeable background and multiple vectored files and images. Other features include a customizable interface besides the encapsulated postscripts and custom formats for the professionals.
Tiki Bar Template
This template projects great business prospects with a customizable interface and an extended color palette. Creative modifications can be made with stock images and a complete print ready interface for the designers.
Tattoo Shop Template
These images and cool background shades of different vintage flyers mentioned, help you bring out the sense of 'retro' with the visual appeal of the flyer. All you need to do as a designer is to make desirable customizations to the template and add images and text where you want to.
Here are some top class vintage flyer templates that help you communicate offline as well as digital media messages beautifully. Template.net is definitely the perfect place for finding the templates that you need.
If you have any DMCA issues on this post, please feel free to contact us!