Found the right home and the property feels exactly right for you, but now what? The first step that you need to take is making a Purchase Agreement. These lease purchase agreement templates will guide you through the process.
Purchase agreements also known as a real estate contract is a binding agreement between two or more parties who have the legal capacity to own a property. The contract covers the financial issues and specifies dates by which the customer ought to enclose the deal or they run at risk of getting out of contract. More on this, down below.
House Sale AgreeHouse Sale Agreementment
jamabandi.nic.in
New Home Purchase and Sale Agreement
atlantahomebuilders.com
Residential Real Estate Purchase and Sale Agreement
withwre.com
These are some of the fundamental key elements which you'll encounter when you get your real estate purchase agreement:
Down payment or EMD [Earnest Money Deposit] – This is basically a 2% of closing cost of the purchasing price that is charged to the buyer to make certain that the customer is seriously interested in buying the property.
The final agreement date and ownership date
A home warranty – most of the times the seller will offer to pay the assurance for the appliances if they break, it usually starts from $400 to $ 700. This sample asset purchase agreement template will give you more details for those elements.
But if you live in states where an attorney is required to make home purchase transactions you'll need to hire a lawyer to go through your home purchase agreement and help you better understand the clauses, legal fees and so forth, before signing the contract. This legal document will contain crucial details such as:
Legal description and address of the property
Purchasing price of the property
EMD/Down payment amount
Possession date
Will include a closing date by which the offer remains open for the client
To know more details about the document requirements refer to purchase and sale agreement templates.
Mobile and Manufactured Home Purchase Agreement
aaronline.com
The Home Purchase Agreement Printable
knudsenlaw.com
Contract of Purchase and Sale for Home
morris-sova.com
Generic Purchase Agreement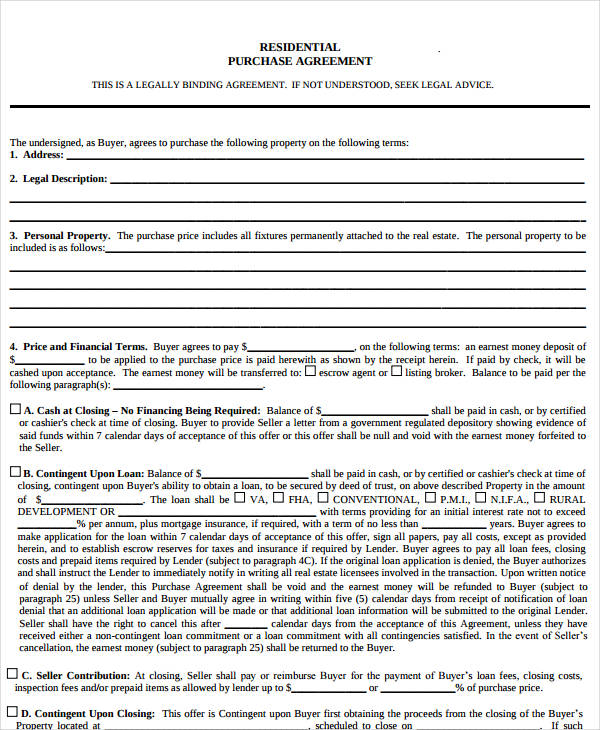 mikesalkin.com
Manufactured Home Purchase Agreement
car.org
New Home Construction Agreement
jordahlcustomhomes.com
Contingency conditions are placed in every home purchase agreement for buyer protection. It usually covers 5 common issues such as:
Financing – Shoppers mortgage approval got denied and is not able to pay
Inspection – Purchaser isn't satisfied with the result of home termite inspection
Appraisal – Property is being sold to the buyer for much lesser or higher price
Association documents – If the assets ownership records history is not clear
Sale of client's property – wherein purchaser only buys the property if he/she is able to successfully sell their current asset
Some of these issues may be resolved and a renegotiation may be accomplished however if nevertheless any of these conditions are still not clearly met, the buyer can back out of the purchase deal entirely without any penalty. For restaurant, cafe, bakery purchase and sale agreement, go through the template provided down under for more statistics.
Not happy with the deal, want to legally break a buy deal? Well the best time to re-consider is before signing the deal, but if you changed your mind later, here are some suggestions to assist you with the issue:
Ask the seller upfront about the cancellation
Contact your lawyer if a property is found with lead paint, federal law offers 10 days for lead paint inspection, use it!!
Cancel the deal before the contingency duration
Ask your dealer for agreement cancellation
If nothing works out, involve an attorney
Go through the stock purchase agreement templates to know about all the crucial points of the agreement.