When you start working and earning your keep, you would naturally want to start making investments so you can also enjoy what your hard-earned money can get you. After all the tiresome days and nights of working yourself half to exhaustion, it's only right to want a place and a shelter that you can come home to every day. You may also see lease agreement templates.
For most people, having your own house is one great accomplishment, especially when you know you can and you're already thinking of long-term plans. It happens. One day you wake up, ready for work, and realizing you really want to leave the shabby room you come home to on the other side of town. Or the house you got on a cheap lease, ready to give way, with you inside the rules. You may also see apartment rental agreement templates.
Tenancy Agreement Between Company and Tenant

targehouse.jumia.co.ke
Shorthold Tenancy Agreement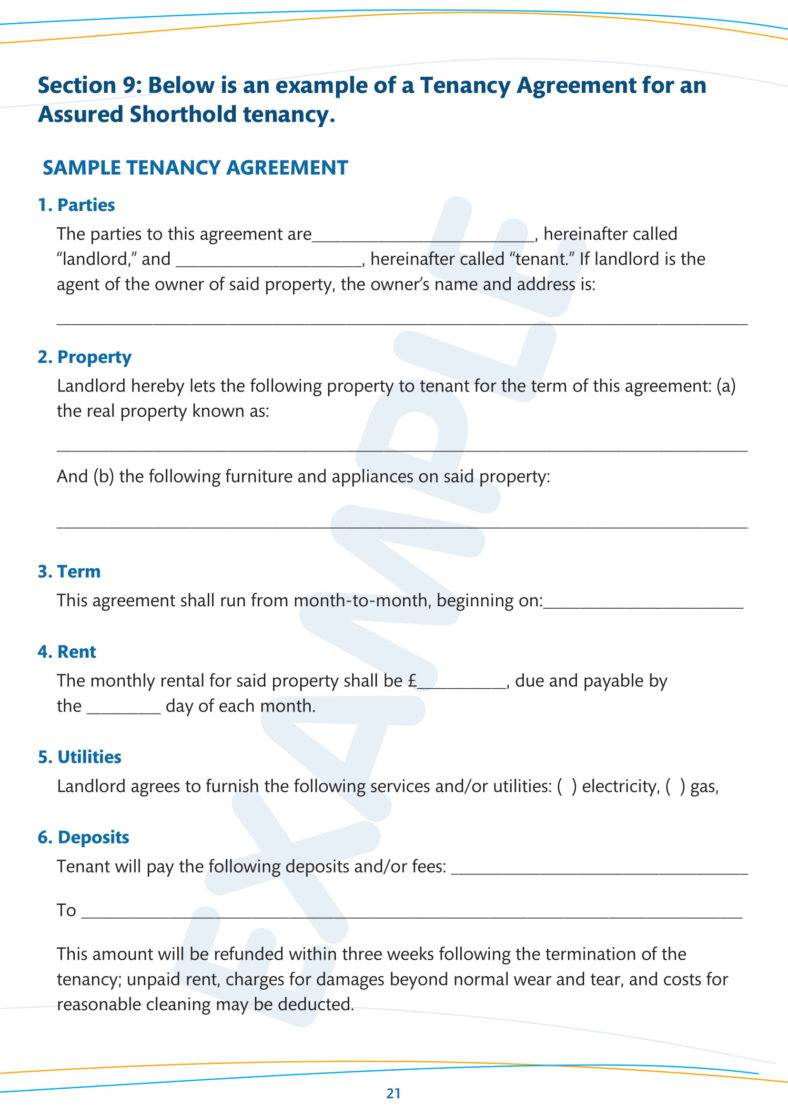 landlords.org.uk
Sample Tenancy Agreement July 2014

podre.com.au
Sample Tenancy Agreement 2018-2019

cityblock.co.uk
Sample Tenancy Agreement

cuhk.edu.hk
Moving In, Moving Out
Whatever the current trouble with where you live is, there are times that you finally have to give in and make a brand new start at a better place so that you have something to call home again, when the day ends. maybe you're just thinking of expanding your business and want to start at the south side of the city. Or it could be that you're on a business venture that makes you feel both scared and excited because, for starters, you need an office or a place to do your business in. So you start looking. You may also see rental agreement templates.
And when you start looking, you will realize that there's so much more about having a place to live in, or a space to start your business, than just the availability of properties for rent. You've considered ownership, but with times being hard, and the real estate market n your location not looking good with foreclosures everywhere, renting or being a tenant may just work better for you.
The Renting Market
In a few months, there would be thousands of students moving into privately rented accommodation for the first time in their lives. In the meantime, other people, millions of them, are finding it very difficult to own a property. Ending up with little to no choice, these people would find themselves renting, sometimes even well into their 30s or 40s. But that doesn't seem a bad option at all, considering that renting offers so much more flexibility than purchasing a property. You may also see best rental agreement templates.
However, disputes between agents, tenants, and landlords are getting common by the day, so if you are looking for a place to rent, how then, could you make the whole process go smoothly, without the stress that comes with arguing terms and conditions? Is that even possible? Maybe not, but negotiation sure is. You may also see apartment rental agreement templates.
Tips for Tenancy
Trying to find an apartment is already time-consuming as it is what with all the work it takes to do the rounds and check properties for leasing. Maybe there's no need to worry. Given enough time, apartment or commercial space rentals are very common and you would have many to pick from, especially if you work with a professional, like an agent to ensure that you get the one you would want, at the right price. You may also see month to month rental agreements.
1. Skip the Drama, Avoid Conflicts With the Landlord
Whether you're a landlord or the tenant, property lease can get to you real hard, so you have to be careful about potential issues from disputes over how should take care of repairs to the kind of pets allowed and rental payments being late, and this doesn't even make half of it, because there might still be other problems to avoid, such as maintenance.
Fortunately, you would have a string of resources at hand, like some helpful suggestions from your friends, and websites like ours, to keep a healthy relationship with your landlord during the length of your stay, especially if you're on a 5-year tenancy agreement with them or more.
2. Know What You're Entitled To
As a tenant, it pays to know your rights so that you'll be able to protect yourself from any injustice or unfair treatment no matter how little. Doing a little research about what tenancy generally entails before moving into a property of your choice, private or commercial, will also help you in case of disputes or if you find yourself caught in a difficult situation with your landlord. You may also see month to month rental agreements.
As a tenant, you're entitled to the following things:
Live in a property in peace and stay undisturbed
Receive a tenancy agreement with fair terms that is in compliance with the law
Get your deposit back when the term of your tenancy comes to an end
See a copy of an energy performance certificate
Have protection from unreasonable rent and eviction without proper process or notification
Live or do business in a property that's in its good state of repair and is totally safe
3. Stick to The Agreement
You have signed the agreement. It is therefore understood, that you have every intention to stick and commit to it But not everyone actually does, underestimating the importance of the terms of their tenancy agreement, like paying the rent on time. It should be a top priority to pay rent above all else so that you can live as a tenant without having to worry about a nagging landlord and a bad impression. Unless you don't mind having to face the possibility of eviction and parting with the deposit you made which, in most cases, is already a lot of money. You may also see short-term rental agreement templates.
You need to follow what was agreed and that includes paying rent on time even if you're currently at odds with your landlord. Actually, especially when you're not in good terms since this can only add to your rift with him. Otherwise, you also risk the possibility of having the property opened for subleasing without your permission. It also means sticking to the agreed policies on certain issues such as receiving guests, smoking, prohibited drugs and keeping pets. You may also see blank rental agreements.
4. Learn to Fight the Fees
You would always have the option of hiring a leasing agent for your convenience, or if you think that would make the whole process a lot easier to deal with, but then most of us have heard the worst stories from tenants having the most unfortunate experiences with shady and incompetent agents, to the point off being pushed with fees that skyrocketed overnight for "services" that didn't even exist. You would definitely be asked for a deposit which usually a month's worth of your rent or more, on top of your advance payment before moving in. But avoid paying fees to sign up with an agency or to get a list of properties on the market that are available for tenancy. A charge for those already counts as a criminal offense. You may also see printable rental agreement templates.
5. Bring Your Paperwork, Be Prepared
If you've decided to go for a property that you think matches your taste, lifestyle and budget only to find out that it's popular on the market, the best way to get a prospective landlord on your side is to be ready. Having a competitive edge over other applicants means bringing the necessary paperwork when a meeting have been arranged, such as a completed rental form application, updated credit report and references from previous landlords, colleagues and employers.
6. Read the Fine Print
Some tenants are so excited with the prospect of moving to a bigger space, a better neighborhood and everything that a new rental property can offer that they tend to ignore the importance of reading and understanding the terms and conditions set in their tenancy agreement. Make sure you absolutely understand what the contract says and what kind of tenancy agreement you're signing, to avoid early, ugly disputes. If all everyone living in the same property is signing one agreement with the landlord when you move in, that's called a joint tenancy. If each of you signs a different one, it means you have separate tenancies. You may also see room rental agreements.
Check that the agreement is detailed in such a way that it includes what the rent covers (do you have to be the one to pay the bills?), whether you have the option to leave before the end of the tenancy and the process with which to give notice when you want or need to move out. You may also see commercial lease agreement templates.
Residential Tenancy Agreement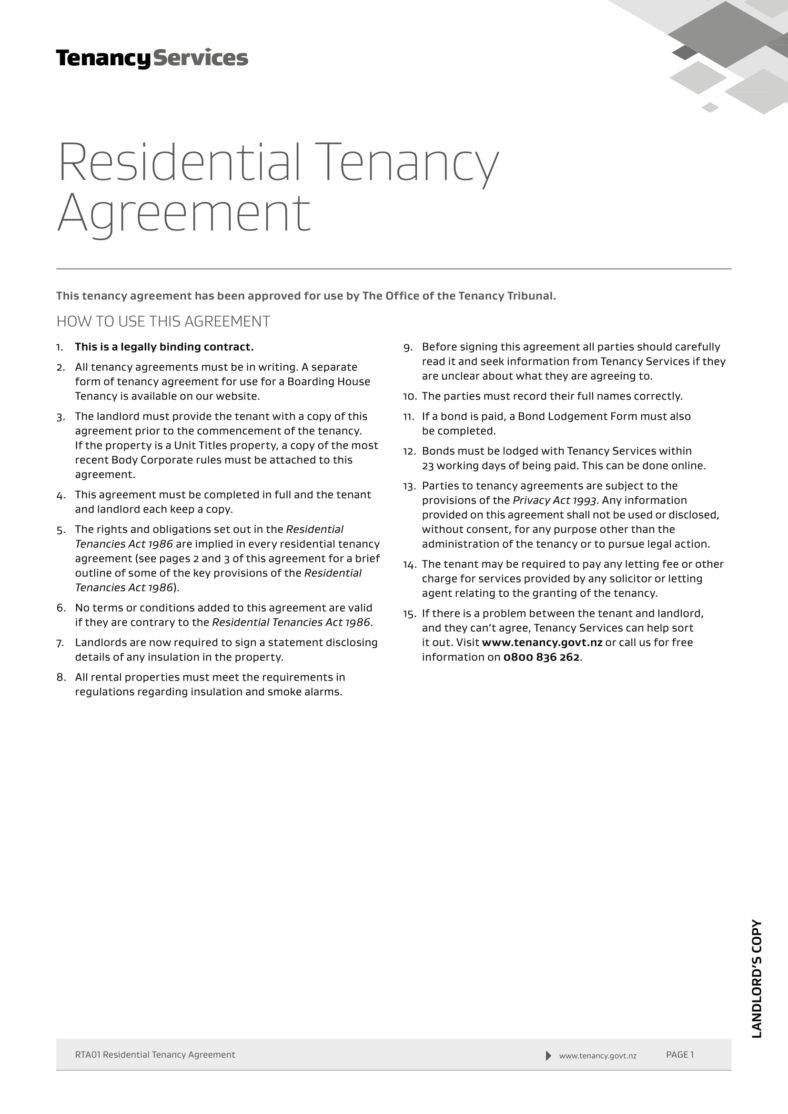 fairtrading.nsw.gov.au
Residential Tenancy Agreement

ridgetownc.com
Residential Property Tenancy Agreement

tenancy.govt.nz
Assured Shorthold Tenancy Agreement

bristol.gov.uk
It is always better for both parties to know what they are agreeing to. In some cases, there are things set in any agreement that can be negotiated and the same can be said about the ones for tenancy. The rental or leasing market is becoming a more popular choice since it makes room for not only flexibility but also saving monthly fees that often makes up 50% of what you have to shell out from your salary. You may also see an example of rent agreement forms.
Not everyone can afford to purchase a property, so while you still can, and while you still prefer to rent, by all means, be a tenant, but be a good one. While you pay your rent and do your part of the deal, then you can live comfortably. Life's a good dream. Even when you have to keep moving. You may also see word rental agreement templates.