Agreements
30+ Sales Agreement Template – Free Word, PDF Document Download
When a buyer wants to purchase a product or property from a seller, it completely depends on terms and conditions which are there in the sales agreement. The sales agreement must include any applicable law for the product, and warranty and other details, as it is an sample agreement that is signed between two or more parties, who have agreed to all the terms and conditions mentioned in it. To make your own sales agreements, you can take the help of the templates in this article. Keep scrolling!
Sales Agreement Template
Sample Restaurant Sales Agreement Template
Sales Contract Agreement Template
Sales Agreement Template
When a seller wants to sell a product or a service, he/she needs to provide its sales simple agreement. A sales agreement has the terms and conditions of selling the product or the service. The buyer has to agree to the terms and conditions of the agreement format before making a purchase. The agreement serves as a business dealing between the seller and buyer.
If you are making a sale and are looking for ideas to create a sales agreement layout, you can check out sales agreement templates available online. You need to have the details of your sales, such as the name of the seller, the product details, payment details, phone numbers, and address for communication.
Basic Property Sale Agreement Template
We offer a wide range of sales agreement templates to choose from for various products. You can simply download one free of cost and get it with a small changes in it. It includes the applicability, delivery as specified, inspection, any changes in policy, price and payment to be made to the seller.
Basic Vehicle Sale Agreement Template
Purchase and Sale Agreement Template
Asset Transfer and Sale Agreement Template
Sales Employment Agreement Template
General Bulk Sale Agreement Template
Conditional Sale Agreement Template
Sales Agency Agreement With Trademarks Protection Template
Sample Restaurant Sales Agency Agreement Template
Printable Sales and Marketing Outsourcing Agreement Template
Sales and Marketing Agency Agreement Template
Sales Promotion Agreement Template
Independent Sales Representative Agreement Template
Conditional Sale Agreement Template to Edit
Sales Agency Agreement With Trademarks Protection in iPages
Manufacture and Sales of Goods Agreement Template
Real Estate Partnership Agreement to Print
International Sales Contract Agreement Template in PDF

globalnegotiator.com
If you are involved in international trade, you need to be covered when buying or selling products. With this PDF sales agreement template you can create your own sales agreement.
Free Seller Used Car Vehicle Sales Agreement Template

donnyspi.com
Before buying a vehicle you need to sign with the seller sales of vehicle agreement. Our PDF sales agreement template includes the parties' details, the vehicle details, and price among other details.
Free Business Product Sales Agreement Template in PDF Format

hseb.gtri.gatech.edu
When selling a product it is good to have the buyer sign the sales agreement common that indicates the terms of sale. We have a PDF sales agreement template to help you create your own.
Free Agreement For The Sales of Motor Vehicle Template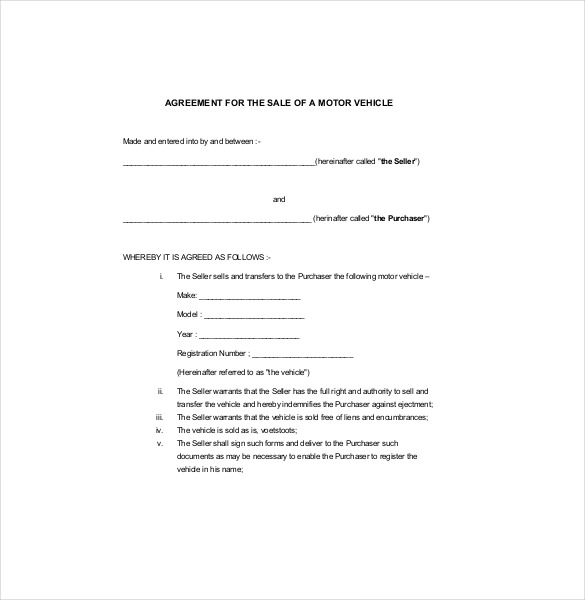 cooperattorneys.co.za
This simple motor vehicle sales agreement pdf document helps both parties understand and make an agreement before concluding the sale. Download it in Word format and edit it as may be needed.
House For Sale Agreement Template Free Download

indiaproperties.com
Before selling your house, you should agree with the intended buyer. We have designed this house sale agreement template to guide you in creating an professional agreement that suits your needs.
Used Automobile Sales Agreement Template PDF Format

dowellfcu.com
It is very prudent to make a sale agreement for the sale of a used motor vehicle to spell out the terms of sale. This automobile sales agreement template is available for download in PDF format. You can also see more on Purchase and Sale Agreements.
Terms of Sale And Software Licence Agreement Template

cisco.com
When simple plan to sell your real estate the buyer needs to sign the sale agreement that contains all the terms of sale like location, size, and price. Download the template in the available PDF format.
Conditional Sales Agreement with Payment Template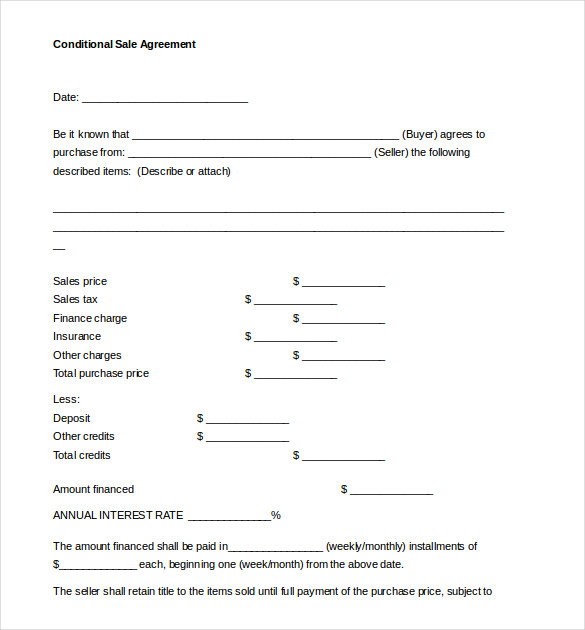 crfonline.org
This document is designed to contain the required details of payment for the specific item being sold. The sales agreement template is available for download in PDF format from this site.
Sales Agency Agreement Template Document Download

ucalgary.ca
When a sale is being made through a sales agency this type of document will be signed with the buyer. It is an editable Word document template that is available for download from this site.
Real Estate Land Purchase & Sale Agreement Download

weblaw.usc.edu
Conclusion
Before committing to buy any property, goods or services, both parties need to sign the sale agreement. This contains the sale terms like price and payment plan so that the sale sails smoothly, without any interruption. Save plenty of time and effort as you do not have to make agreements of sale from scratch. You can also take the help of the agreements in Google Docs to make the best agreements with ease.
With the help of the templates that are mentioned in this article, you can make the sales design agreement you need, anytime and anywhere with ease. All you would have to do is pick the template you like best and make it your own by adding the details you need to add. You can also download them on any electronic device as they are not just limited to a computer or a PC.
If you have any DMCA issues on this post, please contact us!
General FAQs
1. Define a Sales Agreement.
A sales agreement is a document under which the ownership and possession of goods or services are transferred from a seller to a buyer. This is done on the exchange of money or any other equivalent. It is a transaction between two or more parties and has specific terms and conditions under it.
2. What is the purpose of a Sales Agreement?
A sales agreement records all the transactions between a buyer and the seller for legal purposes and for the sake of record-keeping. Sales agreements are mainly used as legal proof of all the terms and conditions that have been agreed upon by the parties involved in it.
3. What does a Sales Agreement include?
A sales agreement can include the following details in it:
The terms and conditions of sale
The details of the buyer and the seller
The budget/amount at which the sale was made
Date of payment
Sale deed
All legal clauses for the agreement to be bound legally, etc.
4. What is the validity of a Sales Agreement?
An agreement of sale or a sales agreement is valid for a span of three long years. If there is any negative clause that is stated in the agreement, then the validity of that sales agreement can either be extended or cut short, depending on the situation agreed by the parties involved.
5. How do you write a Sales Agreement?
Writing a sales agreement:
Negotiate mutually agreeable terms of sale with your buyer/seller
Gather enough background information
Mention the title and ownership documents for the sale
Write the purpose of the agreement
Names of the parties involved
Include the total sales prices for each good/service
Mention the terms and conditions of the sale, etc.