Eating is one of our most basic needs according to Maslow's hierarchy of needs, and we eat so we can have the energy that we need to get through the day and also to be able to think well. We should always choose the right kinds of food brochure as well as limit our consumption to what is only required by our bodies. If you wish to help in promoting the wondrous health benefits of healthy food, check out our collection of brochure designs here in our website.
Healthy Food Bi-Fold Brochure Template
Healthy Food Tri-Fold Brochure Template
Healthy Food Diet Tri-Fold Brochure Template
Healthy Food Diet Bi-Fold Brochure Template
Speaking of quality of food, we should choose those that have nutritional values that can have good effects to our bodies such as vegetables, fruits, dairy products, and unprocessed meat. As much as possible, we should also try to avoid junk food, soda, alcohol, and fatty or oily foods because these will only harm our bodies in the long run.
Food does not only fill us in our tummies but also our brain and the rest of our bodies. When we get hungry, the first uncomfortable sensation we experience is in our tummies, however, as time passes, our hunger will then affect other parts of our bodies. But we can't just go out and eat anything and anytime that we want.
Healthy Food Menu Brochure
Download
Healthy Trifold Food Brochure
Download
Nutrition Healthy Food Brochure
Download
The Advantages of Brochures in Advertisements
Brochures are easy to distribute, but you also need to consider the location. The place where you plan to distribute brochures has to be accessible to a lot of people.
Brochures are very easy to make, and you can even make use of templates found on the Internet.
Brochures are also inexpensive compared to other advertising methods such as television or radio commercials and Internet or newspaper ads.
Brochures have been proven effective in the marketing industry.
The Benefits of Healthy Eating
Since healthy eating can help elevate your energy levels, then it can lead to an increase in productivity.
Eating healthy food can add more years into your life.
Healthy eating also involves limiting the amount of food consumed. Therefore, it can help in controlling your body weight.
If you want to advertise food products, then check out our other collection of food brochures.
Healthy Food & Restaurant Brochure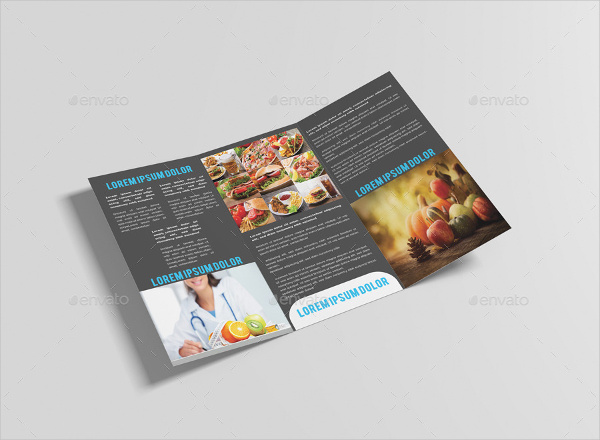 Download
Healthy Food Diet Brochure
Download
Healthy Food Menu Trifold Brochure
Download
Healthy Food Menu Brochure Template
Download
Have you found our healthy food brochure templates satisfying? Now spread the word of healthy food by making use of our brochure templates. As long as you have good and stable Internet connection, downloading a template is as easy as clicking on the green download button below the image you wish to save.
These templates can be downloaded for a fairly reasonable fee, and you can choose to download it in either PSD, PNG, or EPS formats, depending on which one suits you best. You won't have to worry about the quality because these images are of high resolution, which means that you are assured of sharp and crisp quality prints. These templates are also fully editable to give you the freedom to make the necessary customizations that fit your preferences.
If you are looking for restaurant brochures, then you much as well don't need to look anywhere else, we already got you covered on that one as well. However, if you couldn't find what you were looking for on this page, then check out the links to other related contents found on our website.