Lease Templates
7+ Residentiary Lease Templates
In houses or apartments, the residential Lease Templates will be the helpful tool you can have as the lessor before renting any of their facilities for the lessee to move in. In lease contract template accessible in Microsoft word, excel or pdf file, you can make the rules for the leased house or apartment that the lessee must follow to be able to stay in the property for a long time.
Every residential place is suitable for the said contract document making it a general blue print when you are thinking to have a renting residential place in your land. The format and placements of the conditions can be adjusted in the template. You can also see Rental Lease Agreement Templates.
Residential Lease Agreement Word Document
thehousingcouncil.org
One can just download 6 months residential lease which will gather a landlord and tenant into rental agreement over the usage of property. In most cases, landlord will require the lessee to fill up the applications subjected to the terms and conditions. The owner may charge based on the lessee's credit, employment and previous rental history with owner's management companies.
Florida Residential Lease Agreement Document
datpropertymanagement.com
It includes agreement for various things like utilities and amenities like water, electricity, phone, cable, garbage, gas and leaf and snow removal. Some other things which are included in agreement are entering the apartment, renter's insurance, delivery of possession, rent, other charges and delivery of possession. Delivery of possession will include details about the time of delivery from the owner to the lessee.
Residential Lease Agreement
dca.ga.gov
This agreement template will include details like the tenant's permissible things to be done at the leasing thing. The owner will provide the application form which will contain information like tenant time of residing the home, tenants personal details like job, salary details and etc. It will also contains the information or permitted things which are to be carried out on the home by the lessee during the time of living at the home.
Residential Lease Contract Template
ok.gov
Residential Property Lease Template
prpstoreweb.blob.core.windows.net
Seller Temporary Residential Lease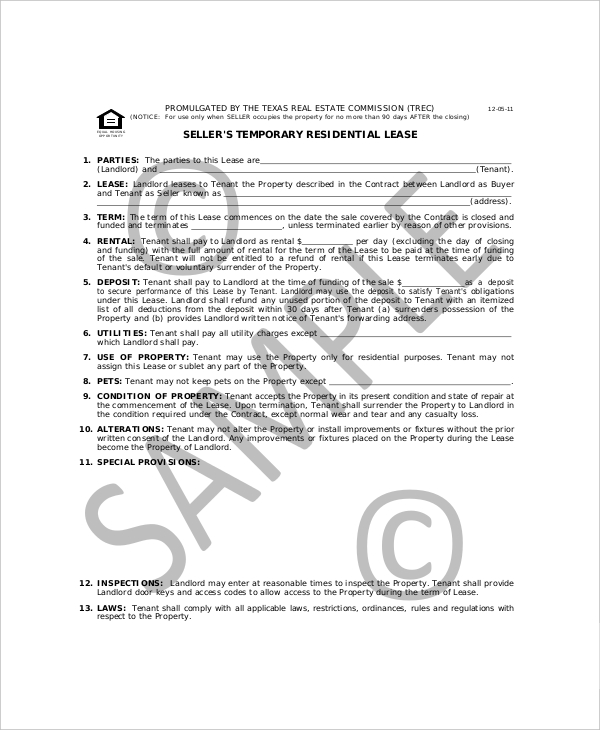 teamprice.com
Residential Lease Application
circlec.com
> What Are The Uses Of This Template?
When you are at the situation of buying a home for leasing from someone, you should use this template as it will be very easy which is related to the things accomplished in the agreement. As a buyer, till the time of your residence at the home, you may want to add any extra things as per your comfortable. You can also see House Lease Templates.
For example, you may want to hook on the wall; you may want to paint anything over ceiling to create beauty and etc. In order to accompany with all these things, you should make an agreement to the owner and it is the permission to do anything over home as per your wish. For this purpose, you can just use this template to get sign from this document.
> Who Are Using This?
This template was created to help one who wants to get home for lease. In general, before buying a home for living, you should deal with your owner to carry out some special things. Before entering the home, you should ask your owner to sign in things. The personal property should not be included under the agreement. It will also include the details like return of security deposit. For example, this is like caution deposit. The security deposit should be returned after the lease has been ended. It is also needed to be included in the agreement.
> What are the Benefits if Using this Template?
This template was created with two people on mind as owner and lessee. If you are a lessee of home, then you are necessary to get sign from the owner to add extra things over home. If you are a owner, then you should get sign from the lessee in order to protect the resource for future use. As a tenant, you can include things like cable, electricity and water flow ways are not responsible for your payment. As an owner, you can ask like not to put hook on the wall unnecessarily in order to protect the home. You can also see Commercial Lease Templates.
It is concluded that this template has been used by people who want to get home for lease and who want to provide home for lease and so they are the two people who uses this template. They can just download the template and use it for their purpose.