In the course of your business, you may have to write different kinds of letters so as to communicate with your peers and colleagues. While there are different kinds of letters, one specific kind would be appointment cancellation letters, which you would need to change your plans without being offensive.
Some other related letter templates include appointment letter templates, which you would need to make these arrangements in the first place. Of course, it is important to have a great many templates so as to have more templates to work with. This way, you are more assured of having the right template for a job.
Doctor Appointment Cancellation
Cancellation of Job Appointment
Sample Interview Appointment Cancellation
What is an Appointment Cancellation Letter?
As the name indicates, this kind of letter allows you to rescind your appointment letters, if it becomes necessary. Some other characteristics include:
Allowing you to inform other parties that an appointment has been canceled in the name of courtesy and to provide fair warning.
Allowing you to reschedule the appointment to a more convenient date for both parties, and to allow the meeting to push through later.
Allowing you to provide an explanation for the cancellation, so as to give the other party knowledge of the cause, which is only fair.
How to Write an Appointment Cancellation Letter
As with other kinds of letters, such as interview appointment letters, there are a number of steps that you should definitely keep in mind so as to write your letters properly.
Write the first part of the letter in conformity with business letter formatting.
When writing your content, start by clearly stating that you have to cancel the appointment.
Also be sure to state your awareness of how important the appointment was, and offer to reschedule it.
Be sure to provide a reason for why you have to cancel so as to explain yourself.
Apologize sincerely for any inconvenience you may be causing the other party.
Appointment Cancellation Letter Sample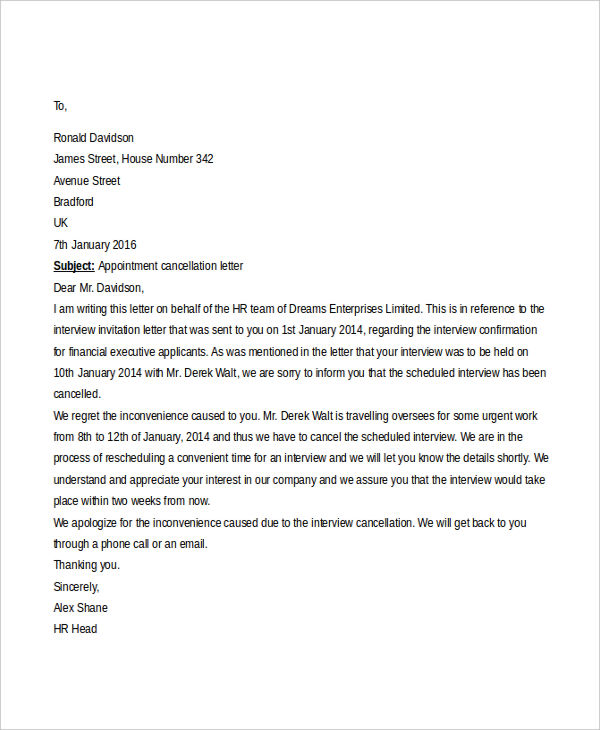 Professional Appointment Cancellation
Appointment Cancellation in PDF
What these Letter Templates Can Do for You
There is no denying that letter templates like missed appointment letter templates can provide you with a great many conveniences, which can definitely make your job much easier.
Provide a framework for writing your own letters. Some of the elements you need to include are already provided, so you need only put your own stamp on them.
Can guide you through the language you need to use for these letters. The samples can give you ideas for how to phrase your letters.
Allow you to acquire as many copies as you need, as it is simple to download and print them for your own purposes.
Guidelines for Writing Appointment Cancellation Letters
Of course, when it comes to using your own letter templates there are a number of guidelines that can guide you through the process of actually writing them to make your job easier.
Be succinct. These kinds of letters need not be very long, so try to keep them short so as to save time.
Be polite. This is especially relevant if the other party is superior to you in some way. In any case, it is generally good form to be polite anyway.
Always check your formatting, as these are professional letters, and should reflect that in how they are written.
And if you need other letter templates, then you may want to use some of the ones available elsewhere on this site.