Perhaps you have been surfing the web in the search for some ownership transfer letter templates to use for your own personal purposes. Search no more, for on our website, we have various types of ownership transfer letter templates that you can look in to, choose from, and use.
Our templates provide effective content and can save you valuable time that can be delegated to somewhere else. Take a look at these templates that we have provided and let us help you get started. They are free of charge and easily accessible for your own efficiency. Simply click Download and customize these templates to match your own desire. You may also see Employee Transfer Letter Templates
Ownership Transfer Letter
Ownership Transfer Letter Sample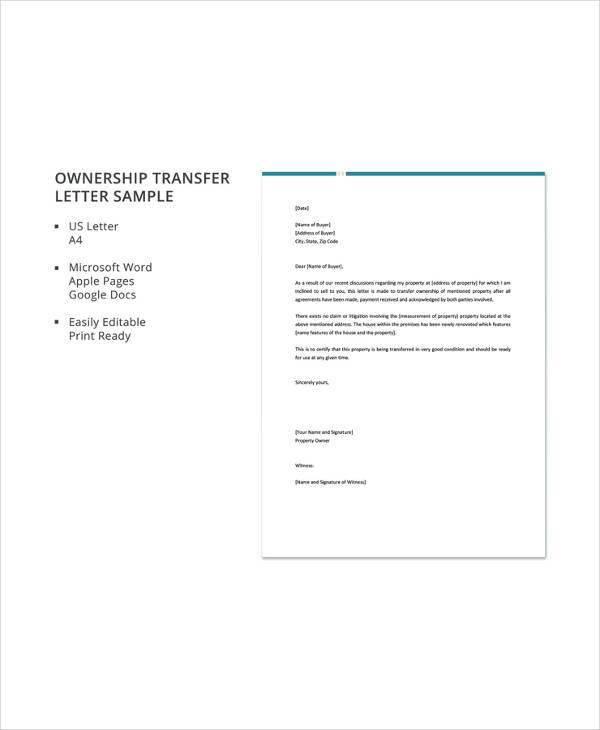 Vehicle Ownership Transfer Letter
Vehicle Ownership Transfer Letter Template
Property Ownership Transfer Letter Template
Business Ownership Transfer Letter Example
What Is an Ownership Transfer Letter?
Before looking in to and checking out the transfer letter templates, here is a little overview on what transfer letters are and what they are made of.
A transfer letter is a letter of request to transfer or move from one part of an organization toward the other—in this case, a type of property that is under and owned by a specific party and the ownership rights transferred to another party. You may also see Work Transfer Letter Templates
Included in this letter is the justification of the transfer request along with the benefits the previous property owner would get for the transfer. Ownership transfer letters are used mainly for businesses, intellectual property, vehicles, and other items. You may also see Company Transfer Letter Templates
Components of an Ownership Transfer Letter
Much like any other transfer letters, ownership transfers also consist of necessary components that make them transfer of ownership legal. Here are some of the essentials elements of an ownership transfer letters: You may also see Location Transfer Letter Templates
It should include the date that the transfer is effective.
It should list specific changes that coincide with the change of the ownership.
It should include instructions for the compliance with the new owner's terms.
It should state that the owner has sold such establishment or business to the other party.
It should contain the new owner's contact information and amount of security deposit funds the former owner has transferred to the new owner.
It should be short, precise, and clear.
Verbal communication beforehand is key to be able to work on a transfer letter.
Though it is an internal letter, grammatical, and punctuation errors should be avoided.
Ownership Transfer Letter Format
Ownership Transfer Request Letter Template
New Transfer of Ownership Letter Template
What We Offer
We provide various types of ownership transfer templates for you that are custom made with care and designed specifically to what type of property transfer they may cater to. Some of our templates include the following: You may also see Business Transfer Letter Templates
Vehicle Ownership Transfer
Property Ownership Transfer
Business Ownership Transfer
Ownership Transfer Request
Why Use Our Templates?
These transfer letter templates, along with our Promotion Letter Templates, are accessible by visiting our website and can be used more than once. There are a lot of templates out there, but you can be sure that our templates provide detailed and accurate information that can guide you into filling up the correct facts. Here are other reasons as to why our templates are a great choice:
They are customizable and gives a basis of high-quality document.
They ensure consistency of design and clarity of details.
They aid in doing a job correctly.
They can be used to send, can be shared, and received.
They increase flexibility.
They are simple.
They are a great source of information.