Having a hard time with credit reference letters? What you need is a credit reference letter template. We all know that there are some technicalities in drafting credit reference letters, especially when you're new to this field.
In order to escape from the hassles and stresses of putting words on your document, you can always scroll down and choose from our available credit reference letter templates. They are well researched and of high quality. They are not only downloadable but also printable. See our Reference Letter samples for yourselves.
Free Credit Reference Letter Template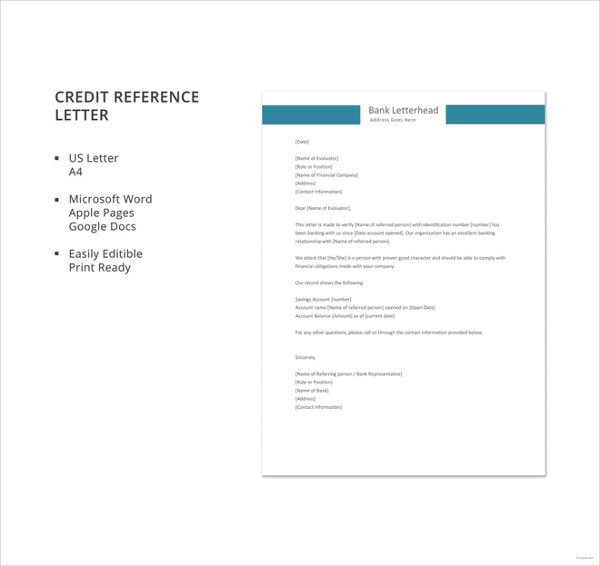 Bank Credit Reference Letter
Business Credit Reference Letter
Request for Credit Reference Letter
Customer Credit Reference Letter
Trade Credit Reference Letter Template
Downloadable and Printable Credit Reference Letters
By definition, a credit reference is considered as information which can be the name of an individual or that of an organization that can provide the details about their past record of credit transactions. They are crucial and important both for the individual and the company itself. Here are some of the featured templates from our Web page:
Bank Credit Reference Letter
Business Credit Reference Letter
Request for Credit Reference Letter
Customer Credit Reference Letter
Trade Credit Reference Letter
Client Credit Reference Letter
Credit Reference Letter for a utility company
Vendor Credit Reference Letter
Company Credit Reference Letter
Credit Reference Letter from Supplier
Credit Reference Letter Template (General)
They can be confusing for some. Drafting them can be a hassle and time-consuming endeavor. For instance, a bank credit reference letter is crucial because it would provide the basic and needed information regarding the length of time the applicant has held an account, the type of account availed, and the credit records.
Most of the information are confidential indeed. You'll need a professional and well-drafted template to help you in the substance and content of your letter.
Client Credit Reference Letter
Vendor Credit Reference Letter
Company Credit Reference Letter
Credit Reference Letter from Supplier
Some Guidelines about Credit Reference Letters
Overall, a credit reference letter should promote a positive note. It aims to guarantee and assure the credit credibility of a certain individual. Amid all of this, they are recommendation tools as a proof of an organization or individual's credit records. Here are some guidelines that you may take note when drafting your own credit reference letter:
Always ensure that the information are validated and updated. As reference letters, committing mistakes is quite critical. You must ensure that the details you entered in the letter really reflect the credit standing of the one you are recommending. There should be no amount of dishonesty involve.
Always explain the objective of the letter. Give a brief reason for making such reference. This will create an atmosphere of assurance for the recipient because this can add to the applicant's credentials.
Choose a reference template that will suit your industry. In our list of templates above, choose the one that will surely help you achieve your objectives.
Indeed, a credit reference letter template is not just any other letter. They are crucial to every individual, company, and organization in achieving their credit-related purposes. If you're interested, we also have samples of Personal Reference Letters from our website.