Letters
13+ Sample Bank Reference Letter Templates – PDF, DOC
Bank reference letters are helpful in many cases–for account opening, application for a bank job, a bank reference form, etc. These letters portray the diligence of the employee, company, and any candidate on paying off his liabilities. With our sample bank reference simple letter templates, anyone receiving these letters can get a pass for a personal, banking, visa, and financial request.
We also have reference letters for banks to announce account maintenance and request a bank simple certificate. With a declaration and recommendation letter from our business reference letter templates, you can exude professionalism and confidence to your recipients or readers. Discover our professionally written sample letters below.
Bank Reference Letter Template
Bank Reference Letter for Company Template
Bank Reference Letter for Account Opening
Reason to Use Bank Reference Letter
The bank reference is to reduce fraudulent trying to register for an offshore large organization in the name of a non-existing or the name of the person, who may simply have sold his passport. It is rather improbable that any of such people would have a long-lasting banking relationship. Thus, an appearance of such people as beneficial owners of a new IBC would be a signal to view more nearly into the overall circumstance of the registration order procedure. The kinds of bank reference formal letters are available in different formats. Thus based on requirements you can choose any one of the suitable reference formats and use it in the best manner. You may also see Letters of Recommendation for Teachers.
Free Request For Bank Reference Letter
Sample Bank Reference Form Letter Template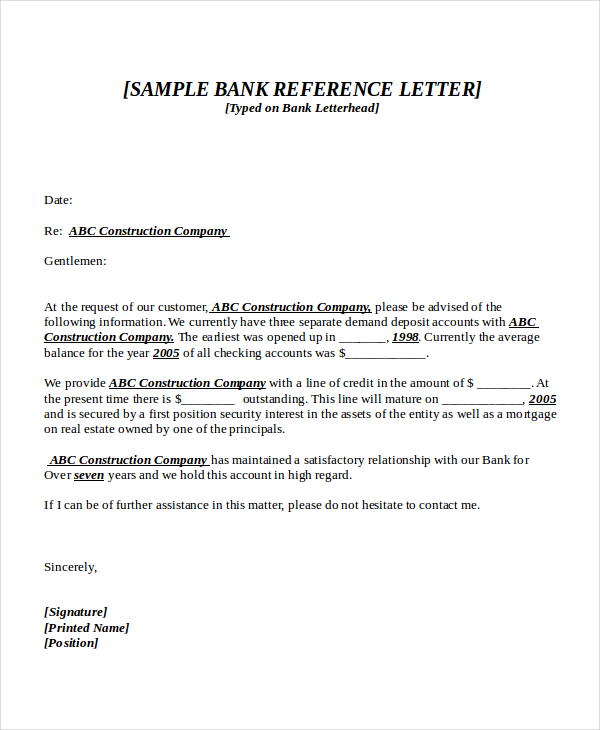 masurety.com
A bank reference letter in Word is a letter from the bank where you have an account. The letter is reporting that you are their clients for some certain duration of years. A bank reference must also confirm that the banking relationship has been satisfactory without any defaults from your division. The sample reference letter is available over the internet in a different format. You may also see character reference letter templates.
Bank Employee Reference Letter Format Template
pathtochina.com
The bank reference printable letter format is a necessary document that obviously layout the original purpose of a notice delivered by any bank establishing the financial reliability of one of its trustworthy clients. This type of format document is necessary for multiple purposes. The bank reference letter is determined to be sufficient to establish the financial transparency of a person. You may also see internship reference letters templates.
Request for Bank Reference Letter with Declaration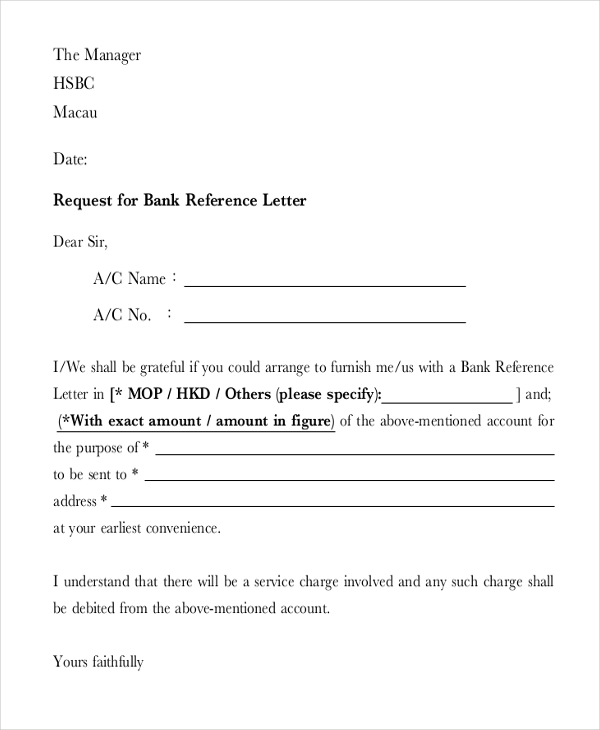 business.hsbc.com
The request for a bank reference letter is a formal letter in PDF to obtain credit history from the recommendation is known as the request for a bank credit reference. The reference can be explained as the character of a person or else a company about the expenditures as well as paybacks of the loan as well as other debts. You may also see reference letters in PDF.
Bank Reference Letter for Account Opening Template
schools.nyc.gov
If you wish to go ahead along with the opening of the personal offshore bank account then you have to meet some of the certain due diligence the bank need. There are different banks that have various requirements to open a personal bank account. The bank reference basic letter will aid you to get a clear idea of the basic account opening needs. You may also see student reference letters templates.
Sample Banking Job Reference Letter in PDF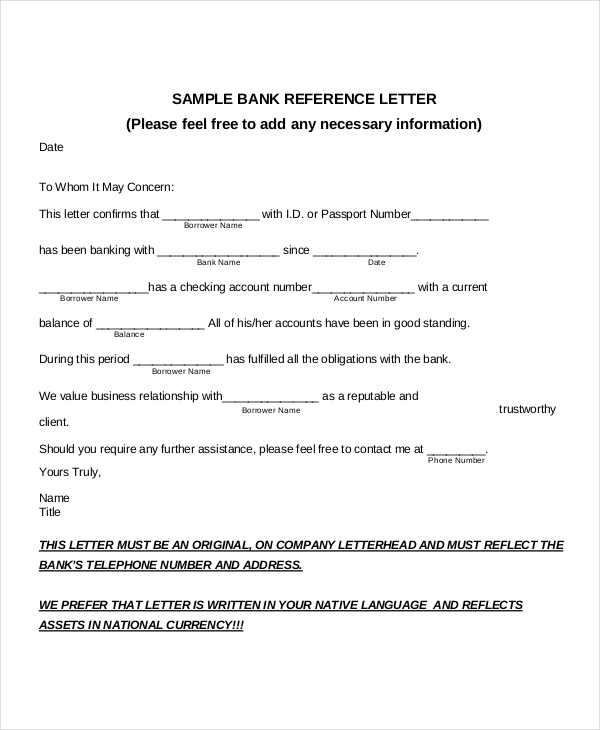 admortgage.com
CITI Bank Reference Letter with Account Maintenance
citibank.com
Personal Bank Reference Receiving Letter Template
asiabs.com
Bank Certificate Reference Letter
nationalfertilizers.com
Bank Recommendation Reference Letter
atlasmarazambia.com
Bank Visa Reference Letter
cdn.hsbc.com.sg
When do I Need a Bank Reference Letter?
As part of the account opening procedure, the credit application form includes a reminder where a bank reference may be requested from period to period. It can also be helpful to get a credit reference on new clients while establishing a trading relationship. A bank reference is also recognizing banks as a status inquiry.
Furthermore, it is the bank's judgment as to the capability of one of its clients in sample order to meet a particular financial commitment. A bank only offers a reference professional letter if it has the written approval of its clients as well as commonly needs a fresh authority to respond to every inquiry. There is a payment for offering a references letter which is normally met by the small business creating the inquiry. You may also see Employee Reference Letter Templates.
Who will Get Merits on Using the Bank reference letter?
A bank reference is a confirmation document sent by the bank to the bank account holder or else another person or organization who applied for the recommendation along with the consent of the account holder. The reference letter personnel commonly compresses the confirmation of a person's account in the bank where on the other side.
This reference also includes the reputation, compatibility as well as the financial health of a bank account holder upon request from the candidate. Commonly banks only declare the reference to the bank holder however along with the written consent of the bank account holder this reference can able released to any other individual's government department or IT company. You may also see Letters of Recommendation for Job.
General Format of Request Letter for Reference
Several things are included in the bank reference request letter; however, most of the significant division of this letter is the section in which the applicant comprises a series of queries to be verified from the bank as well as the consent of the account holder who qualified the request. Every bank has a reference confirmation, you are required to fill out this form as well as send it to the respective bank. You may also see Rental Reference Letter Template.
Thus, our reference letter is mainly useful for the bank reference request purpose. In addition, we have different variety of reference printable forms are available in various format options. According to your needs and requirements choose our perfect format reference letter and filling out your details editing options is also easy for you. You may also see college reference letters templates.
More in Letters