Letters
6+ Rebuttal Letter Templates in Google Docs | Word | Pages | PDF
Most companies allow the employees to write rebuttal letter in their workplace if they are wrongfully misunderstood. Rebuttal letters are like letters of defense written by an employee to explain his side of the story. They need to be clear, compact and rational. Remember, these letters are stored in the company file as a representation of your character. You can use letter templates to help you construct professional rebuttal letters.
Table of Content
5 Steps to Write Rebuttal Letter
Step 1: Collect Your Thoughts
The initial stage in starting with your letter is to first clear your head. You need to keep in mind that the rebuttal letter is just a platform to state the facts and not for venting out your feelings. Before writing anything negative, you need to read twice. Since it's an official letter, you need to know the difference between being truthful and being angry.
Step 2: Start With Date and Address
Properly date your letter so that the reader can recognize the incident as and when it took place. Include the address of the recipient with the full name and professional designation; it may be the human resource officer or your reporting manager. In case you don't know whom to write this, you can simply write, "To Whom It May Concern."
Step 3: Explain Your Point
This is the main part of the letter where you need to start with what is the incident about. You need to mention the date and day of the incident as it occurred and present your side of the story. You need to be true to the facts and not misuse any kind of information to your advantage. The language should be professional and formal as much as possible.
Step 4: Include Relevant Points
You need to include facts and points that are related to the matter in hand. Before you write the letter, try to look it up in the employee handbook, whether there is anything written about a similar situation such as yours. It will also be helpful to the readers to refer to your point if it is already mentioned in the handbook.
Step 5: Closing the Letter
Like any official letter, you need to provide a proper closing to the rebuttal letter. Include your name and signature at the bottom after your greeting like, "Regards", "Sincerely" or "Thankfully." As an official record, it's wise to keep a copy with yourself so that you can refer in the future whenever the need be!
6+ Rebuttal Letter Templates
1. Free Rebuttal Letter Template
You can easily get caught up in professional relationships and be misunderstood without for wrong reasons. Now there's an easy way to avoid such kind of situations at your workplace with our help. Let us help you with our rebuttal letter template that you can now download in any format you like- Docs, MS Word or even Apple Pages. The best part about this simple template is you can customize it according to your wish by adding details that are true for your situation and make it your own!
2. Free Rebuttal Letter for Charge Back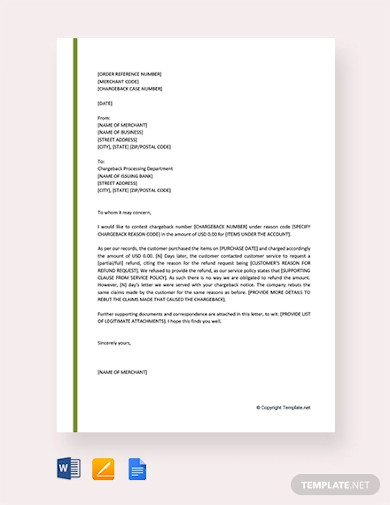 Did your colleague make a written statement about you that is baseless and completely not true? Calm down and simply write a rebuttal letter outline to your supervisor. If you are confused about the format then you can simply download this Rebuttal Letter for Charge Back, available in Pages format for your Apple devices. You can easily add details about the situation and create a personalized rebuttal letter in Pages in no time!
3. Rebuttal Letter to Your Employer
Are you wondering how to get your former reputation back after a dreadful situation in the office? We have exactly what you need. Get yourself one of our rebuttal letters in your favorite file formats. For instance, have a look at this Rebuttal Letter in Word to Your Employer in PDF, MS Word and also Pages, personalized so you can include all the details of the situation in question and clear the black spot on your reputation!
4. Sample Rebuttal Letter Format
bentham.manuscriptpoint.com
If you are looking for a way to get back at the colleague who wrongly alleged you due to misjudgment of the situation, then you can make use of this Rebuttal Letter Format from our website that you can download in PDF format for your device. After downloading, all you need to do is edit and customize the template with your relevant information on the situation so you can clear your bad spot.
5. Employer Rebuttal Letter in PDF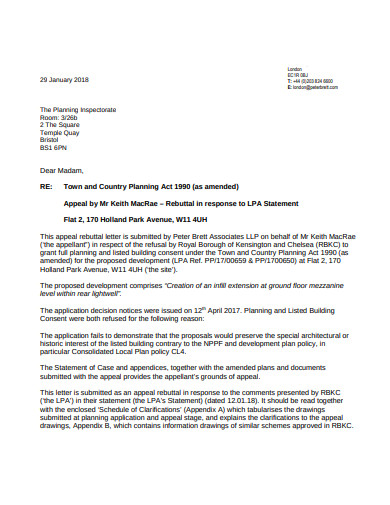 rbkc.gov.uk
If you are in grave need of an easily customizable letter format to help you in writing an official rebuttal letter, then you will love our Template for Rebuttal Letter, downloadable in PDF format for your device. So don't worry anymore and start writing your legal letter by downloading this template right now!
6. Legal Rebuttal Letter Template
larimer.org
When you are thinking of an efficient way of fixing your reputation in your working place among your colleagues, you can give our Legal Rebuttal Letter Layout Template an honest try! It's easy to download since it is available in PDF only and is also very versatile with its professional layout as it lets you customize in your own way to make it compatible with your situation!
7. Disciplinary Rebuttal Letter Template
pca.state.mn.us
This Rebuttal Letter Template is created for your rescue. Our professionals have kept every situation in mind that may go wrong while working at an office and have made this easy-customizable simple letter template that you can download and modify to suit any situation that you are in. Grab this opportunity and improve your character in the eyes of your official colleagues right away!
More in Letters