As parents, we care about our kids. It is a pleasure to watch our children learn new things especially in school and want nothing but the best for them. That's why when our child is sick, we tend to worry too much and get ahead of ourselves. Parents would want their child to be absent and often do something that would not let his or her daughter or son not included in a test that he possibly be absent from. The parent would request this through the principal. You may also see free request letter templates.
Sending a request letter to the principal is one important thing parents and students should learn how to do. In this article, we will be showing you the parts of the simple letter to better help you in the future if ever you get to have the circumstance of writing for an approval from the principal on any particular matter. You may also see request letter.
Formal Request Letter to Principal
Free Request Letter to Principal Template
Sample Request Letter to Principal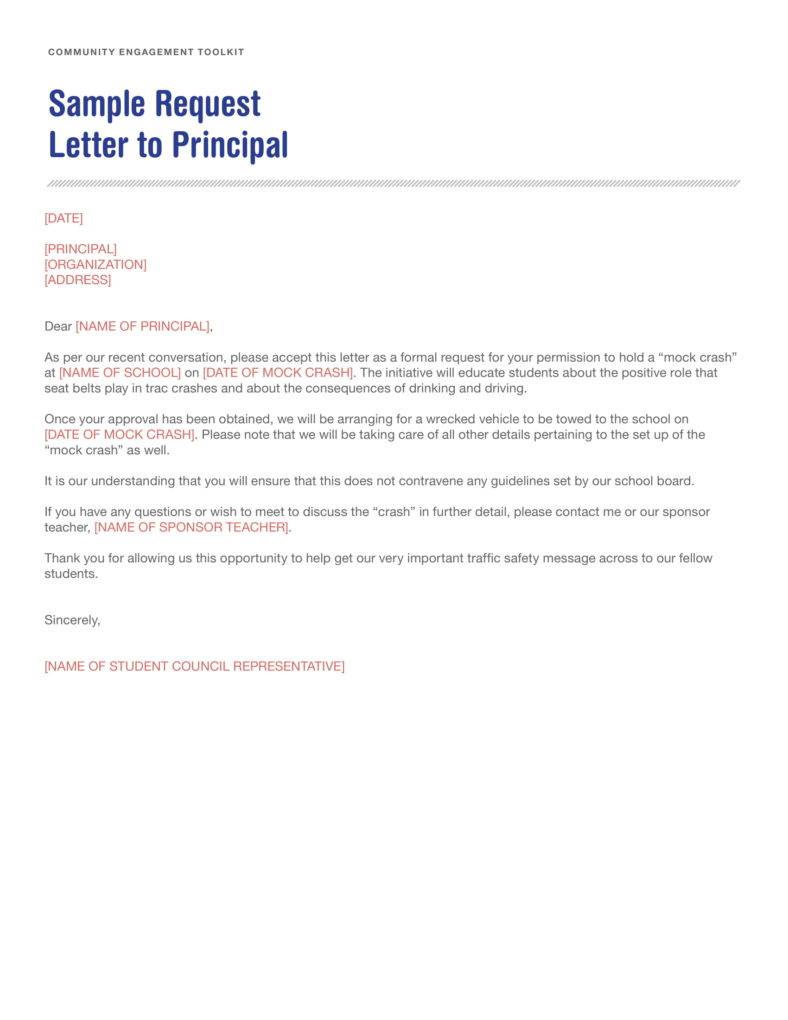 ontarioroadsafety.ca
Evaluation Request to the The Principal

learningally.org
Research Concerns Approval of Request from Head

npaihb.org
Sample Letter to Principal for Approval

ascd.org
Sample Letter for Request of Access of Records

dredf.org
Parts of a Request Letter for the Principal
Writing to the principal seems to be like an adult responsibility especially if you are still a student. But that does not mean that the adults can only do it. Students have every opportunity and right to write to the principal for a request or any kind of information that they want to relay just as long as it is professional in writing. A child does not have to wait until his college to learn the basics of writing a professional letter.
Although it is not required, one has the choice to learn some things at an early stage of his life. It might be quite hard especially at a young age, but with hard work and guidance from reliable peers, one can already write well even if he or she is still in grade school. That is why, whether you are an adult or a student, reading this article will prove to be useful as we enumerate the parts of this kind of sample business letter.
A business letter format has basically the same structure for all of its kinds so this can also be handy when you write different kinds of professional letters. One should know how to make a business letter because it is one of the most common mediums people use to communicate something professional or work-related.  These are the parts of the letter when you are requesting an approval from the principal:
1. Date
If you are a student trying to learn how adults write professional letters or have ever wanted to learn like how your parents write their simple letters on their laptops then you must first grab your own pen and paper and write the date of the day. This means that you will write the date of the date you are writing the letter.
2. Inside Address
For the inside address, you have to write the full address of the person you are sending the letter to. But there is an order to this. That order starts with you writing the receiver's complete name, his position (principal) in the school, the school address and city address. Make sure each statement is below each other. Be sure your spellings are correct especially on the receiver's name. You may also see holiday request letter templates.
3. Greeting
Let us now move forward to the greeting part of the letter. This part of the letter is where you give the receiver a simple greeting. Always keep in mind that a greeting always has to look friendly and yet sound professional. To not give you a headache of the meaning, we will be providing you examples of one of the most commonly used greetings in a business letter. You may also see sample letter of interest.
Here are the following greetings:
"Greetings Mr…"
"Greetings Mrs…"
"Good Day!"
"Good Morning!"
"Dear Mr…"
"Dear Mrs…"
4. Body
This is the most important part of the letter. Here, you will state the purpose of why you are writing to the principal. To save the principal time, you have to make sure that the purpose will be stated in the first or second sentence of your first paragraph in the letter. In adulthood, it is a trend to get things to the point to save time because there is no time for unnecessary things or efforts to be made once you get to this stage. This is where everything will practically start. You may also see letter format templates.
There is definitely no need for you to make a 300 to 500 word count essay in your letter for the principal. Tendency would be he or she would decline of it because it only ended up with you writing for a simple request in a complex and long manner. It wastes time. If you need a guide to help you in constructing your letter, we will be providing you just that. You can also refer to the templates being displayed in this article as they also show different kinds of ways on how you can write a request of approval from your principal. You may also see sample appointment request letters.
Here is our example that you can try out and even expand it for yourself:
"Dear [Principal's Name],
I am a student of Mrs. Smith in grade 9 and I have a simple request.
I wish to be absent during final's week because I have to attend my grandmother's burial in New York. I have just learned last night that she died trying to fight off cancer. She was already in stage 4. My mom has asked me to go home this Wednesday night. You may also see certification request letters.
I have already informed my teacher about this and she advised me to send a letter to you hoping for your kind consideration. If ever you do approve, may you give me feedback on how I could take the exam? What I mean by this, is if I would take it before or after I come back in school and what is the process of it all. You may also see tips for promotion request.
I am hoping for your positive response and I am so sorry for this short notice."
That is how you can construct your sentence. If you can observe, I went first by telling him who the sender is and then right after, explained the reason why he or she is writing and added more important details. It might not be about how long the letter is, but it is always important to be specific with your information. A letter like this would easily be approved because of the degree of the reason and also because it has been written in a short and concise manner. You may also see job request letters.
5. Complimentary Close
The complimentary close is the part of the letter where you would give it its professional farewell. It is written to state that the letter has officially ended and you do it in a manner that is professional but friendly. You may also see payment request letter templates.
The follow complimentary close phrase are the ones commonly used by workers and professionals around the world:
"Yours truly,"
"Cordially,"
"From,"
"Sincerely yours,"
"Best wishes,"
"Regards,"
"Best Regards,"
You can choose either of the choices given or you can choose to search more in the internet but those are the basic and most common phrases being used to close things in the end. You may also see sample donation request letters.
6. Signature
You have to affix your signature when you are done writing your name below the complimentary close part of the letter. Affixing your signature on your name signifies ownership and responsibility of the contents that are written in the letter. A signature is something that should be consistent because it is needed in every legal document that one would file when he or she is an adult because of the introduction to the workforce. You may also see transfer request letters.
Requesting for an Investigation for school bullying

d3n8a8pro7vhmx.cloudfront.net
School Fee Exemption letter

legal-aid.co.za
Request for Approval for a New Club

acs.org
Request for Recommendation for Transcript

ths.ac.in
Overall
Those being enumerated are the basic parts of a business letter. The principal requests letter is just one out of many kinds of business letters. If you are a student and still have a hard time in constructing, make sure you let it be checked first by an adult or a teacher who is adept in the English grammar. One of the best things you could also do is to ask that specific person to guide you in writing it and tell you whether you are wrong or right.
Learning to do new things is a helpful way for you to becoming a much more skilled person at an early age with proper pace and an attitude to learn more even if there would be times failure would get the best of you. For a student, learning this skill is essential to help him or her adjust faster into the corporate and professional world.
When you start making the sample letter, you have to make sure that your reason is valid and would contain no grammatical errors to have a better chance of it being approved. Remember also to make the letter straight to the point so that the principal would not have a hassle reading a long letter. This would save time and give her more chances of finishing her other responsibilities in the academe. I mean let us face it, if you are a principal, you are going to be one of the busiest people in the school.