Letters
16+ Request Letter to a Principal Templates – PDF
As parents, we care about our kids. It is a pleasure to watch our children learn new things especially in high school template and want nothing but the best for them. That's why, when our child is sick, we tend to worry too much and get ahead of ourselves. Parents would want their child to be absent and often do something that would not let his or her daughter or son not be included in a test they would possibly be absent from. The parent would request this through the school principal with the help of request letters. A request letter can be sent from parents for admissions, library books, summer camps, class changes, name changes, mark sheets, computer requirements, bonafide certificates, kindergarten playgrounds, field trips, and much more. Request letters might also come from students on occasion.
In this article, we will take you through how you can write the perfect letter for this topic and also, make how you can sound professional at the same time.
Free Request Letter to Principal for Original Certificates
Request Letter to Principal for Library Books Permission
Free Request Letter for Principal from Parent for Admission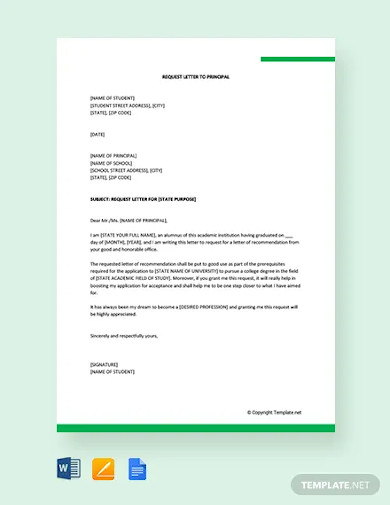 Formal TC Request Letter to Principal from Student
Ask the principal of your high school to help you get into your university of choice by making a recommendation letter. Making one can be tough, so you can take the help of this template that is mentioned above. All you would have to do so download the template, add your details and you are good to go. You can also download this template on any electronic device as they are not just limited to a computer or a PC. Try it out now!
Computer Requirement Request Letter to Principal Template
Vacation Leave Letter Request to Principal Template
Request Letter for Bonafide Certificate to Principal Template
A thank you letter that you can use on any electronic device is mentioned above. This can help you write a leave of absence request addressed to your principal. Another added advantage of using this template is the fact that you can download it in any file format you want to use. Save a lot of time and effort as you do not have to create request letters from scratch.
Sample Summer Camp Request Letter to Principal Template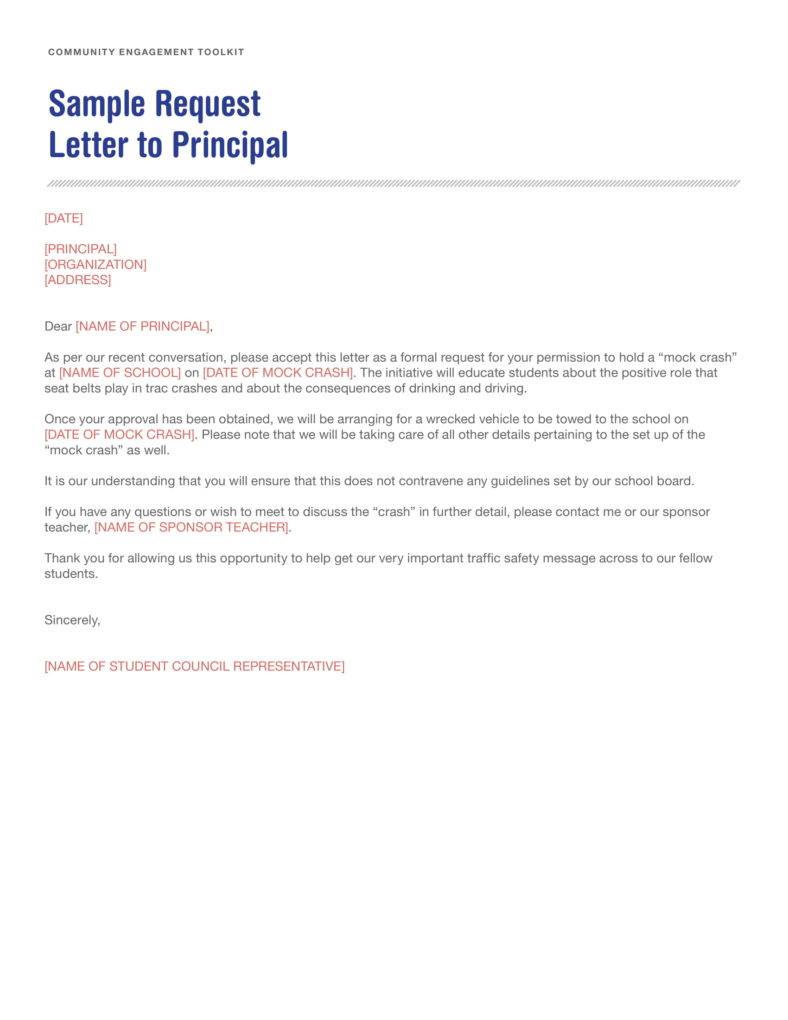 ontarioroadsafety.ca
Writing a Request Letter for the Principal:
Writing to the principal as a student can be a tough task, but that does not mean that only adults can do it. Students have every opportunity and right to write to the principal for a request or any lid of information that he/she would want to rely on. A child does not have to wait until his college to learn the basics of writing a professional letters.
Although it is not required, one has the choice to learn some things at an early stage of his life. It might be quite hard especially at a young age, but with hard work and guidance from reliable peers, one can already write well even if he or she is still in grade school.
A business letters has the same structure for all of its kinds so this can be handy when you want to write any kind of a professional letter. One should know how to make a business letter because it is one of the most common mediums people use to communicate something professional or work-related.
Name Change Evaluation Request to The Principal Example

learningally.org
Sample Research Approval of Request Letter from Head

npaihb.org
Professional Class Change Request Letter to Principal for Approval

ascd.org
Sample Letter for Request of Access of Records Example

dredf.org
Parts of a Sample Letter:
These are the parts of the letter when you are requesting approval from the principal:
1. Date:
The first thing that needs to be mentioned in a letter is the date of the day. This shows the date and the day on which you are writing the basic letter. There are many simple letter that are available online for your reference and help to show you how to write the perfect letters you need.
2. Inside Address:
For the inside address, you have to write the full address of the person to whom you are sending the letter. But there is an order to this. That simple order starts with you writing the receiver's complete name, the position he/she holds in the school, the name and address of the school. Make sure each statement is below the other. Be sure your spellings are correct especially on the receiver's name. You may also see request letter for approval.
3. Greeting:
This part of the letter is where you give the receiver a simple greeting from the start. Always keep in mind that a greeting always has to look friendly, but also sound professional at the same time. There are a few examples of a letter of intent mentioned below. This should be able to help you understand how you can use them in your letter accordingly:
Here are the following greetings:
"Greetings Mr…"
"Greetings Mrs…"
"Good Day!"
"Good Morning!"
"Dear Mr…"
"Dear Mrs…"
4. Body:
This is one of the most important parts of the letter. Here, you will state the purpose of why you are writing to the principal. Make sure that the purpose is stated in the first or second sentence of your first paragraph. In adulthood, it is a trend to get things to the point to save time because there is no time for unnecessary things or efforts to be made once you get to this stage. This is where everything will practically start. You may also see formal letter. Start by telling him who the sender is and then right after, explained the reason why he or she is writing and added more important details.
5. Complimentary Close:
The complimentary close is the part of the letter where you would give it its professional farewell. It is written to state that the letter has officially ended and does so in a professional, but friendly manner. You can also take a look at the payment letter that are available online for more.
The following complimentary close phrases are the ones that are commonly used all around the world:
"Yours truly,"
"Cordially,"
"From,"
"Sincerely yours,"
"Best wishes,"
"Regards,"
"Best Regards,"
You can choose either of the choices given or you can choose to search more on the internet but those are the basic and most common phrases being used to close things in the end. Take a look at the donation letters that are present online for more.
6. Signature:
You have to affix your signature when you are done writing your name below the closing of your letter. Affixing your signature on your name signifies ownership and responsibility of the contents that are written in the letter. Check transfer request letter for more. A signature is something that should be consistent because it is needed in every legal document that one would file when he or she is an adult because of the introduction to the workforce.
Requesting Playground an Investigation for School Bullying

d3n8a8pro7vhmx.cloudfront.net
School Kindergarten Fee Exemption Informal letter

legal-aid.co.za
Simple Request for Approval for a New Club Field Trip

acs.org
Basic Request Letter for Recommendation for Transcript Holiday

ths.ac.in
Printable Mark Sheet Request Letter to Principal Teacher Template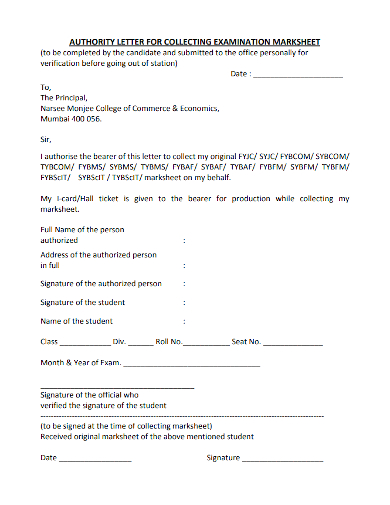 nmcollege.in
Final Thoughts:
Those being enumerated are the basic parts of a business letters in Word. If you are a student and still have a hard time constructing, make sure you let it be checked first by an adult or a teacher who is adept in English grammar. One of the best things you could also do is to ask that specific person to guide you in writing it and tell you whether you are wrong or right.
Learning to do new things is a helpful way for you to become a much more skilled person at an early age with proper pace and an attitude to learn more even if there can be times that failure gets the best of you. For a student, learning this skill is essential to help him/her adjust faster into the corporate and professional world.
When you start making the simple letter, you have to make sure that your reason is valid and would contain no grammatical errors to have a better chance of it being approved. Your printable letter must be straight to the point so that your principal would not need to read a long letter as this might not be something he/she would want to do. This would save time and give her more chances of finishing her other responsibilities in the academe.
Since principals are one of the busiest people in an educational institution, make the letter to the point. This way he/she can easily understand what it is you are trying to ask or say to him/her. With the help of the templates that are mentioned above, it gets easier for you to write the letters in Google Docs you need to the principal. Try them out now!
More in Letters