It is not enough that students only learn lessons in the classroom. There has to be a practical learning and immersion outside the classroom walls. This makes the students learn more through observations and hands-on experience. Their skills get maximized this way. They also get to share a bond and make memories with other people. You may also see report samples.
Field Report Template
Field Service Report Template
Field Visit Report Template
As an output, students are required to write a field report. This report sums up everything they have observed while going on the field. They have to write down what they learned and how they can apply it in the future. You may also like sample trip report templates.
Free Field Trip Report Template
Sample Life Field Report

alofatuvalu.tv
Simple Field Report

sjrdotmdl.org
Writing a Field Report
You may be confused on what to write as you look at the empty document. Writing a field report requires a lot of note-taking and recordings for you to come up with a good written output. While writing it, you may follow these steps. You may also see visit report templates.
1. Analyze the Data
Review your data and analyze them. Pick which ones to use for the report and which ones to reserve for future ones. You can junk the useless ones they don't really make any sense. Choose which ones to put in the report first. The most important data needs to be put first to attract strong attention as the readers get into the body of what you report. Every single data should be kept but pick which ones to use. You may also like service report templates.
2. Start with an Abstract Information
Start your report with an abstract information. This part gives the reader an idea of what your report is about. Include the location and the people involved in your study as these are important elements in the report. If you could back up literary references to your report, the better and more solid it would be. It gives the report the credibility it needs. Give a brief methodology of the report as well. You may also like medical report templates.
3. Fill in the Details
Begin filling in the details of the report. Choose the most important ones and briefly describe each. Be objective in writing the details. This will make the readers feel the experience of being on the field. Environment and behavior factors can bring a lot of good information in the report. Write in a simple language as much as possible. You may also see action report templates.
4. Provide an in-Depth Analysis
With the data, you have chosen to put, provide an in-depth analysis for each. Identify the depth of your data, including its strengths and weaknesses, and how the data can be applied in other settings. You may also like strategy report templates.
5. Wrap it up with Some Final Touches
Summarize your report by emphasizing its main points and add up some final touches to it. There might be last minute data that you want to include. Give a summary of your experience and your recommendations. Limitations on the report should also be noted. Put in the appendix with relevant charts, photos of the experience, interview transcriptions and references of the sources. You may also like sample visit reports.
6. Read and Proofread
Always read your report again to see if there are some lapses. Proofread the report to get rid of these lapses and have it ready for printing. Your report is now ready for submission. You may also like weekly status reports.
Field Report Template

assets.publishing.service.gov.uk
Field Study Report Sample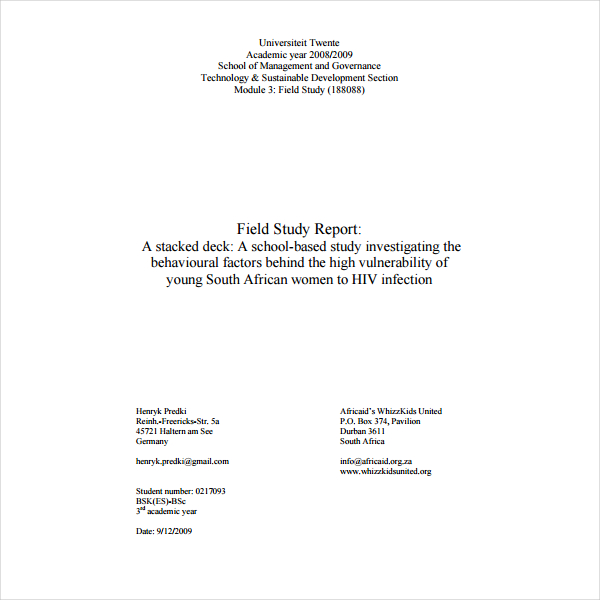 whizzkidsunited.org
Why Do Field Study?
Field study is a much-needed approach to learning that helps the students a lot. There are a number of reasons why field studies are helpful. Field studies can sometimes be expensive, but it gives a lot of benefits. Here are the following benefits:
1. It Expands and Applies Learning
Field studies allow students to expand their learning by immersing themselves on the field and apply them in any given situation. Activities in the field are not limited by only a certain aspect, so this broadens their understanding of how things work. They also get to learn new things while conducting the field study. They can use and apply these learnings to the study. You may also like free reports.
2. It Provides an Appreciation of the Study
By conducting a field study, students get to appreciate what they have been studying. It helps them see a new perspective of their study. It makes them see a bigger world beyond their comfort zones. You may also like service report templates.
3. It Lets You Learn to Work with Others
Students in field studies rarely work alone. They work with others in gathering data and come up with good results. This builds a good relationship and promotes teamwork among students. Hard work is also being practiced while working. Activities in a field study build camaraderie among students and make them learn about each other more. You may also like performance report templates.
4. It Improves Observation Skills
Field study requires a lot of observation. Students observe what is happening and write it down. This enhances their observation skills as they take note every detail. You may also like monthly report templates.
5. It Improves Writing and Communication Skills
Field reports help students in communicating better and honing their writing skills. These can be sharpened in writing the report. It helps the students in writing better reports with few grammar lapses and cohesive ideas. You may also like sample weekly report templates.
Field reports are proof that there is so much to learn outside the classroom and from books. These reports are done in the best and most accurate way possible. If you find this article helpful, we hope it can get you into writing your field report. You may also see sample test report templates.